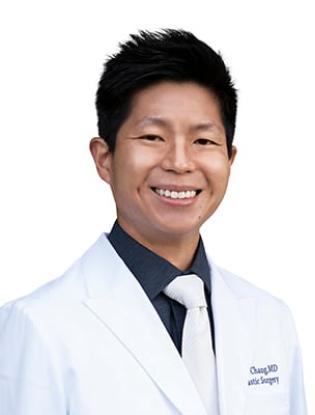 Plastic Surgeon
Clinical Expertise
Lymphedema
Microsurgery
Reconstruction Surgery
Breast Cancer
Appointments
Assistant Professor, Division of Plastic Surgery, Department of Surgery
"As a plastic surgeon, I will be able to provide a wide range of reconstructive options for my patients as they battle cancer.
Watching loved ones deal with breast cancer motivated Jeff Chang, M.D., M.S., to become a physician so he could help others facing similar challenges.
Dr. Chang is a reconstructive surgeon with special expertise in microsurgery, reconnecting very small blood vessels, lymphatic vessels and nerves using tiny stitches often thinner than a human hair. He is most interested in using his skill to help restore breast cancer patients' physical appearance, as well as treat lymphedema, a problem that occurs after breast cancer treatment causing swelling of the arm.
A Phi Beta Kappa graduate of Johns Hopkins University in Baltimore, Dr. Chang earned his medical degree at Medical College of Wisconsin. He continued his surgical and microsurgical training at Harvard Beth Israel Deaconess Medical Center, Stanford University and the University of Southern California.
The author of numerous publications and presentations, Dr. Chang is also a longtime instructor of neuroscience and microsurgery. He enjoys working in City of Hope's collaborative atmosphere.
2018-present, Plastic Surgery Board Certified

2016, General Surgery Board Certified
2004-2008, M.D., Medical College of Wisconsin, WI

2002-2004, M.S., Johns Hopkins University, MD

2000-2002, B.A., Johns Hopkins University, MD
2010-2012, Research Fellowship, University of Washington, WA

2018-2019, Microsurgical Fellowship, University of Southern California, CA
2015-2018, Plastic Surgery Residency, Stanford University, CA

2008-2015, General Surgery Residency, Harvard Beth Israel Deaconess, MA
2019-present, Assistant Professor, Department of Surgery, Division of Plastic Surgery, City of Hope, Duarte, California
2018, Donald Laub Fellowship

2018, Aesthetic Surgery Education and Research Foundation Scholarship

2014, Beth Israel Deaconess Resident Teaching Award

2012, American College of Surgeons Excellence in Research

2012, American Association of Plastic Surgery Research Award

2011, University of Washington Research Symposium Award

2008, Master Clinician Award

2007, Alpha Omega Alpha

2005, Cardiovascular Research Center Grant Award

2004, Phi Beta Kappa

2001, Nu Rho Psi
Candidate Member, American Society of Plastic Surgeons

Resident/Fellow, American Society for Aesthetic Plastic Surgery

Resident/Fellow, California Society of Plastic Surgeons

Candidate, American Society for Reconstructive Microsurgery

Resident/Fellow, Plastic Surgery Research Council

Resident/Fellow, American College of Surgeons
Cooper MN, Daneshgaran G, Yu R, Chang J, Vartanian E, Shamsunder M, Mehrara BJ, Matros EM, Wong AK. Analysis of the Microsurgery Match from 2014 to 2018 Reveals Increased Competition for Microsurgery Fellowship Positions. J Reconstr Microsurg. 2019.
Gruber, RP, Piper M, Chang J. "Commentary on: The Nasal Ligaments and Tip Support in Rhinoplasty: An Anatomical Study." Aesthet Surg J. 2018.
Gruber, RP, Chang J, Piper M. "Commentary on: Medial Osteoectomy as a Routine Procedure in Rhinoplasty: Six-Year Experience with an Innovative Technique." Aesthetic Plast Surg. 2018.

Chang J, Graves SS, Butts-Miwongtum T, Sale G, Storb R, Mathes DW. "Long-Term Tolerance Towards Haploidentical Vascularized Composite Allograft Transplantation in a Canine Model Using Bone Marrow or Mobilized Stem Cells." Transplantation. 2016.

Mathes DW, Chang J, Hwang B, Graves SS, Storer BE, Butts-Miwongtum T, Sale GE, Storb R. "Simultaneous Transplantation of Hematopoietic Stem Cells and a Vascularized Composite Allograft Leads to Tolerance." Transplantation. 2014.

Um GT, Chang J, Louie O, Colohan SM, Said HK, Neligan PC, Mathes DW. "Implantable Cook-Swartz Doppler Probe versus Synovis Flow Coupler for the Post- Operative Monitoring of Free Flap Breast Reconstruction." J Plast Reconstr Aesthet Surg. 2014.

Graves SS, Mathes DW, Georges GE, Kuhr CS, Chang J, Butts TM, Storb R. "Long Term Tolerance to Kidney Allografts After Induced Rejection of Hematopoietic Chimerism In a Preclinical Canine Model." Transplantation. 2012.

Mathes DW, Hwang B, Graves S, Edwards J, Chang J, Storer BE, Miwongtum T, Sale G, Nash RA, Storb R. "Tolerance to Vascularized Composite Tissue Allografts in Canine Mixed Hematopoietic Chimeras." Transplantation. 2011.

Chang J, Mathes DW. "Ethical, Financial and Policy Considerations in Hand Transplantation." Hand Clinics. 2011.

Chang J, Davis CL, Mathes DW. "The Impact of Current Immunosuppression Strategies in Renal Transplantation on the Field of Reconstructive Transplantation." J Reconstr Microsurg. 2011.
Choi SY, Chang J, Jiang B, Seol GH, Min SS, Han JS, Shin HS, Gallagher M, Kirkwood A. "Multiple receptors coupled to phospholipase C gate long-term depression in visual cortex." Journal of Neuroscience. 2005.
Ratings and reviews below are gathered from the Press Ganey Clinician and Group Consumer Assessment of Healthcare Providers and Systems (CG CAHPS) survey. CG CAHPS is a standardized survey that is used to measure a patient's experience in the physician office setting. Ratings are an average of all responses to questions about a provider's care, with 5 stars being the highest.
Ratings
5.0
Show respect for what you say
4.9
Provider explain in way you understand
4.9
Provider listen carefully to you
4.9
Spend enough time with you
4.8
Recommend this provider office
4.8
Know important info medical history
---
Reviews
First visit with doctor, excellent first impression any hesitation to recommend 100% is only that no experience with dr beyond consultation
- Verified patient
Dr is awesome, very caring respectful and takes time to explain to you.
- Verified patient
Dr. Chang is excellent in explaining all my options. He takes time to make sure I know the risks, benefits, and expected outcomes of the treatments he is suggesting. He is always courteous and has a smile on his face.
- Verified patient
Dr. Jeff Chang was caring and careful. Asked important questions made me feel secure. I am blessed to have him on our team, answered my husband's many questions.
- Verified patient
Dr. Jeff Chang explains very well.
- Verified patient