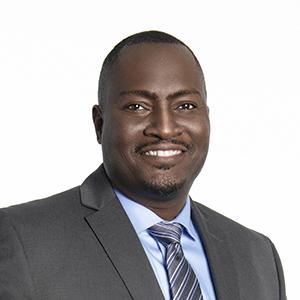 Christopher Sistrunk, Ph.D., says he grew up as a statistic.
"I'm a guy who came from a neighborhood where all my friends either went to jail or got shot at."
The City of Hope assistant professor isn't at all uncomfortable talking about a childhood spent in one of the more perilous parts of Charlotte, N.C. In fact, it's his childhood that defines him.
"I knew that no matter what profession I got into, I would one day come back to the community and show them another way."
As a translational researcher and community outreach expert, Sistrunk has done that and more. He's charged with helping underserved populations get healthier, in part by increasing screening rates for cancer and other serious diseases.
There are numerous barriers to success. There are financial obstacles and issues of access. But looming over the people he serves is a more intractable foe: a persistent, pervasive lack of trust in the health care system.
But where does this mistrust come from? And can it be overcome?
Overcoming History
"You've got to remember, we're not even a full generation removed from Tuskegee," said Sistrunk, referring to the Tuskegee Syphilis Study, in which researchers withheld penicillin from African-American males with syphilis to track progression of the disease. "For an African-American man, you might have had your father telling you about it. You might have heard from others in your community about how black men were used in these experiments. So yes, they're going to be hesitant. Yes, there's going to be mistrust."
Noe Chavez, a community psychologist at City of Hope, agrees that the specter of the past is hard to overcome.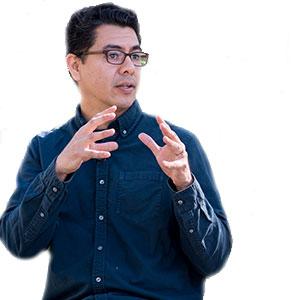 "Some people hear 'experiment' or 'research' and the first thing they think is that it isn't safe," he said. "Add to that another layer of historical mistreatment and community disconnection among large hospitals and you've really got a problem."
Thanks to a lone whistleblower, the Tuskegee Syphilis Study was halted in 1972. In its wake came sweeping changes to the way clinical trials are conducted in this country. Foremost among them was the establishment of protections for participants in such studies.
"As a researcher, I know that there are internal review boards in place to prevent something like Tuskegee from ever happening again," said Sistrunk. "But then again, I work in research sciences. I think for [minority populations], a healthy distrust is necessary. As researchers, we've got to earn the trust of a community."
Building Trust from Within
Both Sistrunk and Chavez agree that traditional research methodologies – where scientists do not include community members in study development – have done more harm than good.
"There's definitely a perception in some communities that researchers come in, collect the data and leave," said Chavez. "They never come back to share the data or act on it. That builds resentment."
"If you're going to do community-based research, you need to be a part of the community," said Sistrunk. "You need to be in the community, not someone who's visiting the community."
This becomes an issue particularly for large institutions, which are often – by their very nature – located outside the communities they wish to serve.
"Community-based clinics don't run into the same kinds of problems because they're located within the community," said Chavez.
Sistrunk and Chavez have both met with success [editor's note: more on that tomorrow] by investing the time and energy necessary to build a relationship with the community.
"You can't expect trust to be built in less than 18 months," said Sistrunk.
Chavez says his team spends time at health fairs and at churches, often doing screenings right in the community.
"Prevention happens largely outside of the hospital," he said. "You must reach out to the community to have any impact in that regard. There need to be broader approaches than just treatment."
Suspicion without Representation
Building interpersonal relationships is one thing. A harder barrier to overcome is a lack of minority representation in the sciences.
"I grew up in El Paso, where the population is 70 percent Latino. I never felt like an outsider," said Chavez. "As I went on to graduate school, I was one of only a handful Latino students. In most classes, I was the only one."
In a 2015 report based on 2012 data, African-Americans comprised less than 4 percent of practicing physicians in the United States. Hispanic or Latino physicians comprised less than 6 percent.
"It's hard to trust a system in which there are no doctors that look like you," said Chavez.
And it's not just physicians. Community researchers who spend much of their time in the field need to be culturally reflective the populations they serve. Too often, they aren't.
"You've got to diversify the people on the other side: Researchers need to look like you," said Chavez. "How do you connect with communities? Make sure you speak their language and understand their background. Find something that resonates with them. Then they'll see why [the work] is so important."
Sistrunk says that the first step in this process is to remember that as a researcher – and as a human being – you are already a part of a community.
"The first thing you've got to ask yourself is, 'What community do I belong to? Is that community being actively pursued for the type of research I'm doing?' I made it part of my mission to do outreach to the African-American community," he said.
But attracting minority researchers can be difficult, according to Chavez, because there just aren't that many out there. The key, he says, is getting the next generation of physicians and scientists into the pipeline.
"You've got to connect with kids while they're young, talking to them about what science is and how it can help address disparities," said Chavez. "Demystifying the process is key. You have to make people part of the process. You have to develop the next generation of folks who will provide care to their community. Community members will be the best advocates for their own community."
Sistrunk agrees: "I taught eighth grade science for two years while I was getting my master's degree," he said. "I realized that that's when you can reach kids. They're still pliable at that age."
Forging Ahead
Despite the real obstacles standing in their way, Sistrunk and Chavez are undeterred in their mission to nurture trust among underserved communities. Why? Well, in part because the success of their work depends on it. But more important, because it's the right thing to do.
"People say [the problem] is too big, it's too hard," said Sistrunk. "But I just remember everyone in the community and think, 'If I don't reach them, who will?'"
Stories of Hope is a monthly series that explores important issues in health care. To commemorate National Minority Health Month, we are dedicating the entire month of April to health care disparities.
 
****