Implementing Comprehensive Biopsychosocial Screening
About the Program
Learn how to successfully implement, maintain and evaluate biopsychosocial screening programs of excellence.
Participate in 10 e-learning webinars, two preworkshop conference calls, a two-day workshop including a clinic site visit, eight postworkshop faculty- training conference calls, four postworkshop e-learning webinars, a institutional consultation conference call, a web-based discussion board and tailored resources — all available at no cost to you (all other expenses are the responsibility of the trainee).
Receive AMA PRA Category 1 Credits.
Benefit from the experiences of an internationally recognized faculty who have already created successful biopsychosocial screening programs in a variety of settings.
Acquire the skills essential to create a culture of biopsychosocial screening.
Learn how to facilitate skills-based small groups focused on opportunities for leadership and culture change.
Work with other highly motivated colleagues from around the country to share skills, experiences, successes and setbacks in highly interactive environments.
Create supportive professional relationships that can last a lifetime.
 
Core Curriculum
The training will address topics identified as critical to implementing biopsychosocial screening programs (partial list only):
Understanding why screening is so important now
Knowing the benefits and limits of screening
Identifying barriers and opportunities to implementing screening
Engaging oncologists, nurses, administrators and mental health professionals
Who, What Instrument, When to Screen
Meeting the new standards and evaluating your program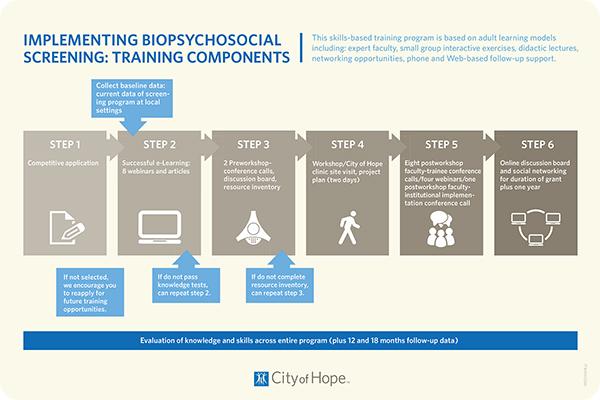 By the end of the program you will:
Have the skills to create and implement a biopsychosocial screening program.
Work with internationally recognized interdisciplinary faculty who have actually implemented comprehensive screening programs.
Benefit from 20+ years of clinical biopsychosocial screening experience in community and National Cancer Institute-designated comprehensive cancer centers.
Learn from established leaders  with 30+ years of building successful supportive care programs.
Know strategies to use the data to refine and expand your program.
Application Information
Who should attend
Physicians, administrators, psychiatrists, psychologists, social workers, nurses, pharmacists, researchers and educators
Multiple trainees from individual institutions are particularly encouraged to apply and teams will be given preference.