Keynote Speaker
Melissa B. Davis, Ph.D.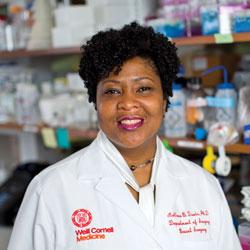 Dr. Melissa Davis is a faculty member of the Department of Surgery at Weill Cornell Medicine in New York City, where she heads the Davis lab and serves as Scientific Director of the International Center for the Study of Breast Cancer Subtypes, founded by Dr. Lisa Newman. Among their molecular genetic and genomics research projects, the Davis Lab researches the genetic specificities of Black Breast Cancer in order to inform and facilitate a precision medicine approach to treatment. 
Outside of her myriad roles at Weill Cornell Medicine, Dr. Davis also holds adjunct faculty positions in the Department of Genetics at the University of Georgia in Athens and in the Department of Population Health Sciences at Henry Ford Health System in Detroit.
Dr. Davis earned her Ph.D. in Molecular Genetics from the University of Georgia and went on to complete multiple postdoctoral fellowships in Functional Genomics and Systems Biology in the departments of Human Genetics at Yale School of Medicine and the University of Chicago. During that time, she also trained at the U-Chicago Center for Interdisciplinary Health Disparities.