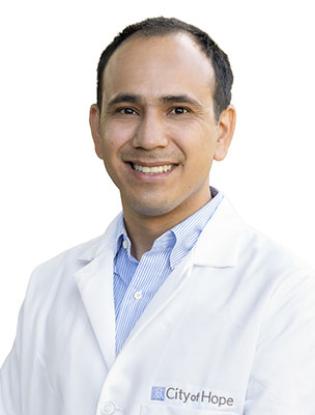 Physician
Clinical Expertise
Infectious Disease Medicine
Infectious Diseases
Appointments
Assistant Clinical Professor, Division Of Infectious Diseases, Department Of Medicine
"The ability to help other people based on my knowledge and critical thinking has always fascinated me."
Alfredo Gonzalo Puing, M.D., specializes in treating and preventing infections that threaten patients with blood cancers, stem cell and organ transplant recipients, and patients with suppressed or otherwise compromised immune systems.
His passion for medicine began early and spans two hemispheres. A native of Ecuador, he grew up around doctors and hospitals, tagging along after his father, a military physician. The bilingual (English/Spanish) Dr. Puing received his medical degree at Universidad Central del Ecuador in Quito. His U.S. training includes residency at Saint Peter's University Hospital- Rutgers University in New Brunswick, New Jersey, and specialized infectious diseases fellowships at University of Texas and Stanford University.
Dr. Puing looks forward to a long and productive association with City of Hope. "I find fulfilling the opportunity to work at a world-renowned cancer center like City of Hope," he said, "and being part of a dedicated and multidisciplinary team with the aim of restoring health and hope to those in greatest need."
2019, American Board of Internal Medicine - Infectious Diseases

2019, California Medical Board

2018, Texas Medical Board

2017, American Board of Internal Medicine
2012, M.D., Medicine, Universidad Central del Ecuador, Quito, Ecuador
2019-2020, Immunocompromised Host Infectious Diseases, Stanford University, Stanford, California

2017-2019, Infectious Diseases, University of Texas Southwestern Medical Center, Dallas, Texas
2014-2017, Internal Medicine, Saint Peter's University Hospital, Rutgers University, New Brunswick, New Jersey
2020-present, Assistant Clinical Professor, Department of Medicine, Division of Infectious Diseases
2018, American Society of Transplantation Member

2017, Infectious Diseases Society of America Member

2014, American College of Physicians Member
Puing AG, Li X, Rich J, Nijhawan AE. Emergency Department Utilization by People Living with HIV Released from Jail in the US South. Health Justice. 2020 Jun 27;8(1):16. DOI 10.1186/s40352-020-00118-2. PMID: 32594269
Puing AG, Couture-Cossette A, Wang AX, Zygourakis CC, Cheng X, Stevens BA, Banaei N, Novoa RA, Ho DY, Subramanian AK. Simultaneous coccidioidomycosis and phaeohyphomycosis in a kidney transplant recipient: A case report and literature review. Transpl Infect Dis. 2020 Jun 13:e13365. DOI: 10.1111/tid.13365. Online ahead of print. PMID: 32533741
Multani A, Moayedi Y, Puing A, Garvert DW, Gomez CA, Tremblay-Gravel M, Bunce PE, Luikart H, Ross HJ, Khush KK, Montoya JG, Teuteberg JJ. (2019). Recent Trends of Infectious Complications Following Heart Transplantation. Transplantation. 2020 May 11. DOI: 10.1097/TP.0000000000003307. Online ahead of print. PMID: 32413012
Puing A, Couture-Cosette A, Quintero O, Multani A, Henricksen E, Lee R, Moayedi Y, Forountan F. Teuteberg J, Subramanian A. 6-month Vs 12-month CMV Prophylaxis for CMV-mismatched Heart Transplant Recipients. J Heart and Lung Transplant. 2020 Apr 01;39(4):S204 - S205. DOI: 10.1016/j.healun.2020.01.818
Moayedi Y, Henricksen E, Lafreniere-Roula M, Fan C, Multani A, Puing A, Couture-Cosette A, Quintero O, Han J, Feng, K, Lee R, Duclos S, Lyapin A, Purewal S, Subramanian A, Hiesinger W, Khush K, Ross H, Teuteberg J. Moving Towards An Induction-free Era: Short-term Renal And Infectious Outcomes. J Heart and Lung Transplant. 2020 Apr 01;39(4): S274 - S275. DOI: 10.1016/j.healun.2020.01.601
Puing A, Xie D, Adams-Huet B, Barros N, Yek C, Wallace A, Liu T, Haley R, La Hoz R. Impact of Multidrug-Resistant Bacterial Infections in Solid Organ Transplantation: The Value of Electronic Health Records Based Registries and Data Extraction Tools. Open Forum Infect Dis. 2019;6(Suppl 2):S932-S933. DOI:10.1093/ofid/ofz360.2342
Puing Vera A, Yegneswaran B. Invasive Klebsiella pneumoniae Liver Abscess. A Worldwide Emerging Disease. J J Gastro Hepato. 2016, 3(1): 027
Ratings and reviews below are gathered from the Press Ganey Clinician and Group Consumer Assessment of Healthcare Providers and Systems (CG CAHPS) survey. CG CAHPS is a standardized survey that is used to measure a patient's experience in the physician office setting. Ratings are an average of all responses to questions about a provider's care, with 5 stars being the highest.
Ratings
5.0
Show respect for what you say
4.9
Spend enough time with you
4.9
Recommend this provider office
4.9
Provider listen carefully to you
4.8
Provider explain in way you understand
4.8
Know important info medical history
---
Reviews
Absolutely would recommend to family and friends
- Verified patient
Excellent level of concern and consideration
- Verified patient
All good
- Verified patient
All good
- Verified patient
Dr. Puing is patient, personable, thorough and knowledgeable. He explains conditions and treatment well, takes time to answer questions. Provides follow-up as needed.
- Verified patient