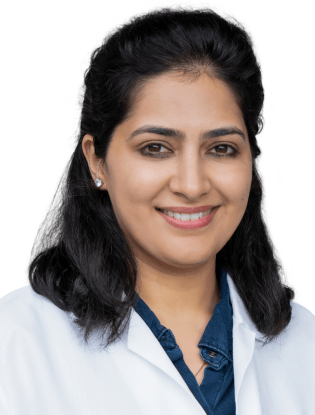 Physician
Clinical Expertise
Infectious Diseases
Immunocompromised Hosts, Transplant Infectious Disease
Infectious Disease Medicine
Research Area
Fungal Infections, Anti-Fungal Stewardship, Infections In Immunocompromised Patients
Appointments
Assistant Clinical Professor, Division Of Infectious Diseases, Department Of Medicine
Infectious disease expert Avneet Kaur, M.D., found her calling as a physician through her dedication to equity and desire to ensure that all communities receive excellent health care. She is passionate about working with recipients of blood stem cell transplants and other immunocompromised patients. She seeks to reduce the burdens faced by the people she serves by providing evidence-based care and a clear understanding of their treatment options.

In addition to caring for patients, Dr. Kaur conducts research aiming to understand the effects of various infections upon the immunocompromised and to prevent resistance to antifungal therapies. While she was an infectious disease fellow at State University of New York Downstate Medical Center in Brooklyn, she was recognized with a certificate of bravery for her work with COVID-19 patients during the pandemic.

In her free time, Dr. Kaur enjoys traveling, singing, dancing, reading and volunteering to feed the hungry.

2015,  Doctor of Medicine, Ross University School of Medicine
2022, Transplant Infectious Disease, University of California Los Angeles, Los Angeles, California

2021, Infectious Disease, SUNY Downstate Medical Center, Brooklyn, New York
2019, University of Maryland Capital Region Medical Center, Largo, Maryland
2022-present Assistant Clinical Professor, Division of Infectious Diseases, Department of Medicine, City of Hope, Duarte, California
Lead researcher in quality improvement project regarding patients receiving Bamlanivimab in mild SARS-CoV2 illness, 1/2021 to present
We included a group of 50 patients that received Bamlanivimab for mild COVID illness in our outpatient and inpatient setting. We reviewed
charts and interviewed patients to compare their symptoms prior to and after receiving the monoclonal antibody. Also, we investigated to evaluate if any of these patients were hospitalized after receiving the monoclonal antibody.
Co-researcher in presenting the long-term effects of SARS-CoV2 in immunocompetent, immunocompromised patients as well as patients with various underlying comorbidities, 7/2020 to present
We included 500 patients at Brooklyn VA hospital who were diagnosed with SARS-CoV2 infection from March through April 2020. Several of these patients had underlying comorbidities and behavioral health issues prior to being diagnosed. We differentiated them based on mild, moderate and severe COVID illness and followed them up at 30, 60, 90 and 180 days. We are analyzing the long-term impact of SARS-Co2 patients in these selected patients and how it increased health care burden and future hospitalizations.
Future co-author of book chapter on Anthrax sponsored by Elsevier
We are writing a chapter to be published in a book in 2022, which will include history, epidemiology, global outbreaks in the last 10 years, clinical presentation, diagnosis, treatment, prevention, prophylaxis, bioterrorism and nonbioterrorism implications and future research on anthrax.
Lead researcher in internal medicine adult health immunization QI project, 1 to 8/2017
We conducted a three-month retrospective QI project among adults aged 21-65 in Cheverly Clinic. We reviewed charts of 100 patients to evaluate if they adequately received all vaccinations needed as per their age, comorbidities, annual visits prophylaxis. We educated patients about herd immunity and preventive vaccinations like Hep A vaccine and various travel vaccines.
Lead researcher in lung screening QI project, 7/2016 to 08/2018
We conducted this project to screen high-risk patients for lung cancer with low dose CT scan.
We reviewed charts of 270 patients, and 21 were selected to be enrolled in screening process as per guidelines from USPSTF.
Researcher in internal medicine glycemic control of diabetes mellitus in a resident clinic, 8 to 11/2016
In this three-month quality improvement research project, we reviewed charts of 104 patients who did not meet glycemic targets.
We escalated the diabetic therapy in order to ensure HbA1c target.
American Society of Transplantation

Infectious Disease Society of America

American College of Physicians

The New England Journal of Medicine

The American Academy of Allergy, Asthma and Immunology
Kaminski MA, Sunny S, Balabayova K, Kaur A, Gupta A, Abdallah M, Quale J. Tocilizumab therapy for COVID-19: A comparison of subcutaneous and intravenous therapies. Int J Infect Dis. 2020 Dec;101:59-64. doi: 10.1016/j.ijid.2020.09.1447. Epub 2020 Sep 28. PMID: 33002613; PMCID: PMC7521212.
Barnes A, Kaur A, Augenbraun M. (2020). An Unusual Presentation of Prostatic Abscess due to Actinomyces turicensis and Peptostreptococcus. Cureus, 12(6), e8665. https://doi.org/10.7759/cureus.8665
Joseph T, Kim B, Fox C, Kaur l, Kaur A, Santoshi RKN, Singh J, Bahl V. Acute Severe EBV Myo-Pericarditis Presentation as ST Segment Elevation Myocardial Infarction. American Journal of Respiratory and Critical Care Medicine 2019;199:A3528
May 2018 ACP Conference Washington, DC: A Story Hidden in Lesser Sac - a rare penetration of Peptic Ulcer disease.
June 2017 ACP Conference Washington, DC: Mixing of Cocktails
June 2017 ACP Conference Washington, DC: A case of Wernicke's Encephalopathy in Hyperemesis Gravidarum
June 2014 ACP Conference Washington, DC: Sixth Cranial Nerve Palsy as the initial Presentation of Undiagnosed Type 2 Diabetes Mellitus
June 2014 ACP Conference Washington, DC: Protocols for Monitoring Clozapine induced Myocarditis