The chief engineer of the James Webb Space Telescope sunshield faced his greatest challenge when he was diagnosed with a highly aggressive form of leukemia
What have I achieved? Do I have any regrets? Am I OK if I die soon?
Those are the questions Andy Tao faced when he learned he had a highly aggressive form of acute myeloid leukemia (AML) — and if treatment didn't work, his odds of survival would be zero.  
What he discovered was reassuring. He'd have only one regret: leaving his wife Jeanne and his family behind.
"Amazingly though, in my professional life I'd achieved things I never dreamed I'd have had the opportunity to do — challenging and almost impossible things. And that gave me a great sense of peace," he said.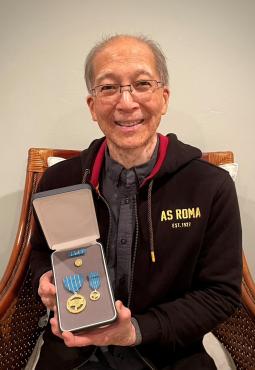 Tao's last professional challenge was perhaps his crowning achievement — chief engineer of the James Webb Space Telescope sunshield, a feat of engineering that he explains in this NASA video. Since the telescope's launch on Christmas Day 2021, it has been thrilling the world with the remarkable clarity of its space photographs.
On Nov. 3, Tao and his wife flew to the nation's capital to receive the NASA Exceptional Engineering Achievement Medal for his work on the sunshield.
Shortly after the ceremony, he sent this email to City of Hope oncologist Guido Marcucci, M.D.:
"Jeanne and I are in Washington, D.C., for the ceremony, which was held earlier today. The fact is not lost on me that without your help, I might not have been here today to accept the award. So, thank you once again. My gratitude has no bounds."
Because of Marcucci and a trial available only at City of Hope, Tao has been in remission for five years now, but getting there was the hardest job he'd ever undertaken.
The Toughest Challenge of His Life
Tao was known for taking on tough challenges. He'd worked on the Tracking and Data Relay Satellite and the Chandra X-ray Observatory — and even off the job, he liked pushing his limits. 
An avid cyclist and photographer, he loved following pro cycling events like the Amgen Tour of California. In 2007, he became the official photographer for their Breakaway From Cancer Initiative, where he met many cancer patients and survivors. He never imagined he'd be one.
At the end of 2016, he began tiring more easily than usual — although that didn't stop him from going to Tanzania with his wife and brother-in-law to climb Mount Kilimanjaro. But as spring and summer wore on, he grew progressively more exhausted. 
Back home in Los Alamitos, California, he went for a blood test, and when he didn't hear back from his doctor, he assumed everything was OK.
Then on a photo assignment in Colorado, he accidentally bit his tongue at dinner. His mouth filled with blood, and the bleeding took a long time to stop. The next day, he tried to go on a bike ride, but could barely pedal on flat ground. That's when he realized something was very wrong. 
As soon as he returned home, he called his doctor. There had been a mix-up with his blood test and he'd need to redo it. Tao went to another doctor for testing. 
"It was the 17th of August 2017 when the doctor called with the results, and I'll never forget his words. He said, 'You have leukemia. You need to go to the hospital right now.'"
At this point in his story, Tao grew silent for a long time. We asked if he was OK.
"Just gut emotion," he said. "Sometimes when I get deep into it, it just hits me. I think there's still a lot of trauma I'm dealing with."
During the Amgen tours, though, he'd made a good friend who was also a leader in the Cancer Support Community. She told him to go to City of Hope. A week later, he was transported from his local hospital to the main campus in Los Angeles. 
All the Odds Were Against Him
From his first consultation with Marcucci, who was one of the contributors to National Comprehensive Cancer Network treatment guidelines for AML, he knew he was in good hands.
"He was just the whole package. As a man and a doctor, he was so confidence-inspiring. He's extremely empathetic and does really care about his patients as people," Tao said.
AML is a particularly aggressive disease and, at that point, his blood was packed with leukemia cells. His only hope would be a stem cell transplant, which would allow donor cells to rebuild his blood.
A genetic analysis at City of Hope made the situation even graver.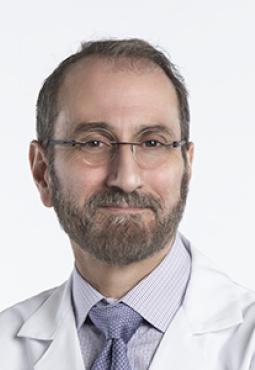 "Dr. Marcucci came into my room, and I could tell by his demeanor he wasn't bringing good news." Tao paused, choking up again before he continued. "And this is one of the many things I appreciate about him — he was completely honest with me." 
Genetic testing showed that Tao had the RUNX1 mutation, which made his AML even more aggressive and harder to cure. A transplant can be performed only after remission, so standard-of-care treatment would begin with chemotherapy. 
His first round of chemo was a combination of cytarabine and idarubicin. It didn't work. The leukemia cells were still lurking in his bone marrow.
The next step was an even more intense form of chemotherapy, a high-dose cocktail of mitoxantrone, etoposide and cytarabine combined. That, too, didn't work. 
The only other possibility was to proceed with a trial, available only at City of Hope, for patients who were still not in remission after the initial treatments. It used a special type of radiation called TMLI, or total marrow and lymphoid irradiation, following a very strong chemotherapy combination of etoposide and cyclophosphamide, and after that a hematopoietic stem cell transplantation. 
"It's a very harsh treatment, and it was very long and difficult because of the side effects he had to overcome," Marcucci said.
Jeanne was with him throughout his ordeal and, at a time when he didn't know whether he would ever get out of the hospital, he had a life-changing experience.
"I was sitting at a warm window holding hands with my wife," he said, "and suddenly I realized exactly what living in the moment really means."
'Cancer Is Not a Journey — It's an Odyssey'
In addition to typical treatment side effects like extreme fatigue and lack of appetite, the radiation caused another problem that was almost unbearable for Tao. The skin on his hands and feet thickened into callouses that were extremely painful. He could barely close his hand and could not even open a bottle. Then, the skin started to peel off. One of the nurses told him they looked like chicharrones: fried pork bellies.
But the treatment worked. He had his transplant — his brother was the donor — and after three and a half months in the hospital, he was finally released. But the ordeal wasn't over.
He began suffering from graft-versus-host disease, a common after-effect of a stem cell transplant. His appearance changed suddenly and radically. His hair turned white, and he was diagnosed with vitiligo — a disease that produces white patches on your skin. 
Rather than call his experience a cancer journey, Tao sees it as an odyssey: You don't know where you're going or what's going to happen. You're being assailed with adversity from every direction, and you don't know if you will survive. 
Today, though, with his cancer in remission and the graft-versus-host disease under control, Tao says he lives a good life now. He grows orchids, works out with a trainer and one big goal is a bike ride scheduled for next September. There's also the award from NASA to remind him of his significant contribution to our knowledge of the universe.
"Cancer tested me in ways I could never have imagined, but it showed me that I can muster the strength and courage needed to go wherever the future takes me."
To Marcucci, Tao's odyssey was nothing less than heroic. "Andy's courage should serve as an inspiration for other patients going through difficult treatments," he said.