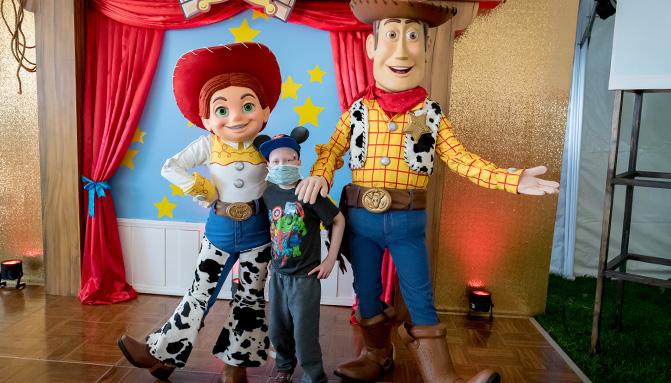 Pediatric patient Kevin Barron hangs out with Disney's Jessie and Woody
The pediatric patients in treatment at City of Hope are unable to go to Disneyland, so on March 14 Disneyland came to them with ToyFest, the fourth annual winter festival held on City of Hope's main campus in Duarte, California.
It also happened to be Mickey Mouse's 90th birthday, so there was much cause for celebration. Disney characters were on hand to hang out with approximately 400 young patients and their families. There were games and prizes and animation seminars for children who may one day want to make animated films of their own. Current and former patients and their families are invited each year. 

Mickey and Minnie also took the time to visit some of the patients who were unable to leave their hospital rooms for the festivities. Instead, they got private one-on-one time with their favorite characters, as well as some special goodies.
ToyFest was themed to Disney/Pixar's "Toy Story" films, and Woody, Jessie and Buzz were on hand to interact with their fans. Disney character artists gave a drawing tutorial, and Disney's Glendale Cast Choir performed a medley of Disney hits and classics, including a special rendition of the "Mickey Mouse March." In addition to the "Toy Story" characters, Darth Vader and Chewbacca met with families, while a host of Storm Troopers playfully patrolled the area.
"This means so much to the children, and I think, even more to their parents," said Judith Sato, M.D., a pediatric oncologist and chair emeritus of the Department of Pediatrics at City of Hope. "For an afternoon, these kids — their siblings, their parents — can be happy and escape into the magic world that only Disney can create. And the kids can see us as human, not just the people telling them they have to get a shot, or take a test or that they are still sick. It shows them we care for them and that, like them, we are members of a family. This was an unforgettable day for all of us."
ToyFest came about because of City of Hope and Disney's shared commitment to children, to changing the patient experience for sick children and their families, and to showing them the human side of their care team. Disney Parks, Experiences and Products Chairman Bob Chapek is especially passionate about City of Hope, with a personal connection to the kind of care and treatment City of Hope provides. In addition to all Chapek does with ToyFest, he and Disney also devote time to City of Hope's annual Pediatric Picnic, and Chapek served as the chair of City of Hope's 2018 Walk for Hope for women's cancers research. 
More on the Disney VoluntEARS day in Duarte is available on the
Disney Parks blog
.   
****