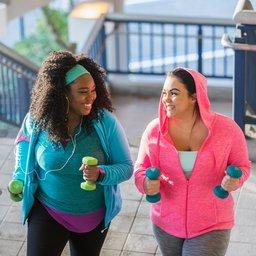 After taking part in a 16-week exercise intervention, women who had early-stage breast cancer, and who were also inactive and overweight or obese, had a lower risk of developing cardiovascular disease, according to a new study in
JAMA Oncology
.
"This study demonstrates how crucial exercise can be in reducing the risk of cardiovascular disease in early-stage breast cancer survivors," said
Joanne Mortimer
, M.D., City of Hope's Baum Family Professor in Women's Cancers and director of Women's Cancer Programs, and the study's lead author.
Although other studies have demonstrated how important exercise is in preventing breast cancer, this is one of the first studies to focus on how helpful exercise can be in reducing cardiovascular risk in a short time interval, Mortimer added.
Early-stage breast cancer patients have approximately double the risk of mortality from cardiovascular disease than women who are their same age and have not had breast cancer, the study noted.
The single-center, randomized clinical trial included 100 women with stage 1 to stage 3 breast cancer who were sedentary and overweight or obese, and had completed cancer care treatment within six months. The study took place at USC.
The exercise program was based on the American College of Sports Medicine/American Cancer Society exercise guidelines for cancer survivors (less than or equal to 150 minutes of aerobic exercise and 2-3 days of resistance exercise training per week). The women in the study participated in thrice weekly supervised one-on-one exercise sessions for 16 weeks. They did resistance and aerobic exercise of approximately 80 minutes on the first and third days of activity. The second day included about 50 minutes of aerobic exercise.
The exercise intervention appeared to decrease what's known as the Framingham Risk Score, a method for assessing the 10-year risk of developing cardiovascular disease.
The intervention decreased low-density lipoprotein cholesterol (considered "bad" cholesterol because it can cause fatty buildup in the arteries, according to the American Heart Association), and also lowered systolic blood pressure and the presence of diabetes (high systolic blood pressure and diabetes are both risk factors for cardiovascular disease.)
Women who exercised had increased high-density lipoprotein cholesterol (considered the "good" cholesterol because it carries "bad" cholesterol away from the arteries and back to the liver, where it is broken down and passed from the body).
"Participation in a combined approach of resistance and aerobic exercise can have a positive impact on a breast cancer survivor's health," Mortimer said.