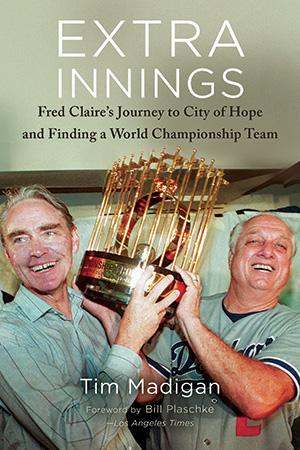 When Fred Claire was facing major surgery plus dozens of radiation sessions and multiple rounds of chemotherapy to treat
skin cancer
that had spread to his jaw, he received some advice from an old friend; someone he'd hired 30 years earlier.
"To get through this," the friend said, "your mind will have to be stronger than your body."
It was Kirk Gibson.
You may recognize the name.
On Oct. 15, 1988 a hobbling, limping, badly-injured Gibson rocked the baseball world with a dramatic pinch-hit home run that helped the Los Angeles Dodgers go on to win the World Series. As the Dodgers general manager and executive vice president, Claire had signed the free agent Gibson, one of many key player deals that transformed the squad into champions.
Claire spent 30 years with the Dodgers, more than a decade as GM. He coined the term "Dodger Blue." Naturally he's often asked to rate the best teams he's ever seen. He doesn't hesitate.
"City of Hope," he says without even a trace of hyperbole, "is the greatest team of my lifetime!"
Claire's years-long experience with cancer and treatment at City of Hope was challenging, again and again. After his initial surgery, radiation and chemotherapy in 2016, Claire hoped he was out of the woods. But the cancer came back aggressively, spreading to his neck. An immunotherapy clinical trial saved his life. But then an infection forced him to undergo even more extensive
 facial reconstruction surgery
, replacing his jawbone with a bone from his leg.
Grueling. But also inspiring.
Because what he saw, the people he met and how he was treated at City of Hope so moved Claire, he's become one of the institution's biggest boosters, speaking out at every opportunity and organizing a pair of celebrity golf tournaments that have raised half a million dollars.
He keeps two goals in mind: financial support of course, but more importantly, he wants to tell the story. It troubled him that relatively few people knew anything about City of Hope.
He decided to fix that.
The result is Extra Innings: Fred Claire's Journey to City of Hope and Finding a World Championship Team (Mascot Books and Amazon). Written by veteran journalist Tim Madigan, it's really multiple books in one. There are plenty of cool fly-on-the-wall stories about that miracle 1988 Dodgers championship season. Mostly though, "Extra Innings" vividly tells the 100-year-old City of Hope story: a comprehensive historical account of how City of Hope evolved from a couple of cottages in the desert for tuberculosis patients to the No. 1 cancer center in the western U.S.
Claire adds life to that history with memories of the remarkable people he's encountered through his own cancer journey. The stories will make you smile, make you cry and help everyone understand City of Hope's uniqueness … which is exactly what Claire wanted more than anything.
"He is more passionate about this mission than any previous pennant race," wrote Madigan.
It shows. When Claire speaks lovingly about his doctors, it's their humanity, even more than their skills and knowledge, that he treasures. He compares them to a baseball pitching coach who once explained his formula for success: "Show them you care," the coach said, "before you tell them what you know."
And whether it's the doctors, nurses, his patient navigator, a valet parking attendant who greets folks with a cheery, "We'll take good care of you," or even the custom built, patient-centered technology, everyone and everything at City of Hope, Claire says, is totally focused on the patients' well-being, literally "taking them by the hand," so no one ever feels alone.
"Other hospitals — and businesses — could take a lesson from that," he said.
Lessons From Other Patients
Claire picked up a few lessons himself, from fellow patients.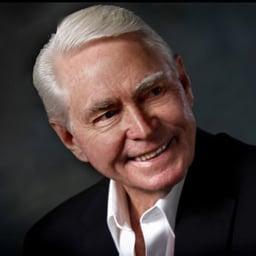 One of those patients was Jaylon Fong, a promising Little League pitcher and City of Hope patient who was treated for leukemia when he was 8 years old. At age 12, the disease returned and he had to start treatment all over again. Jaylon took it in stride, got through it, and came back to South Hills High to pitch his team to victory on opening day.
Thinking about Jaylon, and so many others who fill his City of Hope landscape, Claire remembers a quote by Jackie Robinson: "A life is not important except in the impact it has on other lives."
Many would describe Claire's life in those terms.
"He was the most honest and integrity-driven sports executive I've ever met," remarked Los Angeles Times sportswriter Bill Plaschke in the foreword to "Extra Innings." "Yet I'm even more awed by his battle with cancer and his insistence that City of Hope be celebrated in the same manner as his champion Dodger team."
"I very definitely feel blessed," Claire says. "There's no question that advancements at City of Hope played the most significant role in my recovery." The immunotherapy drug he received didn't exist a year earlier. Key physicians and surgeons who worked on him had arrived at City of Hope only recently, the result of an all-out drive to recruit world-class talent. Had he been stricken a few years before, who knows?
So, does he feel lucky?
He answers with a line from Branch Rickey (he does like to quote those Dodgers!)
"Luck," he said, "is the residue of design."
---------
Net proceeds from "Extra Innings: Fred Claire's Journey to City of Hope and Finding a World Championship Team" will benefit City of Hope.