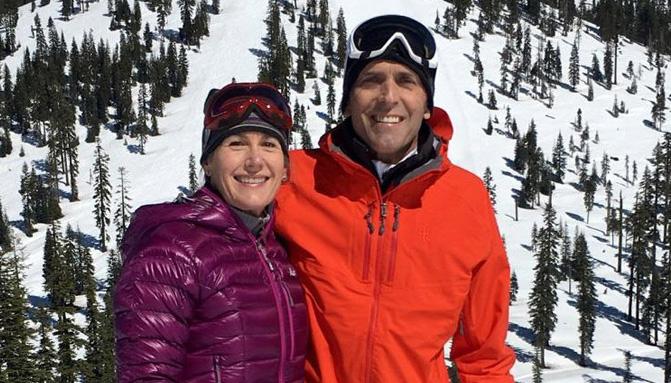 For several months in 2014, Leif Voeltz, an avid skier, bicyclist and climber, had been feeling tired. But he thought it was because he was fighting a severe flu — or just getting older.
Finally, in August of that year, he went to a local emergency room. He looked so weak that a nurse immediately took his vital signs. Leif's blood pressure had dropped, and he fell into a coma that lasted nine days.
During that time, Lacy Voeltz, his wife, received the devastating prognosis. A doctor told her Leif's
acute myeloid leukemia (AML)
was so advanced that he likely only had a 5% chance of surviving.
For nine days, Leif Voeltz, then 63, of Mount Shasta, California, lay in a coma spurred by sepsis, a life-threatening condition that harms tissues and organs, as well as a high level of cancer cells.
"Our friends at home who are doctors were telling me, 'You need to prepare because he's not going to make it,'" Lacy said. "Every day, another one of his organs failed. He was on full life support. Once his liver started to fail, they lowered his chance of survival to under 2%."
Family, Community, Love
Leif received antibiotics intravenously for the sepsis, and despite how ill he was, he was treated with a reduced dose of chemotherapy. Doctors told the Voeltzes that because Leif was an athlete and hadn't suffered heart damage, he was able to survive the coma and the treatment worked to achieve an initial remission. Leif became the patient of
Stephen Forman, M.D.
, the Francis & Kathleen McNamara Distinguished Chair in Hematology and Hematopoietic Cell Transplantation at City of Hope, in February 2015.
Leif's cancer disappeared for only a few months before it returned and required more chemotherapy. Forman told him that the AML, despite his achieving a second remission, would likely return again. Thus, he would need a transplant to hopefully cure the disease. On Dec. 16, 2015, Leif received
bone marrow-derived stem cells
from a donor halfway around the world — Marcel Waldmann, 28, a resident of Germany. When Waldmann leaves Germany to meet Voeltz, it will be Waldmann's first time flying and his first visit to the United States.
Adapting to the new bone marrow would prove difficult for Leif. While most transplant patients start generating white blood cells roughly two weeks after they've received the donor's bone marrow, Leif did not. It took approximately 25 days for Leif to start producing white blood cells.
"Family, community and love," is what the Voeltzes said got them through those difficult moments.
Leif, now 67 and the former owner of The Fifth Season, a mountain-climbing and bike shop, received an overwhelming amount of support from their family and his small, close-knit town of Mount Shasta, a picturesque mountain town in Northern California with about 3,400 residents.
"The whole town got together and took a group photo, and sent the photos to us," Lacy recalled. "There were pictures all over the walls that we put up of the love in the community and our family. Everywhere you looked there were messages of encouragement."
The Voeltzes can't wait to thank Leif's donor.
"He's a hero," Lacy said. "How do you thank someone for saving your soulmate, the love of your life? I don't know how to put that into words. I how to know to put it into tears and that's probably the best I'm going to be able to do."
****