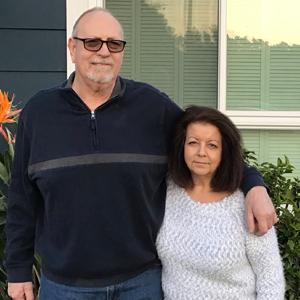 Anthony Wright, a big healthy guy who loves Jeep off-roading and deep-sea fishing, had the classic symptoms of sciatica — pain that shot from his lower back down his leg. His doctor wrote a prescription and told him to rest.
Nothing to worry about.
But over the next 10 weeks, the pain got steadily worse. A few times, it was so unbearable he wound up in the emergency room, as he did in late November 2018.
"The pain was so bad I had to lie on the waiting room floor," he said. "I told them I couldn't take it anymore, and they finally decided to do an MRI."
It showed a tumor on his sacrum, the triangular bone connecting the main portion of the spine to the pelvic bone.
Two days later, on Thanksgiving, Wright, his wife JoAnn and their adult children were in his hospital room awaiting the results of a biopsy and additional imaging.
"We were sitting there eating our turkey dinner when the doctor came in. He told us it was Stage 4 lung cancer that had spread to the spine," JoAnn recalled.
The news was devastating.
"I'm not a religious man," Wright said, "but that night, when nobody was around, I did say a little prayer."
Sent home to die
At the managed care consortium he belonged to, Wright was treated with two rounds of radiation and five rounds of a chemotherapy "cocktail" of carboplatin and pemetrexed, along with the immunotherapy drug pembrolizumab (Keytruda). But his condition grew steadily worse.
The pain was relentless. Eventually he was given 300 milligrams of morphine a day — an incredibly large amount. It made his memory of that time a little fuzzy, but JoAnn, who quit her job to care for him, recalls it all with crystal clarity.
"He was knock-down, drag-out sick. He literally could not lift his head up off the pillow," she recalled. "He couldn't even slide his leg across the bed."
His doctors said there was nothing more they could do to treat him. All that was left was end-of-life care.
"Basically they sent him home to lie in his bed until his final days," said JoAnn.
'Go to City of Hope'
Home care nursing was provided to make him as comfortable as possible, and one of those nurses — who worked for the Wrights' managed care group — surprised them with her suggestion.
"She told us to go to City of Hope, " said JoAnn. "So we did, and the rest is all the good stuff."
They made an appointment with medical oncologist
Erminia Massarelli
, M.D., Ph.D., M.S. By that time, Wright was too weak to eat and had lost about 65 pounds. He was malnourished and dehydrated.
"When I saw Mr. Wright the first time, he was lying on a stretcher. He was extremely fatigued and could not even lift his head," said Massarelli.
After reviewing his scans and molecular testing, she saw that his cancer was responding to pembrolizumab. Since he had already received a standard number of chemotherapy cycles, she advised him to discontinue it and take pembrolizumab alone for maintenance.
"I hoped that the fatigue was a side effect of chemotherapy and that stopping it would improve his energy," she said. "Given the signs of treatment response, my main objective was to improve his quality of life."
She also spoke with
Mike Y. Chen
, M.D., Ph.D., an experienced neurosurgeon at City of Hope. He reviewed Wright's scan and gave Massarelli hope that he could help the patient.
Chen removed the tumor — something Wright's previous doctors had not wanted to attempt. Treatment had killed all of the cancer cells, but the tumor had wrapped itself around the sacrum and shattered it like a windshield. Bone fragments and scar tissue had been pressing on nerves, causing excruciating pain. Chen then reconstructed the sacrum with titanium instrumentation — and at last, Wright's pain began to subside.
Before his surgery, Wright told Chen, "If you give me a chance, I'm going to make it work. I'll walk again."
And he is, indeed, making it work, with his commitment to intense physical therapy. Today, with the help of a cane or walker, the once-bedridden man who could barely move his leg takes strolls, climbs stairs and dines out in restaurants. And last Christmas, he and JoAnn flew to Texas to visit with family.
"Anthony didn't give up, and that's part of the reason he's had such a phenomenal recovery," said Chen.
What's more, thanks to Keytruda, the cancer in his lungs is shrinking, and recent scans showed his chest, pelvis, abdomen and brain were all clear.
"If it hadn't been for City of Hope, I don't think I'd be here right now," Wright said. "Dr. Massarelli and Dr. Chen gave me the will to live."
A whole new world
The Wrights call City of Hope "a whole new world," unlike any medical experience they'd ever had.
"The other place tried to kill the cancer, but they never treated the person. At City of Hope, there wasn't one person we came across who didn't address the entire being," JoAnn said. "We felt so respected and protected."
She only wishes they'd found it sooner. "If I'd read a story like this a year ago when his doctors were trying to talk him into giving up, I would have fought back a lot harder."
Chen expressed a similar view. "We hope that stories like these get out, so that other people who've been told they don't have options can see that maybe they do."
As for Wright, he couldn't be happier.  
"I can't believe it. I'm so grateful," he said. "From last year to this? Wow. I had a great Thanksgiving. A great Christmas. I mean, sheesh, it's amazing."