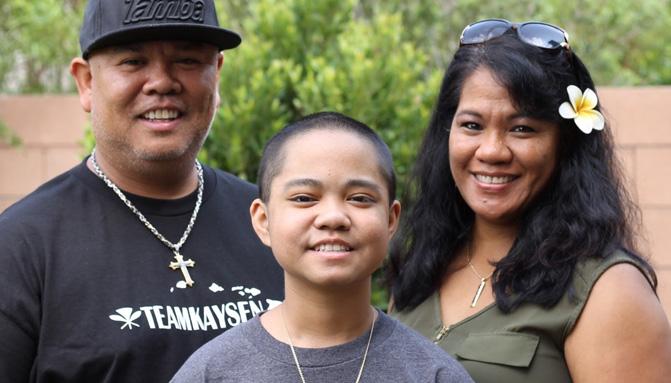 With new technology available at City of Hope, 14-year-old bone cancer patient Kaysen Camat-Toki is using a magnet to make his right leg grow. Now in remission, the Las Vegas resident returns to Southern California periodically for follow-up exams.
Kaysen's right femur has been lengthened three times since Dominic Femino, M.D., chief of the
Division of Orthopaedic Surgery
at City of Hope, inserted a stainless steel internal prosthesis nearly three years ago. At that time, 11-year-old Kaysen was 4 feet, 9 inches tall. He's now 5 feet, 2 inches.
"I lay in a bed, and they put my leg inside a box with a hole inside it," Kaysen said of the procedure. "It takes about 45 minutes for the lengthening. Dr. Femino sometimes puts a stethoscope on my knee, and I can hear the metal rod moving in my leg. Once it's done, my muscles are tight and my leg feels stiff 
—
a little like growing pains 
—
but the discomfort usually lasts only for half a day."
Three years ago, Kaysen was diagnosed with a rare type of bone cancer, telangiectatic osteosarcoma 
—
probably the hardest osteosarcoma subtype to treat, said his pediatric oncologist, Judith Sato, M.D., director of the
Musculoskeletal Tumor Program
at City of Hope. In June 2017, he went into remission. Now, two years later, Kaysen returned to City of Hope to attend the annual Pediatric Picnic on June 1 and celebrate life as a cancer survivor.
His mother, Cindy Camat-Toki, said, "My husband and I were crushed when we found out Kaysen had cancer. We dropped everything to make sure he immediately received the care he needed from doctors who specialize in his kind of cancer. We are thankful that we found City of Hope, Dr. Femino and Dr. Sato. They treat Kaysen like family."
City of Hope is the only institution on the West Coast with the expertise and technology capable of uniformly lengthening a growing child's limb with a specialized magnet, Sato said. This procedure is state-of-the-art and replaces a more traditional method: periodically incising a child's leg to expand the internal components or heating a plastic sheath around a metal rod to release a spring mechanism and lengthen the leg like a telescope. This type of internal prosthesis gets thinner and weaker as each spring component is released. The magnetic stretching City of Hope uses, on the other hand, allows for more uniform strength throughout the internal prosthesis.
"The method we used on Kaysen doesn't require regularly scheduled anesthesia and surgery after the initial operation," Sato said. "Every time you cut into a patient, there's a risk of infection because there's the incision and then probing into the nerves and blood vessels around the internal prosthesis."
Difficult decisions
Kaysen used to love playing baseball. His coach benched him when he complained about a sore right leg. His parents took him to urgent care, but the doctor didn't see any problems and said maybe it was growing pains.
Five weeks later, tremendous aches caused then 11-year-old Kaysen to hobble around. He could no longer walk, let alone run to first base. His parents brought him to a bone specialist who took X-rays and referred him to someone else. For a while, it seemed like doctors were playing hot potato with the boy. Finally, one of the Las Vegas physicians said Kaysen likely had osteosarcoma and suggested specialists who could treat him.
Cindy Camat-Toki and her husband, Bojay, were devastated, but they didn't have time to address their emotions. They scoured the web for more information, listened to doctors' recommendations and decided to rent a car and drive 237 miles 
—
3.5 hours 
—
to City of Hope to have Femino treat their son.
Even though the Camat-Tokis didn't have an appointment, City of Hope staff listened to their plight and carved out some time the following day so that Kaysen could be seen. Upon arrival, the Camat-Tokis met a team of seven 
—
oncologists, social workers, Child Life specialists and more 
—
all of whom were led by Sato. The team worked together to educate the family so that they understood what would lay ahead.
"Kaysen's condition was serious. City of Hope started aggressive chemotherapy immediately," Cindy Camat-Toki said. "They didn't waste any time."
The distraught parents had two options for their youngest child of six. Have his femur tumor removed above the knee and move his good tibia (bone between the knee and ankle) up and attach it to his femur. Essentially, his heel becomes his knee cap (rotationplasty). With this reconstruction, he would be able to run and play sports but would always have to wear a prothesis. Or, the cancerous part of his femur could be cut out and replaced with a stainless-steel prosthetic device that could grow internally with the help of a magnet. They asked Kaysen what he wanted.
"I wanted to look normal. I didn't want to stand out," Kaysen said. "Now, I have a scar on my right leg and sometimes there are sharp pains when the weather changes. But people don't stare. There's no reason to point and stare."
Find a cancer center that specializes in your cancer
Kaysen spent sixth grade as a patient at City of Hope. He would have fallen behind if City of Hope's school reintegration program hadn't provided a teacher, Pat Kramer, from a nearby school, Andres Duarte Arts Academy. Kramer taught Kaysen so that he could rejoin his classmates when he was well again.
He went through about 15 weeks of aggressive chemotherapy before surgery. The intense treatment shrank his tumors, enabling him to move his knee. But he still couldn't put weight on his leg for fear of worsening his fractures. Then he went in for surgery.
"General surgeons often are not prepared to operate on patients with osteosarcoma, especially patients with telangiectatic osteosarcoma," Sato said. "These patients have dilated blood vessels that are like blood pools within the bone. The tumors rupture easily and bleed out during surgery, possibly spreading the cancer into nearby soft tissue."
Kaysen lost about a pint of blood, which is a lot for a 66-pound boy, Sato said. Blood loss was minimized because Femino anticipated this possible problem and inserted a cement plug to stop the bleeding during surgery.
"For optimal results, patients like Kaysen need a cancer center that specializes in sarcomas so that all the treatment can be done at the same place," Sato said. "The patient and his family won't have to figure out what specialists they need in what order, which could delay treatment and allow the cancer to spread. Social workers, physical therapists, physicians and surgeons all talk and coordinate the patient's care for the best outcome."
Now, Kaysen is able to walk without any crutches or braces. He has recovered fully. He can play catch and shoot a basketball, but he is advised against running and other high-impact activities due to risk of fracture and loosening his internal prosthesis.
Every year, City of Hope treats many patients like Kaysen who have osteosarcoma or other sarcomas (cancer of the bone or soft tissue). Its physician-scientists continuously look for innovative treatment options for patients. The problem is that no single institution has enough data on these rare tumors to find disease trends. To study and improve patient outcomes, Sato and her team have built a sarcoma database that has captured data on more than 500 sarcoma patients so that physicians and scientists can identify disease trends and develop experimental treatments.