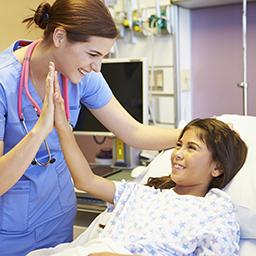 City of Hope's longstanding commitment to compassionate care was recognized by U.S. News & World Report
, 
which ranked the comprehensive cancer center fourth in the country out of 885 hospitals surveyed in the magazine's 2019-20 Best Hospitals: Specialty Rankings. The issue also named City of Hope the leading cancer center in the West.
For this year's patient experience rankings, U.S. News & World Report incorporated the Hospital Consumer Assessment of Healthcare Providers and System (HCAHPS) measure of patients' perspectives of hospital care. This is a widely recognized assessment of inpatient satisfaction. 
Among the critical aspects of the hospital experience measured by HCAHPS are communication with doctors and nurses, responsiveness of hospital staff, cleanliness and quietness of the hospital environment, pain management, communication about medicines, discharge information, overall rating and recommendation of hospital.
While many hospitals collect information on patient satisfaction, HCAHPS created a national standard for collecting and publicly reporting information that enables valid comparisons to be made across all hospitals to support consumer choice.
'Steadfast in Caring'
"From our founding days, City of Hope has been a haven for people suffering from life-threatening illness. While we have restored many lives, we have also been steadfast in caring for both our patients' bodies as well as their souls. We are humbled to be recognized for our patient experience," said
Michael Caligiuri, M.D., 
president of City of Hope National Medical Center and the Deana and Steve Campbell Physician-in-Chief Distinguished Chair.
In part, City of Hope's mission of providing exceptional care was enabled by the implementation of a new electronic health record, ConnectHope, over a year ago. Through the new
MyCityofHope
portal, for example, patients are able to see upcoming appointments, access their lab results, communicate with their health care team and view and pay bills online. 
City of Hope also advanced care by deploying greater efficiencies and effectiveness in its clinics, creating dedicated teams around a patient so that care teams could better know their patients, their conditions and status, leading to a more satisfactory experience.
Safety First
City of Hope took measures to reinforce and advance patient safety, an element of the patient experience that is always top of mind. Among the actions undertaken was conducting and acting on safety surveys, targeting opportunities by location to ensure a culture of safety across the organization. As part of continuing awareness of patient safety, myriad safety tip campaigns for staff were run.
Looking ahead, City of Hope will continue to focus on delivering exceptional patient experiences with a renewed commitment, ensuring every patient receives the highest level of safe, quality care and that every interaction a patient or caregiver has with City of Hope people and processes is supportive and compassionate.
****