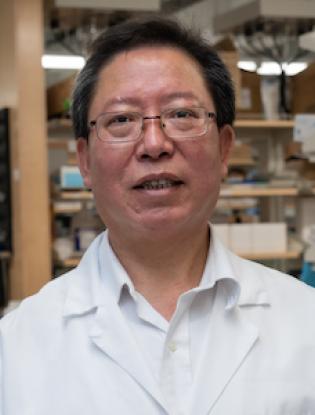 Staff Scientist, Department of Radiation Oncology
Appointments
Assistant Clinical Professor, Department of Radiation Oncology
Changxian Shen, Ph.D., began his biology studies for B.S. at Hunan Normal University in Changsha, China, and M.S. at Beijing Institute of Microbiology & Epidemiology in Beijing, China. After that, he moved to Ulm of Baden-Württemberg, Germany, to complete his Ph.D. in the field of molecular cancer biology at University of Ulm. He finished postdoctoral training at St. Jude Children's Research Hospital in Memphis, Tennessee. He followed up with his studies in cancer biology and translational cancer research at Nationwide Children's Hospital and The Ohio State University in Columbus, Ohio.
Dr. Shen's research has been focused on the roles for cell growth signaling pathways (including RAS-MAPK and PI3K-mTOR) in the regulation of cell cycle progression and DNA damage repair. Dr. Shen's long-term goals is to elucidate the mechanisms of tumorigenesis and find better therapies for the aggressive and hard-to-treat tumors, such as pancreatic and lung cancers, by exploring the genetic and epigenetic alterations of cancer cells.
Cell cycle progression

DNA replication stress

DNA damage repair
2001, Ph.D., University of Ulm, Ulm, Germany

1997, M.S., Beijing Institute of Microbiol & Epidemiol, Beijing, China

1993, B.S., Hunan Normal University, Changsha, China
2020-present, Assistant Research Professor, City of Hope National Medical Center, Los Angeles, CA

2013-2020, Research Scientist, The Ohio State University, Columbus, OH

2010-2013, Staff Scientist, Nationwide Children's Hospital, Columbus, OH

2003-2010, Postdoctoral Research Associate, St. Jude Children's Research Hospital, Memphis, TN

1999-2003, Research Associate, University of Ulm, Ulm, Germany
2018, CCC Basic Science Award

2009, Highly Rated Poster Presentation in AACR's 100th Annual Meeting

2008, AACR-Aflac Scholar-in-Training Award

2005, AACR-Merck Scholar-in-Training Award

2005, Top-10 ScienceDirect articles in Biochem, Genetics and Mol Biol

2003-2004, Most requested articles of FEBS Letters
2004-present, American Association for Cancer Research

2019-present, Radiation Research Society
Shen C, Shyu DL, Xu M, Yang L, Webb A, Duan W, Williams TM. Deregulation of AKT-mTOR signaling contributes to chemoradiation resistance in lung squamous cell carcinoma. Mol Cancer Res. 2021 Nov 22:molcanres.0272.2021.
Yang L, Shen C, Estrada-Bernal A, Robb R, Chatterjee M, Sebastian N, Webb A, Mo X, Chen W, Krishnan S, Williams TM. Oncogenic KRAS drives radioresistance through upregulation of Nrf2-53BP1-mediated non-homologous end-joining repair. Nucleic Acids Res. 2021; 49(19):11067-11082.
Shen C*, He Y, Chen Q, Feng H, Williams TM, Lu Y, He Z. Narrative review of emerging roles for AKT-mTOR signaling in cancer radioimmunotherapy. Ann Transl Med. 2021; 9(20):1596.
He Z, Houghton PJ, Williams TM, Shen C*. Regulation of DNA duplication by the mTOR signaling pathway. Cell Cycle 2021; 20(8):742-751.
Yang L, Shen C, Pettit CJ, Li T, Hu AJ, Miller ED, Zhang J, Lin SH, Williams TM. Wee1 Kinase Inhibitor AZD1775 Effectively Sensitizes Esophageal Cancer to Radiotherapy. Clin Cancer Res. 2020;26:3740-50.
Bill M, Karunasiri M, Burke MH, Shen C, Ranganathan P, Zitzer N, LaRocco A, Walker A, Brannan ZJ, Zhang X, Bloomfield CD, Garzon R, Dorrance AM. EGFL7 Antagonizes NOTCH Signaling and Represents a Novel Therapeutic Target in Acute Myeloid Leukemia (AML). Clin Cancer Res. 2020;26(3):669-678.
Robb R, Yang L, Shen C, Wolfe AR, Webb A, Zhang X, Vedaie M, Saji M, Jhiang S, Ringel MD, Williams TM. Inhibiting BRAF Oncogene-Mediated Radioresistance Effectively Radiosensitizes BRAFV600E-Mutant Thyroid Cancer Cells by Constraining DNA Double-Strand Break Repair. Clin Cancer Res. 2019;25(15):4749-4760.
Yang L, Kumar B, Shen C, Zhao S, Blakaj D, Li T, Romito M, Teknos TN, Williams TM. LCL161, a SMAC-mimetic, Preferentially Radiosensitizes Human Papillomavirus-negative Head and Neck Squamous Cell Carcinoma. Mol Cancer Ther. 2019;18(6):1025-1035.
Wu X, Li S, Hu X, Xiang X, Halloran M, Yang L, Williams TM, Houghton, PJ, Shen C*, He Z. mTOR Signaling Upregulates CDC6 and Promotes the Loading of DNA Replication Helicase. Sci Rep 2019, 9(1):9805.
Papaioannou D, Shen C* (*Co-first author), Nicolet D, McNeil B, Bill M, Karunasiri M, Burke MH, Ozer HG, Yilmaz SA, Zitzer N et al: Prognostic and biological significance of the proangiogenic factor EGFL7 in acute myeloid leukemia. Proc Natl Acad Sci USA 2017, 114(23):E4641-E4647.
He Z, Hu X, Liu W, Dorrance A, Garzon R, Houghton PJ, Shen C*: P53 suppresses ribonucleotide reductase via inhibiting mTORC1. Oncotarget 2017, 8(25):41422-41431.
Zhou X, Liu W, Hu X, Dorrance A, Garzon R, Houghton PJ, Shen C*: Regulation of CHK1 by mTOR contributes to the evasion of DNA damage barrier of cancer cells. Sci Rep 2017, 7(1):1535.
Caserta E, Egriboz O, Wang H, Martin C, Koivisto C, Pecot T, Kladney RD, Shen C, Shim KS, Pham T et al: Noncatalytic PTEN missense mutation predisposes to organ-selective cancer development in vivo. Genes Dev 2015, 29(16):1707-1720.
Ogi H, Sakuraba Y, Kitagawa R, Xiao L, Shen C, Cynthia MA, Ohta S, Arnold MA, Ramirez N, Houghton PJ et al: The oncogenic role of the cochaperone Sgt1. Oncogenesis 2015, 4:e149.
Studebaker A, Bondra K, Seum S, Shen C, Phelps DA, Chronowski C, Leasure J, Smith PD, Kurmasheva RT, Mo X et al: Inhibition of MEK confers hypersensitivity to X-radiation in the context of BRAF mutation in a model of childhood astrocytoma. Pediatr Blood Cancer 2015, 62(10):1768-1774.
Shen C, Houghton PJ: Targeting FANCD2 for therapy sensitization. Oncotarget 2014, 5(11):3426-3427.
Singh M, Leasure JM, Chronowski C, Geier B, Bondra K, Duan W, Hensley LA, Villalona-Calero M, Li N, Vergis AM, Shen C et al: FANCD2 is a potential therapeutic target and biomarker in alveolar rhabdomyosarcoma harboring the PAX3-FOXO1 fusion gene. Clin Cancer Res 2014, 20(14):3884-3895.
Shen C, Houghton PJ: The mTOR pathway negatively controls ATM by up-regulating miRNAs. Proc Natl Acad Sci USA 2013, 110(29):11869-11874.
Shen C, Oswald D, Phelps D, Cam H, Pelloski CE, Pang Q, Houghton PJ: Regulation of FANCD2 by the mTOR pathway contributes to the resistance of cancer cells to DNA double-strand breaks. Cancer Res 2013, 73(11):3393-3401.
Shen C*, Liu W, Buck AK, Reske SN: Pro-apoptosis and anti-proliferation effects of a recombinant dominant-negative survivin-T34A in human cancer cells. Anticancer Res 2009, 29(4):1423-1428.