Ranked among the nation's top 10 "Best Hospitals" for cancer by U.S. News & World Report, City of Hope is a leader in lung cancer research and treatment and one of the few facilities designated as a comprehensive cancer center by the National Cancer Institute.
Led by our multidisciplinary health care team, City of Hope's lung cancer program is transforming the future of lung health by developing groundbreaking ways to treat cancer. As an institution-wide effort to advance cancer care, we are conducting a wide variety of innovative clinical trials evaluating the latest immunotherapy and targeted therapy approaches for lung cancer, including our recently launched trial for advanced EGFR mutated nonsmall cell lung cancer (NSCLC).
Mutations in the EGFR gene cause EGFR proteins to be elevated on some cancer cells, making them divide more rapidly. Osimertinib, an EGFR kinase inhibitor, may stop the growth of tumor cells by blocking EGFR.
Minnelide is a biologically inactive compound that can be broken down in the body to produce a drug that rapidly releases the active compound triptolide when exposed to phosphatases in the bloodstream.
This Phase 1b, open-label, dose-escalation, safety and pharmacodynamic trial, led by Erminia Massarelli, M.D., Ph.D., M.S., co-director of the Lung Cancer and Thoracic Oncology Program and associate professor in the Department of Medical Oncology & Therapeutics Research, is testing the side effects and best dose of minnelide when given with osimertinib to treat advanced EGFR mutated NSCLC.
In this study, patients 18 years or older receive minnelide PO QD on days 1121 and osimertinib PO QD on days 1128. Cycles repeat every 28 days for six months in the absence of disease progression or unacceptable toxicity. After completion of study treatment, patients will be followed up at 30 days and then every three months for two years. Estimated completion is December 2024.
To refer a patient to this clinical trial, call 626-218-1133 or visit: https://clinicaltrials.gov/ct2/show/record/NCT05166616?view=record.
Our Multidisciplinary Lung Cancer Program Provides Optimal Outcomes
The National Cancer Institute estimates that in 2022, 236,740 new lung cancer cases will be diagnosed. At City of Hope, we bring together the best and brightest clinicians and medical researchers to treat patients with lung cancer and help lower those statistics. Our multidisciplinary approach, combined with our dedication to advancing cancer care, results in our superior survival outcomes data compared to SEER* National, making City of Hope the best choice for lung and thoracic cancer treatment.
*The National Cancer Institute's SEER Program is an authoritative source on cancer incidence and survival that provides cancer statistics to reduce the cancer burden among the U.S. population. It is supported by the Surveillance Research Program, which provides national leadership in cancer surveillance using analytical tools and methodological expertise in collecting, analyzing, interpreting and disseminating reliable population-based statistics.
City of Hope Surpasses SEER National Median Survival for Nonsmall Cell Lung Cancer at All Stages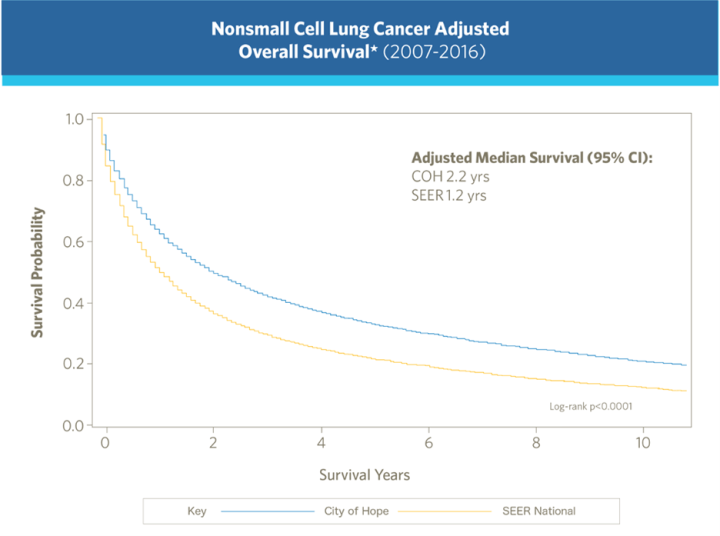 City of Hope Stage IV survival is 100% greater than the SEER National average five years post-diagnosis.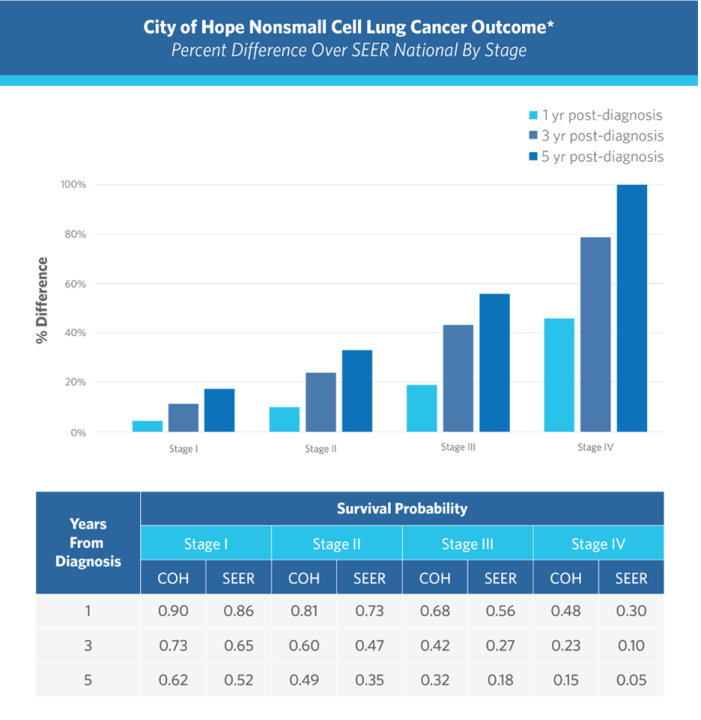 The adjusted survival probabilities for City of Hope NSCLC patients across all stages (I, II, III and IV) were compared to the SEER† National data one, three and five years after diagnosis. The percent difference after 3 years was ≥12% at all stages of cancer, with the largest differences seen in stage IV patients regardless of year (1 yr: 46%; 3 yr: 79%; 5 yr: 100%).
*Proportional hazards regression survival estimates adjusting for age category (15-44, 45-54, 55-64, 65-74 and 75+), race (white, Black and other) and gender (male or female) and Stage (I, II, III and IV).
†Data were derived from the City of Hope Cancer Registry (CNeXT) and SEER November 2019 Disease Specific Data Files as the comparator. All patients at City of Hope in Duarte were diagnosed from 2007 through 2016, and the City of Hope follow-up cutoff date was 12/31/2017, to align with SEER data. Survival time was based on first occurring NSCLC diagnosis during the time period of interest.
To learn more about our outcomes for cancer treatment, visit us at CityofHope.org/patients/outcomes.