Treatments for Brain Tumors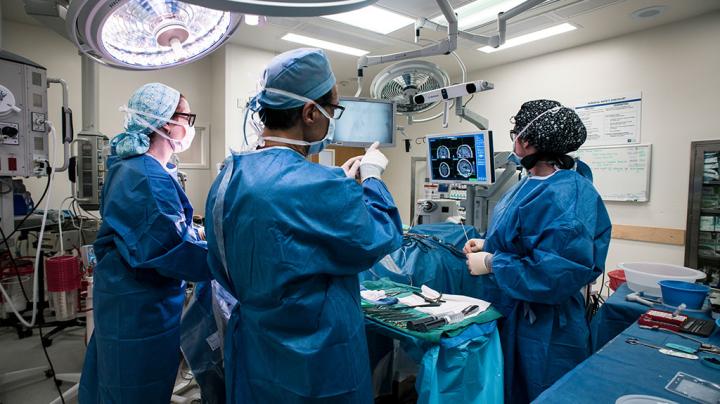 City of Hope's approach to treating brain cancer starts with a coordinated, multidisciplinary care team whose main goal is finding a treatment plan that extends your life. We combine leading-edge technologies — like minimally-invasive surgery and the latest radiological approaches — with research and clinical trials not found anywhere else.
Your team works with you at every stage of treatment. Our planning begins by considering the following:
Tumor type and grade
Size of the tumor
Where the tumor is located in the brain
Your health status
For certain low-grade tumors, the best first course may be observation, while higher grade tumors may be treated using chemotherapy and radiation. Your treatment course will be personalized based on your specific tumor type.
Treatment Approach
Our treatment approach involves:
An initial consultation with deeply experienced brain tumor experts, who will provide an accurate diagnosis, followed by a personalized treatment strategy
Input from experts in various subspecialties at every stage of your treatment
A treatment plan that evolves as new treatments and clinical trials become available
Palliative care, pain management and counseling
Comprehensive Care
City of Hope is one of only a few dozen centers in the country that treat brain tumors using a comprehensive approach — by a team whose sole focus is treating this type of cancer. Your care includes regular interaction and input from a team that includes neurosurgeons, oncologists, radiologists and pathologists — along with researchers who collaborate with clinical staff regularly to quickly bring potential therapies from the lab to patients.
Surgery
Surgery for brain cancer is often the first step in the treatment process for brain tumors. Deciding whether to remove a tumor depends on if it can be done safely, and how much normal brain tissue is involved. In some cases, surgery may be performed to reduce the tumor size, but may not remove all cancerous tissue. For operable brain tumors, surgically removing cancer could cure early-stage disease.
Surgery for brain tumors most often is used to:
Remove a small swatch of tumor tissue (a biopsy) for diagnosis.
Remove an entire brain tumor.
Stop brain tumor cells from spreading.
Slow the growth of a brain tumor.
Prevent a tumor from returning.
Provide direct access to chemotherapy, implants, and genetic treatments.
Ease symptoms caused by tumor-like headaches or seizures.
Our neurosurgery team's focus on researching and treating brain tumors also means they can target tumors that elsewhere were considered inoperable.
When routine therapies stop working, you have options here that you don't have elsewhere.
Mike Chen, M.D., Ph.D., neurosurgeon
City of Hope's neurosurgeons specialize in using minimally invasive procedures whenever possible. By using fewer incisions and making smaller cuts, our surgeons can extract the tumor with minimal impact to surrounding healthy brain tissue. Minimally invasive procedures used at City of Hope include:
Intraoperative cortical mapping gives the surgeon a computerized map of key brain regions, including speech, motor, and sensory centers. By avoiding these critical areas, the risk of damage to brain tissue is minimized while still allowing as much of the tumor to be removed as possible.
Image-guided surgical navigation, which helps to remove tumors that are difficult to visualize, or are located in high-risk areas of the brain, by using preoperative magnetic resonance imaging (MRI).
Endoscopic surgery, performed through an endoscope — a thin, lighted tube with a small opening that accommodates tiny surgical tools. Smaller incisions reduce pain and the risk of infection.
Our neurosurgeons work closely with radiation and medical oncologists so that multiple treatments can be performed during one procedure. For example, applying chemotherapy directly to the tumor site during surgery can kill the remaining tumor cells and reduce the likelihood of recurrence.
City of Hope is also developing a miniaturized surgical system to allow brain surgery to be even less invasive, with an even lower risk of complications.
Spinal Surgery Excellence
Many cancer patients develop spinal metastases yet few specialists know how to safely navigate this complex region of the body. City of Hope neurosurgeons regularly treat difficult spinal cases — and use their expertise to design innovative surgical approaches. Our team invented a technique designed to reduce the number of incisions needed to perform complex spine surgery, resulting in a safer procedure with fewer complications, less bleeding and faster healing.
Neurosurgeon Innovators
All City of Hope neurosurgeons have active research laboratories — with projects ranging from defining the behavior of metastatic brain tumors to refining the delivery of MRI-guided gene therapy to brain tumors to inventing smaller, nimbler tools for hard-to-reach tumors.
Types of Brain Tumor Surgery
Biopsy involves taking a small sliver of brain tumor tissue and examining it under a microscope. It is used to determine the type and grade of brain tumor.
Craniotomy involves surgically removing a section of the skull so that the neurosurgeon can reach the area of the brain affected by the tumor. The skull section is replaced at the end of surgery.
Craniectomy, like craniotomy, involves surgically removing a section of skull, however it is not replaced post surgery.
Debulking involves surgically reducing the size of the tumor.
Partial removal is removing only part of the tumor so as to not damage normal tissue.
Complete removal involves surgically removing the entire tumor.
A shunt creates a drainage system by funneling excess fluid from the brain to outside the body.
An Ommaya reservoir is a small, dome-shaped device that is placed under the scalp. A tube is attached to deliver fluids (like chemotherapy) or extract fluids (like cerebrospinal fluid).
Skull base surgery is both a procedure to remove tumor tissue from the skull base area and describes tumors found in that area of the central nervous system.
Transphenoidal surgery is a surgical method typically used on pituitary adenomas and craniopharyngiomas.
Radiation Therapy
Radiation therapy uses high-energy radiation to kill cancer cells and shrink tumors. City of Hope offers radiation treatments using state of the art technology that directly target cancer cells and minimize harmful effects to the brain. Our advanced radiation techniques include:
Helical Tomotherapy, which delivers focused radiation directly to brain tumors while minimizing any impact on surrounding brain tissue
TrueBeam radiotherapy, an image-guided radiation system, that delivers ultraprecise beams of radiation directly at tumors while preserving surrounding healthy tissue
Neural Stem Cell Therapy
Even in situations when surgeons can remove a brain tumor, invasive tumor cells can continue to spread throughout the brain. Researchers at City of Hope are engineering neural stem cells, which are naturally drawn to tumor cells, to deliver chemotherapy and other tumor-killing agents to the brain while minimizing side effects and toxicity to normal brain tissue.
Targeted Therapy
City of Hope uses the latest technology to spot genetic vulnerabilities in cancer cells and uses medications to stop them from growing. This approach involves creating targeted therapies: drugs that would work best to treat specific cancers.
Although brain tumors have fewer molecular targets than other cancer types, high-grade brain cancer patients at City of Hope have their tumors molecularly profiled in the event that the cancer can be targeted. Research is ongoing to find new targets for brain tumors.
Chemotherapy
Chemotherapy is cancer treatment that uses drugs to either kill cancer cells or stop them from growing. The blood-brain barrier keeps most chemotherapy drugs from being absorbed by the brain, but advances in gene and immunotherapy at City of Hope are allowing drugs to reach brain tumors.