Radiation Therapy and Gastrointestinal Cancers
Treatments
Highlights of our radiation therapy options for gastrointestinal cancers include:
Image Driven Planning
Accurately defining the gross tumor for radiation delivery is the key for a successful radiation treatment. Traditionally, computed tomography (CT) imaging has been used for radiation treatment planning for GI malignancies, which sometimes could not define the gross tumor well. At City of Hope, we have successfully employed molecular imaging, such as 18F-fluoro-deoxyglucose positron emission tomography/CT (PET/CT) to guide radiotherapy planning for GI malignancies with promising results.
The following images show CT imaging for a patient with anal cancer, and no obvious gross cancer could be identified.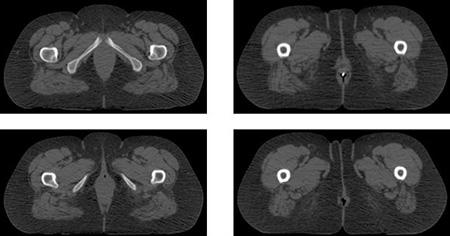 The PET/CT scans below for the same patient helps identify the gross tumor in the anal canal as highlighted areas, which can be integrated into radiation treatment planning for high-precision conformal radiotherapy.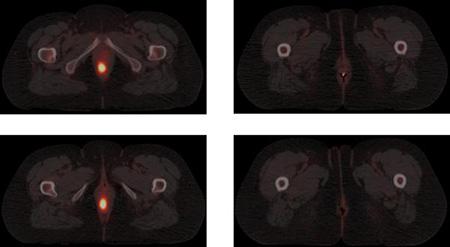 The primary purpose of radiotherapy is to direct the radiation beam toward the true location of the tumor volume while sparing the surrounding normal structures from unnecessary radiation (see figure below). Through intensity modulation and image guidance, intensity modulated radiation therapy (IMRT) and image guided radiation therapy (IGRT) provide unprecedented precision in targeting any clearly defined tumor volume in the body. City of Hope pioneers and plays a leading role in applying IMRT and IGRT on various gastrointestinal malignancies and promising results have been published (see references below).

Typical isodose distributions for tomotherapy, IMRT, and 3DCRT plans for a patient with esophageal cancer. The tumorous area was painted in light red. Note more conformal target coverage and reduction of hot spots (red isodose line, 52.5 Gy) for the tomotherapy plan compared with IMRT and 3DCRT plans.
Respiratory Gating
Motion of cancer targets is a significant concern when patients undergo radiotherapy, especially using intensity modulated radiation therapy. Underdosage to cancer targets because of target displacement could lead to tumor progression and overdosage to surrounding normal tissues can result in unnecessary toxicity. Because of respiration-induced motion, upper and middle gastrointestinal organs, such as esophagus, stomach, liver, gallbladder, and pancreas are considered moving organs. We have adopted the newest technology, four-dimensional CT (4D CT) simulation, to define organ motion during respiration to ensure that the cancerous targets can be encompassed accurately for better results.
Learn more about our gastrointestinal cancer and radiation oncology programs.