With African American men 50% more likely to develop prostate cancer than white men and twice as likely to die from it, City of Hope is focusing on outreach efforts to this community in an attempt to catch cancers before they become deadly.
Before she began medical school, Fornati Bedell, M.D., M.H.D., studied public health at Johns Hopkins University. She fondly recalls her first job.
"I'd go around to barber shops, churches, all over Baltimore," she said, "to talk to folks about prostate cancer and work on getting people screened.
"It was the best job ever."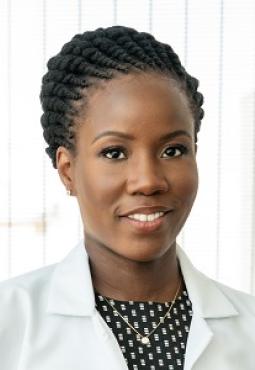 Reaching out to the underserved — especially in the African American community — was baked into Bedell's personality almost from birth. She spent the first eight years of her life in Liberia, a country where, she says, "there are no urologists, and prostate cancer is everywhere." She lived next door to a clinic where one of the doctors was a family friend. "I was always over there," she said. By age 3, she knew she wanted to be a physician as well.
Today, Bedell combines her passion for medicine with her formidable public health chops at City of Hope's Antelope Valley and Santa Clarita facilities, a post she specifically accepted because of the diverse and medically underserved populations of the communities. Every day,  the urologic surgeon treats Black men with prostate cancer; every day she also uses any means available — radio, TV, social media, in-person talks — to spread the word about the grim statistics: that African American men are 50% more likely to develop prostate cancer than white men and twice as likely to die from it.
A Grave Threat to Black Men
"No other cancer comes close. It's the gravest cancer threat to African American men," said Kimlin Tam Ashing, Ph.D., founding director of the Center of Community Alliance for Research & Education (CCARE) and a professor in the Department of Population Sciences at City of Hope. 
Ashing has spent a lifetime examining health disparities and inequities while seeking to build strategies to combat both. Recently, she came across a study that is both alarming and encouraging.
No one is certain why 1 in 7 African American men are stricken with prostate cancer. Current literature continues to list genetics (in addition to "racial bias and socioeconomic status") as possible causes. Ashing and Bedell have published a paper correlating race and tumor aggressiveness.
But new research is casting some doubt on the "nature, not nurture" school of thought.
"More recent data is suggesting," said Ashing, "that if you equalize environmental factors in the clinical trial, Black men do as well or even better than their white counterparts. 
"In other words, it's about access. If we equalized care, we'd have better results."
Access, especially to early screening for prostate cancer, may well be the game-changer for this population. It is also where most of the work remains to be done.
Studies show that Black men tend to be diagnosed with prostate cancer at a later, more dangerous stage than their white counterparts. Had they come in earlier for a physical exam and a simple prostate specific antigen blood test, many of those lives could have been saved because early-stage prostate cancer is highly treatable. 
Roadblocks to Care
Unfortunately, in too many cases that doesn't happen, for a variety of reasons.
These include lack of understanding: Many Black men don't know what prostate cancer is or how dangerous it can be. As a result, they don't discuss the disease with their doctors and never learn about the importance of early screenings until they feel ill and it's too late.
Then, there is stigma. Cancer in general and prostate cancer in particular still carry a negative aura in some circles. "It's still present," said Ashing. "Some people feel cancer is some kind of punishment and will be a disgrace to their families." Fear about treatments and side effects also combine with misinformation, with sometimes deadly consequences. "Our Black men are not being educated and supported to get screened, to talk within their families about a family history of cancer and informed about advances in treatments that reduce side effects," Ashing added.
The greatest factor may be lack of access. Similar to the food desert situation in underserved communities, Black men don't always have easy access to preventive medical care, such as screening, because there are no facilities in their communities, and also because many do not have proper health insurance to cover the cost.
Ways City of Hope Is Helping
In ways large and small, City of Hope has been working to address these concerns.
It starts with personnel. Several urologists have been hired recently and assigned to facilities in so-called regions of vulnerability where the need is greatest. "We look at these communities, like Antelope Valley, and direct more resources there," said Ashing.
To help get the word out, Ashing and her team deploy community advocates — specially trained help leaders based in the community to increase awareness at the grassroots level. Many of these advocates are themselves cancer survivors and can relate to their neighbors in a deeply personal way. "People appreciate that we partner with real people who share their stories," said Ashing.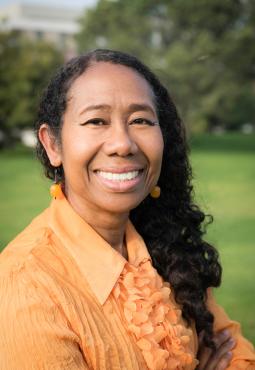 City of Hope also partners with church groups and civic organizations — places known and trusted by community members — to schedule discussion groups and health fairs. Some of this necessarily paused or shifted to virtual meetings during the pandemic, but Ashing says the in-person effort is ramping up again, first with educational events and eventually bringing screening opportunities back into communities. "By doing this, we create a pathway to care" that many never had before, she explained.
Thanks to some government funding, a fully equipped mobile unit helps bring those services where they're needed in the Antelope Valley, and there's talk of deploying a second rolling facility to serve other communities. Additionally, as part of the iCCaRE Consortium for Black Men, City of Hope has received support from the Department of Defense Prostate Cancer Program to improve the continuity of care from the point of diagnosis to survivorship.
Patients have noticed, and they like what they see.
"Overall, the first response is gratitude, just for the information," said Bedell, also an assistant clinical professor in the Division of Urology and Urologic Oncology. "And then, when a patient comes in because they heard a talk in their community, they are just so grateful someone took the time to speak with them.
"That's what makes this job so fulfilling."