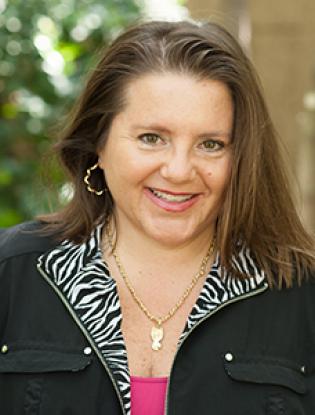 Research Professor, Department Of Hematology & Hematopoietic Cell Transplantation
Research Area
Immune Monitoring To Evaluate Response And Assess Efficacy Of Cytomegalovirus (CMV) Experimental Vaccines In Transplant Patients
Immune Mechanisms And Biomarkers Of Primary CMV Response In Solid Organ Transplant Recipients
2022-present, Research Professor, Department of Hematology & Hematologic Cell Transplantation, City of Hope, Duarte, CA

2008-2022, Associate Research Professor, Beckman Research Institute of City of Hope, Duarte, CA

2004-2008, Assistant Research Scientist, Laboratory of Vaccine Research, City of Hope, Duarte, CA

1997-2004, Senior Research Fellow, Department of Virology, City of Hope, Duarte, CA

1994-1996, Postdoctoral Fellow Department of Molecular, Cellular and Animal Biology, University of Camerino, Italy
Corinna La Rosa, Ph.D., is a Research Professor in the Department of Hematology & Hematopoietic Cell Transplantation, at City of Hope. Her research focuses on the development and immunological evaluation of investigational vaccines against cytomegalovirus (CMV), an important opportunistic pathogen in immunocompromised individuals, including hematopoietic stem cell (HCT) and solid organ transplant (SOT) recipients. She has been involved in several clinical trial to assess the efficacy of City of Hope candidate CMV vaccines both in HCT and SOT patients. Since the start of the pandemic, Dr. La Rosa has been also investigating various concepts underlying the immune responses to SARS-Cov-2.
Dr. La Rosa graduated at University of Camerino (Italy) and received her PhD at University of Pisa studying the immune response to Plasmodium falciparum circumsporozoite protein, in individuals naturally exposed to malaria. During her postdoctoral studies, she continued her research in the context of a vaccine for feline immunodeficiency virus, as a model for HIV. She worked at various European Universities, including University of Lausanne, Department of Biochemistry; University of Camerino, Department of Molecular, Cellular and Animal Biology; University of Pisa, Department of Biomedicine, Laboratory of Virology; University of Bristol, Department of Clinical Veterinary Science.
She joined City of Hope as a Research Fellow under the mentorship of Don J. Diamond, Ph.D., Professor in the Department of Hematology & Hematopoietic Cell Transplantation at City of Hope, where she has continued to pursue her interests in study the immune response and in developing experimental vaccines to protect our vulnerable population of transplant patients from infectious pathogens.
1998, American Soc. of Hematol. Award to participate to the 40th ASH Conference

1992, University of Camerino (Italy) award for research activity to be performed in specialized EC Institutions
C. La Rosa, F. Chiuppesi, Y. Park, K. Gendzekhadze, Q. Zhou, K. Faircloth, T. Kaltcheva, D. Johnson, S. Ortega Francisco, I. Amanam, S. Otoukesh, V. A. Pullarkat, R. Nakamura, D. J. Diamond, S. J. Forman, M. M. Al Malki. Adoptive transfer of functional SARS-COV-2-specific immunity from donor graft to hematopoietic stem cell transplant recipients. American Journal of Hematology, 2022, 97, E404-E407.
F. Chiuppesi; J. A. Zaia; K. Faircloth; D. Johnson; M. Ly; V. Karpinski; C. La Rosa; J. Drake; J. Marcia; A. M. Acosta; S. Dempsey; R. A. Taplitz; Q. Zhou; Y. Park; S. Ortega Francisco; T. Kaltcheva; P. H. Frankel; S. Rosen; F. Wussow; S. Dadwal; D. J. Diamond; Vaccine-induced spike- and nucleocapsid-specific cellular responses maintain potent cross-reactivity to SARS-CoV-2 Delta and Omicron variants. iScience, 2022, 25, 104745.
F. Chiuppesi, J. A. Zaia, P. H. Frankel, R. Stan, J. Drake, B. Williams, A. M. Acosta. K. Francis, R. A. Taplitz, J. K. Dickter, S. Dadwal, A. G. Puing, D. Nanayakkara. P. Ash, Y. Cui, H. Contreras, C. La Rosa, K. Tiemann, Y. Park, J. Medina, A. Iniguez, Q. Zhou, V. Karpinski, D. Johnson, K. Faircloth, T. Kaltcheva, J. Nguyen, M. Kha, V. H. Nguyen, S. Ortega Francisco, A. Grifoni, A. Wong, A. Sette, F. Wussow, D. J. Diamond. Safety and immunogenicity of a synthetic multiantigen modified vaccinia virus Ankara-based COVID-19 vaccine (COH04S1): an open-label and randomised, phase 1 trial. The Lancet Microbe, 2022, 3, e252-264.
A. Rashidi*. C. La Rosa*, J. Curtsinger, Q. Cao, Q. Zhou, C. R. Lingaraju, D. J. Weisdorf1, F. Cichocki, J. S. Miller, D. J. Diamond. *Contributed equally to this article. CMV Triplex vaccine to enhance adaptive NK and T-cell reconstitution after autologous hematopoietic cell transplantation. Transplantation and Cellular Therapy, 2022, 28, 343.e1-343.e4.
H. Pourhassan*, C. La Rosa*, F. Chiuppesi*, A. Puing*, I. Aldoss, Y. Park, Q. Zhou, V. Karpinski, K. Faircloth, T. Kaltcheva, D. Johnson, S. Ortega Francisco, J. A. Zaia, R. Nakamura, M. M. Al Malki, D. J. Diamond, S. Singh Dadwal, S. J. Forman. *Contributed equally to this article. Successful outcome of pre-engraftment COVID-19 in an HCT patient: impact of targeted therapies and cellular immunity. Blood Advances, 2022; 6, 1645-1650.
I. Aldoss*, C. La Rosa*, L.R. Baden*, J. Longmate, E.J. Ariza-Heredia, W.N. Rida, C.R. Lingaraju, Q. Zhou, J. Martinez, T. Kaltcheva, A. Dagis, N. Hardwick, N.C. Issa, L. Farol, A. Nademanee, M.M. Al Malki, S. Forman, R. Nakamura, D. J. Diamond, for the TRIPLEX VACCINE Study Group. *Contributed equally to this article. Poxvirus Vectored CMV Vaccine to Prevent CMV Viremia in Transplant Recipients: A Phase 2, Randomized Clinical Trial. Annals of Internal Medicine, 2020; 172, 306-316.
C. La Rosa, J. Longmate, C. R. Lingaraju, Q. Zhou, T. Kaltcheva, N. Hardwick, I. Aldoss, R. Nakamura, D. J. Diamond. Rapid Acquisition of Cytomegalovirus-Specific T Cells with a Differentiated Phenotype, in Non-Viremic Hematopoietic Stem Transplant Recipients Vaccinated with CMVPepVax. Biology of Blood and Marrow Transplantation, 2019, 25, 771-784.
D.J. Diamond, C. La Rosa, F. Chiuppesi, H. Contreras, S. Dadwal, F. Wussow, S. Bautista, R. Nakamura, J.A. Zaia. A fifty-year odyssey: prospects for a cytomegalovirus vaccine in transplant and congenital infection. Expert Review of Vaccines, 2018, 17, 889-911.
F. Chiuppesi, J. Nguyen, S. Park, H. Contreras, M. Kha, Z. Meng, T. Kaltcheva, A. Iniguez, J. Martinez, C. La Rosa, F. Wussow, D.J. Diamond. Multi-Antigenic Modified Vaccinia Ankara Vaccine Vectors to Elicit Potent Humoral and Cellular Immune Reponses Against Human Cytomegalovirus in Mice. Journal of Virology, 2018, 92, e01012-18.
C. La Rosa, J. Longmate, J. Martinez, Q. Zhou, T. Kaltcheva, W. Tsai, J. Drake, M. Carroll, F. Wussow, F. Chiuppesi, S. Dadwal, I. Aldoss, R. Nakamura, J.A. Zaia, D.J. Diamond. MVA vaccine encoding CMV antigens safely induces durable expansion of CMV-specific T-cells in healthy adults. Blood, 2017, 129, 114-125.
Nakamura R, La Rosa C, Longmate J, Drake J, Slape C, Zhou Q, Lampa MG, O'Donnell M, Cai JL, Farol L, Salhotra A, Snyder DS, Aldoss I, Forman SJ, Miller JS, Zaia JA, Diamond DJ. Viraemia, immunogenicity, and survival outcomes of cytomegalovirus chimeric epitope vaccine supplemented with PF03512676 (CMVPepVax) in allogeneic haemopoietic stem-cell transplantation: randomized phase 1b trial. The Lancet. Haematology. 2016; 3(2):e87-98. NIHMSID: NIHMS796160 PubMed [journal] PMID: 26853648, PMCID: PMC4926626
Limaye AP, La Rosa C, Longmate J, Diamond DJ. Plasma IL-10 Levels to Guide Antiviral Prophylaxis Prevention of Late-Onset Cytomegalovirus Disease, in High Risk Solid Kidney and Liver Transplant Recipients. Transplantation. 2016; 100(1):210-6. NIHMSID: NIHMS690186 PubMed [journal] PMID: 26680375, PMCID: PMC4685744
Wang X, Wong CW, Urak R, Mardiros A, Budde LE, Chang WC, Thomas SH, Brown CE, La Rosa C, Diamond DJ, Jensen MC, Nakamura R, Zaia JA, Forman SJ. CMVpp65 Vaccine Enhances the Antitumor Efficacy of Adoptively Transferred CD19-Redirected CMV-Specific T Cells. Clinical cancer research : an official journal of the American Association for Cancer Research. 2015; 21(13):2993-3002. NIHMSID: NIHMS677258 PubMed [journal] PMID: 25838392, PMCID: PMC4489991
Wussow F, Chiuppesi F, Martinez J, Campo J, Johnson E, Flechsig C, Newell M, Tran E, Ortiz J, La Rosa C, Herrmann A, Longmate J, Chakraborty R, Barry PA, Diamond DJ. Human cytomegalovirus vaccine based on the envelope gH/gL pentamer complex. PLoS pathogens. 2014; 10(11):e1004524. PubMed [journal] PMID: 25412505, PMCID: PMC4239111
Nakamura R, La Rosa C, Tsai W, Lacey SF, Srivastava T, Seidel A, Senitzer D, Forman SJ, Diamond DJ. Ex vivo detection of CD8 T cells specific for H-Y minor histocompatibility antigens in allogeneic hematopoietic stem cell transplant recipients. Transplant immunology. 2014; 30(4):128-35. PubMed [journal] PMID: 24582729
Israyelyan A, La Rosa C, Tsai W, Kaltcheva T, Srivastava T, Aquino L, Li J, Kim Y, Palmer J, Streja L, Senitzer D, Zaia JA, Rosenwald A, Forman SJ, Nakamura R, Diamond DJ. Detection and preliminary characterization of CD8+T lymphocytes specific for Wilms' tumor antigen in patients with non-Hodgkin lymphoma. Leukemia & lymphoma. 2013; 54(11):2490-9. NIHMSID: NIHMS498785 PubMed [journal] PMID: 23480492, PMCID: PMC3795970
La Rosa C, Longmate J, Lacey SF, Kaltcheva T, Sharan R, Marsano D, Kwon P, Drake J, Williams B, Denison S, Broyer S, Couture L, Nakamura R, Dadwal S, Kelsey MI, Krieg AM, Diamond DJ, Zaia JA. Clinical evaluation of safety and immunogenicity of PADRE-cytomegalovirus (CMV) and tetanus-CMV fusion peptide vaccines with or without PF03512676 adjuvant. The Journal of infectious diseases. 2012; 205(8):1294-304. PubMed [journal] PMID: 22402037, PMCID: PMC3308906
La Rosa C, Diamond DJ. The immune response to human CMV. Future virology. 2012; 7(3):279-293. NIHMSID: NIHMS429188 PubMed [journal] PMID: 23308079, PMCID: PMC3539762
La Rosa C, Limaye AP, Krishnan A, Blumstein G, Longmate J, Diamond DJ. Primary response against cytomegalovirus during antiviral prophylaxis with valganciclovir, in solid organ transplant recipients. Transplant international: official journal of the European Society for Organ Transplantation. 2011; 24(9):920-31. NIHMSID: NIHMS423055 PubMed [journal] PMID: 21672050, PMCID: PMC3514504
Lacey SF, La Rosa C, Kaltcheva T, Srivastava T, Seidel A, Zhou W, Rawal R, Hagen K, Krishnan A, Longmate J, Andersson HA, St John L, Bhatia R, Pullarkat V, Forman SJ, Cooper LJ, Molldrem J, Diamond DJ. Characterization of immunologic properties of a second HLA-A2 epitope from a granule protease in CML patients and HLA-A2 transgenic mice. Blood. 2011; 118(8):2159-69. PubMed [journal] PMID: 21719601, PMCID: PMC3162352
Manuel ER, Wang Z, Li Z, La Rosa C, Zhou W, Diamond DJ. Intergenic region 3 of modified vaccinia ankara is a functional site for insert gene expression and allows for potent antigen-specific immune responses. Virology. 2010; 403(2):155-62. NIHMSID: NIHMS200263 PubMed [journal] PMID: 20471051, PMCID: PMC2879446
Krishnan A, Zhou W, Lacey SF, Limaye AP, Diamond DJ, La Rosa C. Programmed death-1 receptor and interleukin-10 in liver transplant recipients at high risk for late cytomegalovirus disease. Transplant infectious disease : an official journal of the Transplantation Society. 2010; 12(4):363-70. NIHMSID: NIHMS238558 PubMed [journal] PMID: 20070620, PMCID: PMC2950160
Wang Z, Martinez J, Zhou W, La Rosa C, Srivastava T, Dasgupta A, Rawal R, Li Z, Britt WJ, Diamond D. Modified H5 promoter improves stability of insert genes while maintaining immunogenicity during extended passage of genetically engineered MVA vaccines. Vaccine. 2010; 28(6):1547-57. NIHMSID: NIHMS162053 PubMed [journal] PMID: 19969118, PMCID: PMC2821965
Li J, Srivastava T, Rawal R, Manuel E, Isbell D, Tsark W, La Rosa C, Wang Z, Li Z, Barry PA, Hagen KD, Longmate J, Diamond DJ. Mamu-A01/K(b) transgenic and MHC Class I knockout mice as a tool for HIV vaccine development. Virology. 2009; 387(1):16-28. NIHMSID: NIHMS95982 PubMed [journal] PMID: 19249807, PMCID: PMC2667874
Krishnan A, Wang Z, Srivastava T, Rawal R, Manchanda P, Diamond DJ, La Rosa C. A novel approach to evaluate the immunogenicity of viral antigens of clinical importance in HLA transgenic murine models. Immunology letters. 2008; 120(1-2):108-16. NIHMSID: NIHMS72547 PubMed [journal] PMID: 18706443, PMCID: PMC2577668
Wang Z, Zhou W, Srivastava T, La Rosa C, Mandarino A, Forman SJ, Zaia JA, Britt WJ, Diamond DJ. A fusion protein of HCMV IE1 exon4 and IE2 exon5 stimulates potent cellular immunity in an MVA vaccine vector. Virology. 2008; 377(2):379-90. NIHMSID: NIHMS57970 PubMed [journal] PMID: 18538366, PMCID: PMC2504324
La Rosa C, Krishnan A, Longmate J, Martinez J, Manchanda P, Lacey SF, Limaye AP, Diamond DJ. Programmed death-1 expression in liver transplant recipients as a prognostic indicator of cytomegalovirus disease. The Journal of infectious diseases. 2008; 197(1):25-33. PubMed [journal] PMID: 18171281
La Rosa C, Limaye AP, Krishnan A, Longmate J, Diamond DJ. Longitudinal assessment of cytomegalovirus (CMV)-specific immune responses in liver transplant recipients at high risk for late CMV disease. The Journal of infectious diseases. 2007; 195(5):633-44. PubMed [journal] PMID: 17262704
Wang Z, La Rosa C, Li Z, Ly H, Krishnan A, Martinez J, Britt WJ, Diamond DJ. Vaccine properties of a novel marker gene-free recombinant modified vaccinia Ankara expressing immunodominant CMV antigens pp65 and IE1. Vaccine. 2007; 25(6):1132-41. NIHMSID: NIHMS16920 PubMed [journal] PMID: 17049414, PMCID: PMC1852509
Lacey SF, La Rosa C, Zhou W, Sharma MC, Martinez J, Krishnan A, Gallez-Hawkins G, Thao L, Longmate J, Spielberger R, Forman SJ, Limaye A, Zaia JA, Diamond DJ. Functional comparison of T cells recognizing cytomegalovirus pp65 and intermediate-early antigen polypeptides in hematopoietic stem-cell transplant and solid organ transplant recipients. The Journal of infectious diseases. 2006; 194(10):1410-21. PubMed [journal] PMID: 17054071
La Rosa C, Wang Z, Lacey SF, Lalimarmo MM, Krishnan A, Longmate J, Diamond DJ. In vitro expansion of polyclonal T-cell subsets for adoptive immunotherapy by recombinant modified vaccinia Ankara. Experimental hematology. 2006; 34(4):497-507. PubMed [journal] PMID: 16569596
Wang Z, La Rosa C, Lacey SF, Maas R, Mekhoubad S, Britt WJ, Diamond DJ. Attenuated poxvirus expressing three immunodominant CMV antigens as a vaccine strategy for CMV infection. Journal of clinical virology : the official publication of the Pan American Society for Clinical Virology. 2006; 35(3):324-31. PubMed [journal] PMID: 16388983
Villacres MC, Literat O, Degiacomo M, Du W, La Rosa C, Diamond DJ, Kovacs A. Reduced type 1 and type 2 cytokines in antiviral memory T helper function among women coinfected with HIV and HCV. Journal of clinical immunology. 2005; 25(2):134-41. NIHMSID: NIHMS299896 PubMed [journal] PMID: 15821890, PMCID: PMC3127261
La Rosa C, Wang Z, Lacey SF, Markel SF, Sharma MC, Martinez J, Lalimarmo MM, Diamond DJ. Characterization of host immunity to cytomegalovirus pp150 (UL32). Human immunology. 2005; 66(2):116-26. PubMed [journal] PMID: 15694996
Wang Z, La Rosa C, Mekhoubad S, Lacey SF, Villacres MC, Markel S, Longmate J, Ellenhorn JD, Siliciano RF, Buck C, Britt WJ, Diamond DJ. Attenuated poxviruses generate clinically relevant frequencies of CMV-specific T cells. Blood. 2004; 104(3):847-56. PubMed [journal] PMID: 15090456
Wang Z, La Rosa C, Maas R, Ly H, Brewer J, Mekhoubad S, Daftarian P, Longmate J, Britt WJ, Diamond DJ. Recombinant modified vaccinia virus Ankara expressing a soluble form of glycoprotein B causes durable immunity and neutralizing antibodies against multiple strains of human cytomegalovirus. Journal of virology. 2004; 78(8):3965-76. PubMed [journal] PMID: 15047812, PMCID: PMC374285
Daftarian P, Ali S, Sharan R, Lacey SF, La Rosa C, Longmate J, Buck C, Siliciano RF, Diamond DJ. Immunization with Th-CTL fusion peptide and cytosine-phosphate-guanine DNA in transgenic HLA-A2 mice induces recognition of HIV-infected T cells and clears vaccinia virus challenge. Journal of immunology (Baltimore, Md. : 1950). 2003; 171(8):4028-39. PubMed [journal] PMID: 14530323
Lacey SF, Villacres MC, La Rosa C, Wang Z, Longmate J, Martinez J, Brewer JC, Mekhoubad S, Maas R, Leedom JM, Forman SJ, Zaia JA, Diamond DJ. Relative dominance of HLA-B*07 restricted CD8+ T-lymphocyte immune responses to human cytomegalovirus pp65 in persons sharing HLA-A*02 and HLA-B*07 alleles. Human immunology. 2003; 64(4):440-52. PubMed [journal] PMID: 12651070
La Rosa C, Wang Z, Brewer JC, Lacey SF, Villacres MC, Sharan R, Krishnan R, Crooks M, Markel S, Maas R, Diamond DJ. Preclinical development of an adjuvant-free peptide vaccine with activity against CMV pp65 in HLA transgenic mice. Blood. 2002; 100(10):3681-9. PubMed [journal] PMID: 12393676
Gallez-Hawkins G, Lomeli NA, L Li X, Yao ZQ, La Rosa C, Diamond DJ, Zaia JA. Kinase-deficient CMVpp65 triggers a CMVpp65 specific T-cell immune response in HLA-A*0201.Kb transgenic mice after DNA immunization. Scandinavian journal of immunology. 2002; 55(6):592-8. PubMed [journal] PMID: 12028562
Villacres MC, Lacey SF, La Rosa C, Krishnan R, Auge C, Longmate J, Zaia JA, Leedom JM, Diamond DJ. Human immunodeficiency virus-infected patients receiving highly active antiretroviral therapy maintain activated CD8+ T cell subsets as a strong adaptive immune response to cytomegalovirus. The Journal of infectious diseases. 2001; 184(3):256-67. PubMed [journal] PMID: 11443550