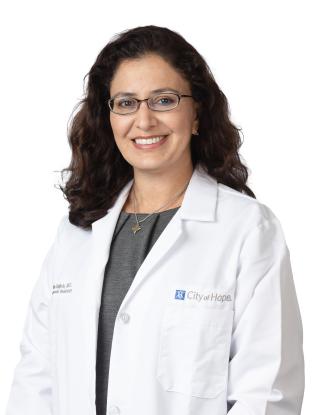 Radiologist
Appointments
Associate Clinical Professor, Department Of Diagnostic Radiology
Medical Director, Division Of Diagnostic Imaging, City Of Hope Orange County
Dina Ragheb, M.D., believes in treating her patients the same way she would treat a member of her own family. In fact, a close family member has received therapy at City of Hope. She is excited to bring that level of top-quality care to patients in Irvine as medical director of diagnostic imaging at the Lennar Foundation Cancer Center at City of Hope Orange County.
One of Dr. Ragheb's favorite parts of her practice is staying current with the latest in the ever-changing world of diagnostic radiology, so that she can use state-of-the-art technology to help people understand what is happening with their health and to provide key insights to guide cancer treatment.
Dr. Ragheb earned her medical degree from the University of South Alabama. She completed her residency in radiology at Louisiana State University — her undergraduate alma mater, where she completed her bachelor's studies in two years — and served a stint as chief resident. She pursued a fellowship in musculoskeletal radiology at the University of California, San Diego, where she was chief fellow. She has given presentations at the National Radiologic Society meetings, including the American Institute of Ultrasound in Medicine, the Radiologic Society of North America, and the American Roentgen Ray Society. Before joining City of Hope, she worked at Riverside Medical Clinic in California, where she chaired the radiology department for five years.
Away from the clinic, Dr. Ragheb likes spending family time with her husband and kids.
Basic Text Field
2004-present, Board Certification, American Board of Radiology
Basic Text Field
1996-1999, M.D., University of South Alabama College of Medicine — Mobile, AL
1993-1995, Accelerated B.S., Science and Medicine, Louisiana State University — Shreveport, LA
Basic Text Field
2004-2005, Musculoskeletal Radiology Fellowship under Donald Resnick, M.D., University of California San Diego Medical Center — San Diego, CA
Basic Text Field
2000-2004, Radiology Residency, Louisiana State University Health Sciences Center — New Orleans, LA
Basic Text Field
1999-2000, Intern, Birmingham Baptist Medical Center — Birmingham, AL
Basic Text Field
2022-present, Associate Clinical Professor, Department of Diagnostic Imaging, Medical Director of Diagnostic Imaging, Lennar Foundation Cancer Center, City of Hope Orange County — Irvine, CA 
2009-2022, Radiologist, Riverside Medical Clinic — Riverside, CA
2005-2011, Clinical Instructor, Department of Radiology, University of California, San Diego — San Diego, CA
2008-2009, Radiologist, Sacred Heart Hospital — Destin, FL
2006-2008, Radiologist, Veterans Administration Hospital and Clinic — Pensacola, FL
2005-2006, Radiologist, Scripps Clinic — La Jolla, CA
Amin, C., Bhushan, V., Le, T., Levine, R., et al, (Ragheb, D.) First Aid For The USMLE Step 1. Stamford, CT: Appleton and Lange, 1998.
Ragheb, D. & Higgins, J. Ultrasonography of the Scrotum: Technique, Anatomy, and Pathologic Entities. Journal of Ultrasound in Medicine 2002; 21:171185.
Qian, Z., Kvamme, P., Ragheb, D., Maynar, M., Hamide, J., Scheer, W., Espinoza, C., Loscertales, B. &Castaneda, W. Comparison of a New Recirculation Thrombectom Catheter with Other Devices of the Same Type. Investigative Radiology 2002; 37(9) 503-511.
Rizk, B., Abdalla, H., et. al, (Ragheb, D.) Endometriosis.Oxford, England, UK: Publisher Health Press, 2003.
Maynar, M., Baro, M., Qian, Z., Lopez Benitez, R., Ragheb, D., Llorens, R., ZeroloSaez, I., & Castaneda, W.R. Endovascular Repair of Brachia! Artery Transection Associated with Trauma. Journal of Trauma Injury Infection and Critical Care. 56(6): 133641. Jun 2004.
Ragheb, D., Stanley, A., Gentili, A., Hughes, T., & Chung, C. MR Imaging of Finger Tendons, Normal Anatomy and Commonly Encountered Pathology. European Journal of Radiology. 2005 Dec 21;2(1):80.
Chapter author. Ultrasonography of the Testicular Anatomy in Ultrasonography in Gynecology and Obstetrics. Editor: Botros Rizk, M.D. (pending)