Dave Sobel's philosophy had always been to live life to the fullest. Says daughter, Lauren Miller, "His dream was to retire in the Caribbean and spend his days running a boat, a lime wedge in his tropical drink."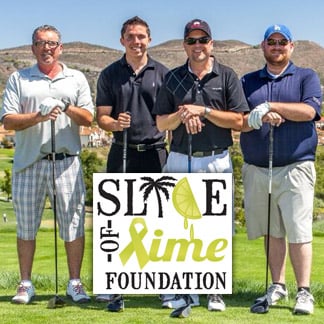 Sadly, Sobel's dream never came to fruition. In 2010, at the age of 54, his life was cut short by angioimmunoblastic T cell lymphoma, a very rare and aggressive cancer.
To honor his memory, Miller created the Slice of Lime Foundation, after her father's retirement dream, as well as the lime green cancer ribbon for lymphoma. Since 2010, the charity has raised more than $35,000 for blood cancer research and treatment.

On Slice of Lime's fifth anniversary, Miller resolved to make a direct impact on the Simi Valley community, where she grew up and her mother still lives. "I wanted to do something special for Simi Valley residents," Miller said.  Her answer?  Pledging $25,000 for City of Hope's community clinic in Simi Valley, to be raised by Slice of Lime.                                     
The clinic, which opened in September 2014, allows blood cancer patients in Simi Valley and its vicinity to receive testing, supportive care and chemotherapy close to home. Miller's pledge will be directed to hematological cancer patient care, including supplies, resources and equipment.

Slice of Lime was inspired by Sobel's avid love of golf, as well as a passion he shared with his daughter: classic rock 'n' roll.
"Just before he was diagnosed, we were reading some rock 'n' roll biographies, and learned that Alice Cooper golfed every day," said Miller. Thus was born the idea for an annual fundraising golf tournament with celebrity guests. Other Slice of Lime events included a comedy night and a Kick Ball Day.

Says Miller, "It's amazing to have something tangible we can point to it and say, 'Look, we're making a difference."