Among the many burdens patients face with a cancer diagnosis are the unexpected costs. One family is partnering with City of Hope to help.
Greg and Jodi Perlman aren't holding tightly to the wealth they've accumulated over three decades as owners of Los Angeles-based GHC Housing Partners. Instead, they have opened their hands and hearts, giving away their fortune to help the hardworking people of Los Angeles.
The Perlmans have always generously supported charitable organizations. But they found themselves wanting to see the direct impact of their gifts on people facing financial hardship. As a result, the couple founded The Change Reaction in 2019.
The Change Reaction partners with frontline workers, including social workers, teachers, spiritual leaders and nurses, to provide rapid relief to those facing critical needs. When the Perlmans heard from City of Hope social workers about the financial strains created by a cancer diagnosis and treatment, they wanted to help.
Created in 2020, the Angel Fund (established through The Change Reaction) provides critical support for City of Hope patients struggling with unanticipated costs. These costs can include travel expenses, time off from work, school supplies for patients' children or even wigs to help patients regain their confidence. To date, the hospital has received a total of $750,000, with more than 530 individuals and their families receiving support.  
"The Change Reaction is proud to have created this unique partnership with City of Hope," the Perlmans said. "Together, we can provide gifts to patients facing financial hardships due to their illnesses and hospitalizations."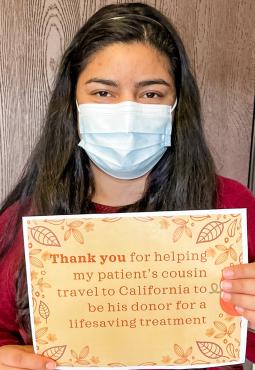 Clinical social workers are on the front line of City of Hope's commitment to providing holistic care. They help voice patients' needs and connect them with appropriate services, including financial assistance.
"The team of social workers and nurses at the City of Hope are the most compassionate, determined group of people we have ever seen," the Perlmans said. "This partnership fits right within The Change Reaction's mission of supporting people in their time of greatest need while supercharging our community's frontline workers."
Jennifer Reyes, LCSW, leads City of Hope's adult medical and surgical oncology clinical social work team. She has witnessed the hardship and anguish of patients and families battling cancer.
The stories are often heartbreaking. Reyes recalls a young mother in the final stages of cancer. Her husband, a firefighter, was unable to work because he was needed at home – both to care for his wife and to support the couple's four young children facing the loss of their mother. The Angel Fund covered living expenses to allow the grieving family to spend valuable time together during the mother's last days.
"This young father was able to be with his wife from the moment she was admitted to City of Hope until she took her last breath," said Reyes. "He could also stay home with his children for six weeks before returning to work. The Angel Fund provided family-centered care that made all the difference to this family after a long and hard-fought battle with cancer."