In 2011, Frank Di Bella was diagnosed with metastatic bladder cancer and given three to four months to live by two other notable institutions. Then he came to City of Hope and met Sumanta K. Pal, M.D., assistant clinical professor, Department of Medical Oncology & Therapeutics Research and co-director of the Kidney Cancer Program.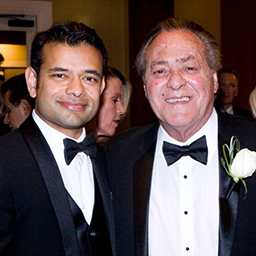 "I met Dr. Pal and he assured me that I would live for at least four years," Di Bella remembered. "He said he can't cure me, but he could keep me alive and hopefully, during that time, he'd find a cure. If anybody can find a cure, it'll be Dr. Pal."
Di Bella's confidence in Pal and his research led to a black tie, Hollywood vintage gala, filled with distinguished leaders such as Gov. Jerry Brown.  All said, 'Let's Be Frank about Cancer' raised more than $1.6 million to support City of Hope and Pal's  bladder cancer research, which is focused on finding ways to better understand how cancers develop and metastasize, how to better predict cancer recurrence and how to improve treatments with fewer side effects.
Di Bella credits Pal and the staff at City of Hope for saving his life. Although he's not cured yet, he is living life to the fullest and has made it his priority to raise meaningful funds to support ongoing research efforts by Pal at City of Hope.
"Dr. Pal gave me hope and told me not to worry. He kept me alive. Now I'm going to spend my time helping him," says Di Bella.  "I'm going to spend the rest of my life raising money to help City of Hope and Dr. Pal."