Marjo Woodhull has been living with a rare type of liposarcoma for 25 years. After her last relapse, she joined a clinical trial at City of Hope
It started in 1998. Marjo Woodhull was in her mid-40s when her doctor felt something unusual during a routine Pap smear. A follow-up ultrasound identified a growth in her abdomen. Doctors removed it, and some advanced pathology work ultimately confirmed dedifferentiated liposarcoma (DDLPS), a rare type of an already rare group of cancers called soft tissue sarcomas. Liposarcomas develop in fatty tissue . 
DDLPS is extremely rare: Only 1% of adult cancers are soft tissue sarcomas, only 15-20% of those are liposarcomas and only 15-20% of liposarcomas are DDLPSs. 
 
DDLPS usually develops in the back of the abdomen in soft tissue known as the retroperitoneum. One of is challenges is an extremely high  rate  of local recurrence.
When Woodhull's tumor returned a year after her surgery, her then-doctor said he could not help her. "It was disappointing. God had other plans for me, though," she said.
Guided to a new path
Woodhull worked as a teacher and coach for an elementary school track team. "I had no idea my story was circulating among the parents at my school," she said. At a track meet, the father of one of her young runners approached her. "He was a research doctor at City of Hope. He knew a surgeon there, Benjamin Paz, M.D., who was doing intraoperative radiation for sarcoma." 
Intraoperative radiation therapy (IORT) is surgical removal of cancer followed by delivery of radiation directly to the tumor site before closing the incision, reducing the need for daily radiation treatments.  "Dr. Paz called me," said Woodhull, "and I remember his words: 'I can help you.'" 
After undergoing IORT, Woodhull said, "Every checkup with Dr. Paz was encouraging." But he was also realistic, clarifying that there was a 70% chance that the cancer would return at some point. "I don't think with sarcoma they ever really use the word 'cure,'" she said. "I knew there was a possibility it could come back."
Still, for 15 years after the procedure, her cancer remained at bay. During this time, she retired from teaching and started volunteering at City of Hope. "I was so grateful to City of Hope that I always knew that I wanted to volunteer once I retired," she explained. 
Woodhull's volunteer activities included helping the management team and supporting an art program for patients. She also met other City of Hope volunteers, who became fast friends.
In 2016, after experiencing symptoms of abdominal swelling, an ultrasound confirmed that her DDLPS had returned.
At first, Woodhull felt shocked and numb. "Then I thought, 'OK. I've done this before.' It was a real push for me to really embrace my faith wholeheartedly and trust that whatever His plan was, it was the best for me. And maybe I didn't appreciate my 15-year break enough, but I never felt angry, because I know how blessed I was to get those 15 years," she said.
Over the next few years, Woodhull would undergo more surgeries, chemotherapy and targeted therapy, this time at a different hospital due to logistics.  
While surgery is the main treatment for DDLPS, it can sometimes be challenging to remove all of the cancer along with clear tissue margins, because often the cancer is close to critical organs.  Woodhull knew that after her latest surgery, there was still cancer around her vena cava — a major vein that carries blood to the heart — but that it was stable. "They had cut around it, but it was never really gone," she said. "When I asked my surgeon how they would deal with this, he would never answer me." 
A specialist who understood 
Woodhull was frustrated. "Sarcoma is so rare, and unless you read about it, or know someone who's had it, it's hard to understand what sarcoma patients are dealing with," she said. In response, her sister sent her an article by soft tissue sarcoma specialist William Tseng, M.D. Tseng, then director of the retroperitoneal sarcoma program at USC, wrote about the challenges of soft tissue sarcoma. She posted his article online to educate friends and family. She also discovered that Tseng had a vascular team that could potentially remove the cancer from her vena cava. 
"Of course, I immediately made a self-referral to Dr. Tseng, and he agreed that he could help me," she said. "After meeting him, I knew I was in the right hands," she said. 
"Most doctors haven't heard of this disease," said Tseng. "A well-trained surgical oncologist who doesn't know this disease may say, 'This came back three times already. I can remove it, but I don't think it's worth it because it will just come back.' But it's not the right approach. If the patient believes that, they won't seek a second opinion."
In a 16-hour surgery, Tseng unwrapped the tumor from around Woodhull's vena cava. And for two years, there was no evidence of cancer. 
A big decision — and a cruise
Eventually, the DDLPS did recur. "For recurrences, sometimes we just watch it," said Tseng. "We'll do a CT scan, see if it grows, and and, if it does, we'll do an intervention. It comes down to quality of life."
Woodhull underwent chemotherapy, followed by another surgery. Several tumors were removed safely, but one was fused to her pancreas. "We could have done a Whipple procedure. That's a complex surgery with a potentially difficult recovery.  So we chose not to. We knew that the cancer would come back, and we wanted her to have a good quality of life," Tseng explained. 
And Woodhall did, taking a European cruise after the surgery. "We knew we left some disease behind, so we watched it for a period of time," Tseng said. "Sometimes we can do that. It didn't grow; it stayed the same, so she was able to take that cruise."
Full circle 
To continue his work in sarcoma, Tseng moved to City of Hope in 2022 — and Woodhull went with him. "It made me extremely happy to be able to be back at City of Hope," she said. 
Tseng now manages Woodhull's care with Mark Agulnik, M.D., section chief of sarcoma medical oncology in the Department of Medical Oncology and & Therapeutics Research. Agulnik recently enrolled her in a clinical trial studying a targeted therapy that interferes with MDM2, a genetic abnormality in liposarcoma. Tseng explained, "The cancer cells have high levels of MDM2. What happens when we inhibit it? That's what this trial is looking at. Hopefully for Ms. Woodhull, it can stabilize disease and buy more time."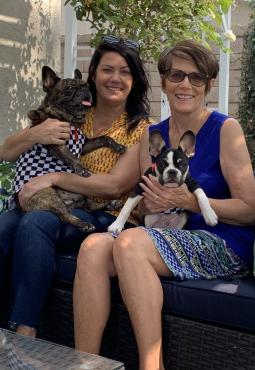 "Thanks to Dr. Tseng, it was easier for me to get into the trial than is has been for some people I know," said Woodhull, who added that she would "pretty much do anything for Dr. Tseng." 
Because sarcoma is so rare, patients can feel isolated. Tseng emphasized the importance of finding specific peer support. "There are 70 types of sarcoma. Go online; find the right groups. Make sure it's a support group for liposarcoma, not just cancer." Woodhull actively participates in a liposarcoma Facebook support group. 
"I'd say not to feel alone, because there are patients out there going through the exact same thing, and there are specialists like me and others around the world who are genuinely dedicated to fighting this disease," Tseng said.
Looking back on 25 years living with DDLPS, Woodhull said, "You have to be proactive. You have to be your best advocate. I truly believe I am still around because of City of Hope and Dr. Tseng." 
These days, Woodhull volunteers at her church. "My faith keeps me going. It's grown so much during this journey. I've learned a lot more, and my family support is fabulous. I know my time is limited, but it doesn't have to be limited right now."