Celebrating the graduating class of 2022 from the Irell & Manella Graduate School of Biological Sciences
On June 10, the Irell & Manella Graduate School of Biological Sciences held its annual commencement ceremony to celebrate the graduating class of 2022. It was a festive celebration of the students, most of whom were receiving their Doctor of Philosophy (Ph.D.) in biological science, with a handful of the new generation earning their master's in translational science, with a doctorate and postgraduate work the logical next steps. 
Markus Kalkum, Ph.D., served as the event's officiant and master of ceremonies, with remarks from graduate school Dean David Ann, Ph.D., and Steven Rosen, M.D., the Irell & Manella Cancer Center Director's Distinguished chair. In all, 16 students received doctorates and seven master's degrees.
The students' doctoral research focused on everything from novel RNA therapies and delivery methods for SARS-CoV-2 and cancer, developing humanized mouse models to use in HIV research, CAR T cell therapy for acute myeloid leukemia and how bile acids play a role in the mechanisms of bariatric surgery, to finding targets for cancer prevention in women with high-risk genetic mutations, applying regenerative medicine to metastatic prostate cancer, and endothelial cell function in diabetes.
"These students, like those we've graduated before them, are trained to be the future of biomedical science, to be leaders who will bring lifesaving treatments to patients who need them," said Ann, the Morgan & Helen Chu Dean's Chair of the Graduate School of Biological Sciences.
The graduates are finding their own passions in science and, like the 200 graduates before them since the school began in 1994, will do so in positions at major universities, research institutions, and pharmaceutical and biotechnology companies. They are continuing their research at such institutions as Cambridge University, UCLA, UC San Diego and City of Hope. Others have accepted positions at such companies as Poseida Therapeutics, Quest Diagnostics and the Henry M. Jackson Foundation for the Advancement of Military Medicine.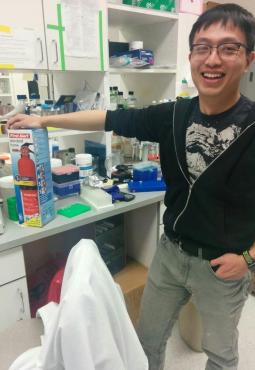 Though he technically completed the school's graduate program in biological sciences in December 2021, Chen Li, Ph.D., was among those gathered in the Rose Garden of City of Hope's Duarte campus to joyfully participate in the pomp and circumstance that has been muted of late by the pandemic. 
Our Global Reputation
"City of Hope has an impressive reputation when it comes to cancer and diabetes research," said Li, a native of Wuhan, China. "Many people, certainly in China, do not know that City of Hope has a graduate school. But I am so glad I went here for my doctoral degree. The name City of Hope has opened so many doors for me when it comes to networking and collaborating with industry and other scientists."
Li spent some of his graduate school training time in the lab of John Burnett, Ph.D., in the Center for Gene Therapy, conducting research on aptamers, which target and bind to cancer components so that medicines can attack cancer. Li found a way around the tedious, lengthy process of developing aptamers by discovering how to screen them simultaneously for two different biomarkers. He credits his experience in Burnett's lab and other lab rotations as a student here to his current professional success.
Look Beyond What Is Asked
Just a month after completing his academic study at the graduate school, Li was offered employment in his chosen field at Sana Biotechnology in San Francisco, supporting the development of their cell and gene therapies, performing analytic assays for both quality control and to better understand the medicines. The focus of his job is to identify ways to improve the manufacturing processes for innovative treatments. He said his training and education at City of Hope and work at Sana Biotechnology have confirmed the path he wishes to follow in his career and his passion as a scientist.
Li said: "I once had a mentor tell me, 'You know how to do the tasks on a day-to-day basis, but you don't have a passion for it. Don't just complete the tasks and not seek new things beyond what is asked. Continue to explore until you find your passion in science.'"