COVID-19 Message from Dr. Vijay Trisal, Chief Medical Officer
Fellow Colleagues,

As the COVID-19 outbreak continues, we are aware that you, our community physician partners, may have questions and concerns about the care and safety of your patients. City of Hope has long prided itself on providing elite care in a safe environment and we would like you to know what we are doing to continue to deliver the level of care that you and your patients have come to expect from us.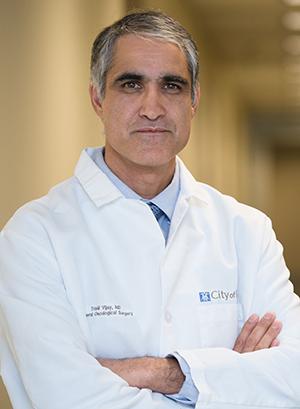 Please be assured that we are here to serve you and your cancer patients and can receive them at our main campus in Duarte or any of our community practice sites. We currently have not changed our referral process and are actively receiving new cancer patients. 
As a National Cancer Institute-designated comprehensive cancer center, City of Hope has the highest standards for infection prevention and control. In response to the COVID-19 situation, we have implemented the following additional precautionary measures on our Duarte campus and all our community practice sites to protect our patients and staff:  
Daily screening of all staff and patients at entrances to City of Hope patient care areas. Anyone seeking to enter is checked for fever and asked basic questions about symptoms and recent activity.
A 'no visitors' policy at all City of Hope inpatient and outpatient locations, with very limited exceptions. 
Postponing routine follow ups and non-vital surgeries where deemed best for the patient
Conducting visits via telehealth so patients do not need to leave their homes to receive our care
We have aggressively initiated other protective steps including restricting employee travel, postponing events, limiting access to campus and moving to telecommuting for all of our qualifying non-patient care staff. 
We have proudly served patients and their families for over one hundred years with leading edge medicine, science and compassion.  We remain proud to continue to partner with you in providing excellent care and caring to your patients during this time.  
Sincerely,

Dr. Vijay Trisal
Chief Medical Officer
City of Hope