The new home for research and administrative collaboration is named in recognition of the Belardi family's transformative gift to advance blood cancer research.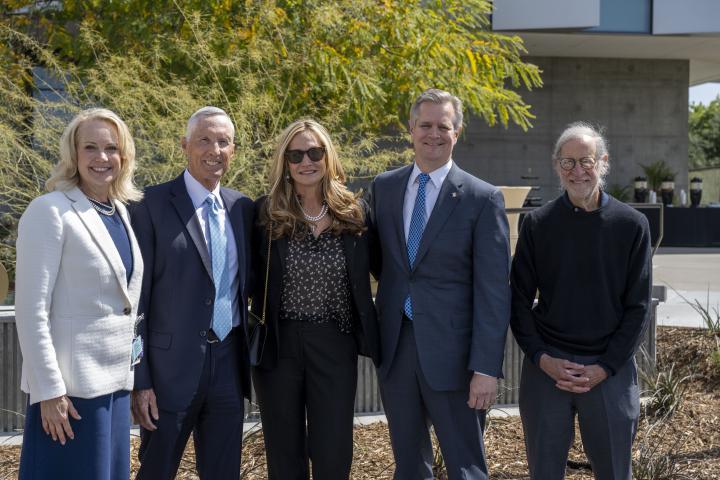 City of Hope executive leaders, researchers and staff gathered on April 19 to to dedicate the new Belardi Family Pavilion. Named in honor of visionary philanthropists and partners Jim and Leslie Belardi, with its innovative design and construction, this 100,000-square-foot, four-story space is home to nearly 400 physician-scientists and medical teams working on the Duarte, California, campus. With 160 private offices, more than 300 cooperative workspaces and an expansive conference center, researchers have ample space to share their latest insights and exchange vital scientific information with visiting global leaders. It is also the new home for City of Hope's executive leadership. 
In addition to dedicating this beautiful new space, the building's naming ceremony was an opportunity to celebrate the Belardis' contribution to and impact on City of Hope research around the most difficult-to-treat blood cancers, including leukemia, lymphoma and multiple myeloma. These conditions account for nearly 10% of new U.S. cancer cases each year.
The Belardis, who made their first transformative gift in 2021 to accelerate research around new blood cancer treatments, have a special appreciation for these lifesaving partnerships. Jim Belardi was diagnosed with Philadelphia chromosome-positive acute lymphoblastic leukemia in 2007. He was the recipient of a new treatment, including bone marrow transplantation and chemotherapy under the direction of Stephen J. Forman, M.D., director of the Hematologic Malignancies Research Institute.
"Just as Jim benefited from the generosity of donors before him, he and Leslie have committed to helping patients and families for generations to come through their transformative gift in support of blood cancer research at City of Hope," Leslie Belardi said. "They share our impatience to get new and more effective treatments to people who are waiting. This is what philanthropy can do. It fuels lifesaving innovation here, advancing new ideas faster, and giving patients and families the gift of more time."
The Pavilion expands the Belardis City of Hope legacy. The couple endowed the Belardi Accelerator Fund for Speed to Cure Translational Research in Blood Cancers, advancing the institute's advanced drug development work. And their Cellular Immunotherapy Innovation Fund helps the hospital recruit nationally renowned faculty and clinicians and supports current cancer immunotherapy work, such as CAR T-cell therapy.
Shannon Ames, a mother of four, received a new CAR T cell therapy for large B cell non-Hodgkin's lymphoma under the direction of Forman in 2019. She shared her experience during the ceremony and thanked the Belardis for their philanthropic investment. Like Jim Belardi before her, Ames was the beneficiary of a new treatment that was funded in part through the generosity of City of Hope donors.
Robert Stone, City of Hope's chief executive officer and the Helen and Morgan Chu Chief Executive Officer Distinguished Chair, also conveyed the institution's appreciation to the Belardis for their generosity and belief in the hospital's mission to develop and give patients access to more advanced treatments.
"Today, we celebrate much more than the concrete, steel and glass that make the skeleton of a building. Instead, we celebrate the heart of that building — the partnership and visionary philanthropy of two special people," Stone said. "Through their generosity, we're working on cancer vaccines to prevent disease, accelerating the pace of drug development and bringing in amazing faculty who push the frontiers of science to benefit patients everywhere. That is what Jim and Leslie's visionary support of City of Hope has meant to us and how it supports our work every single day in so many ways."