Tim Nesvig Story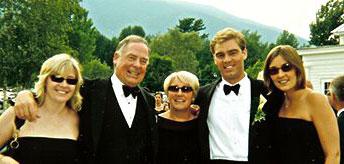 Tim Nesvig was an exceptional son, brother and young man. From his earliest days to his last, Tim was always fun to be around, quick with a smile and eager to make everyone around him feel at ease. If you ever had the chance to meet Tim or if you have ever even talked to someone who did, you already know this about him. That makes it even more devastating that we had to lose him at such a young age to such a terrible disease.
Tim was diagnosed with non-Hodgkin's Lymphoma in September of 2003 at the age of 28. Tim maintained an exceptionally positive attitude about this disease - he was determined to beat it. He went about his life with the same quiet determination he had always exhibited, never letting the cancer or treatment bring him down or interfere with his plans for the future. As a lifelong athlete, he was confident that his body was strong enough to withstand the many chemotherapy and radiation treatments he had to endure. He didn't allow the disease to define him.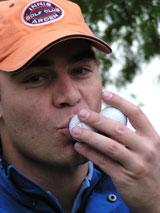 As a dedicated (and sometimes obsessed!) golfer, Tim was able to play his beloved sport and keep working throughout much of the year and a half that he was ill. The few exceptions came when Tim had to spend extended time in the hospital. In the summer of 2004, he underwent an autologous stem cell transplant at City of Hope and spent quite a bit of time recovering there.
Shortly after returning from California, he resumed his regular work and social schedule. In January, after returning to California for scheduled tests, Tim received further bad news.. It then became obvious that Tim had the most aggressive form of lymphoma, one that had simply stopped responding to chemotherapy.
For the first time it became a very real possibility that this disease could beat him. He fought hard, refusing to give up, until the day he died. Tim passed away on February 8, 2005. We like to say that the disease overcame him but never defeated him.
Tim received the best care possible from the top lymphoma doctors in the country and it still was not enough to save him. More than 70,000 Americans will be diagnosed with the disease that took Tim from us. Nearly 19,000 will die from it.
We established The Tim Nesvig Fellowship to ultimately find a cure for this disease and fund the research needed to make a cure a reality. We hope you will join us in supporting this important work. In this way, we are all able continue to celebrate the exuberance with which Tim lived his life and to honor his legacy.  

Thank you,
The Nesvig Family