Message from Carrie Nesvig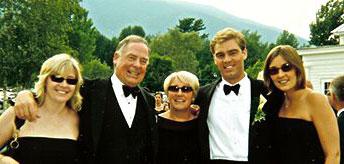 Tim's death is still a shock to me. His sheer determination and will power were what gave him strength during his brave battle. This did not surprise those of us who loved him. That is just who Tim was, an extensive network of loving support and excellent medical care were not enough to save him. He had all of the elements you always hear are so important for a good outcome: a positive attitude, mental strength, top medical care, a strong body and youth, and a devoted and caring group of family and friends that radiated out to many circles. But all of that was still not enough. This is why it is so important to continue the battle against lymphoma and fund research that will lead to a cure to this evil disease.
My brother Tim was such a generous, gentle and fun person. As a lifetime athlete, he was always very healthy. An all-American water polo player in both high school and college, Tim became an avid golfer in his adulthood.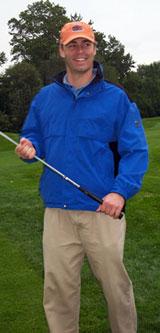 He was in the prime of his life at age 28 when he was diagnosed in September of 2003 with non-Hodgkins B-cell lymphoma. The news was of course startling and worrisome. Cancer had never been in my family, heart disease was in the family tree, but no one with cancer. Tim responded with steady resolve and his focus inspired us all. My family rallied around him as did his close knit circle of friends. He continued to work through chemo treatments and play golf on the weekends when he felt up for it. He wanted to continue on with his life, he did not want to be a sick patient, and just wanted to beat the cancer. He honestly never complained and never took on a 'why me' attitude, he just wanted to keep on fighting and get it behind him. Tim had such a strong body, with his athletic 6'4'' frame, I think he had confidence that he knew his body so well through all of his athletic training, that this was something he felt he could rely on his body to overcome. Continuous setbacks did not set back Tim's morale.
Numerous varieties of chemotherapy proved ineffective but he was prepared for the next. He took on each with such tremendous strength, dignity, and most importantly, an unwavering optimism. There were glimmers of hope after many setbacks, but ultimately there were just not enough treatment options. Tim was ready and willing for whatever else was out there; there simply were no other places to turn.
We miss our Tim terribly and realize there is no bringing him back, only keeping him alive in our hearts and spirits. But we feel strongly that we want to help others in the future where Tim could not be helped. There were no more treatment options left and this is why we created the
Tim Nesvig Lymphoma Fellowship and Research Fund
at City of Hope, one of the leading cancer hospitals in the U.S., so that for the next person there are options. 100 percent of donations to the fellowship go to the Tim Nesvig fellow's research efforts. Our hope is to come that much closer to a cure to prevent any future Tims from facing the same fate.
God bless,
Carrie Nesvig and the Nesvig family