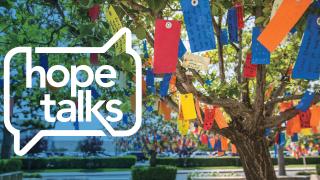 Watch Hope Talks Highlights
Hope Talks is a speaker series hosted by City of Hope's Office of Philanthropy that invites City of Hope's nationally recognized leaders, researchers and physicians to talk about the latest research advances, exciting innovations, and medical breakthroughs.

We're archiving highlights from the talks here. Check back for more videos and future topics on emerging trends in cancer care.
An Equal Opportunity for Hope: Is Scientific Progress Against Cancer Benefiting Everyone?
Reasons for Hope: Amanda Salas and Her Mother Share Their Journey
Together with her mother, cancer survivor and TV anchor Amanda Salas tells the story of her diagnosis and treatment for lymphoma in the care of her City of Hope "hematology hero," Alex Herrera, M.D.​
City of Hope's Longtime Commitment to Health Equity
Kimlin Tam Ashing, Ph.D. provides the historical context of City of Hope's work in the health equities space over the last 20 years.
Health Equity and the Promise of Precision Medicine
A conversation between Stephen Gruber, M.D., Ph.D., M.P.H. and Loretta Erhunmwunsee, M.D. about the intersection of health equity and precision medicine, including genomic expansion, the importance of community outreach, clinical trial recruitment and prevention, and how this will ready us for the future.​
The Importance of Engagement and Building Trust with Diverse Communities
Mayra Serrano, Dr.P.H., M.P.H. and Bethany Davis, post-doctoral researcher from City of Hope's Translational Genomics Institute (TGen) discuss the effects of health inequities on different populations and the importance of community engagement in ensuring greater inclusion that results in better data to help us prevent and fight cancer. ​
The Need for a Diverse Workforce and Cultural Fluency in Cancer Research and Care
The Power of Partnership
At City of Hope, our goal is to deliver tomorrow's cures to patients today. This shared priority drives our research, our culture and our treatment plans. We know that our patients and their families can't afford to wait. Donor support allows us to help more people – faster.
City of Hope has grown from humble beginnings to one of the top comprehensive cancer centers in the nation, able to create new therapies and treatments that benefit millions of people every day. This kind of global impact would not be possible without the generosity of people like you.