Celebrity Sale4Hope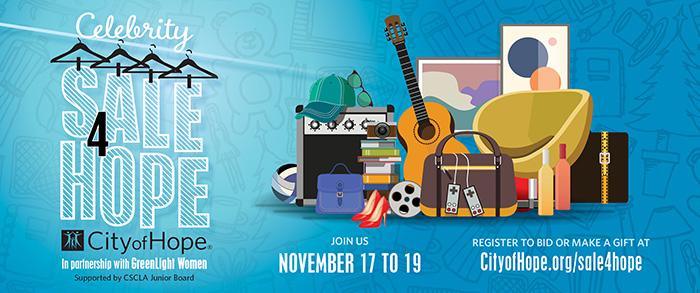 The Celebrity Sale4Hope is an exciting opportunity to own an item that was once owned by your favorite celebrity. From dresses worn to famous award shows to props used on the set of blockbuster movies, there's something for everyone.
November 17, 2020: VIP Pre-Sale (Ticket link below).
November 18-19, 2020: Open to the general public.
The event will span two days with new items and promotional prices announced each day! Get in on the action early by registering for the VIP Pre-Sale! On Tuesday, November 17th we will open the doors to our VIPs. For a suggested donation of $50, you can attend this very exciting event and be one of the first to purchase these fabulous items.
Ready to buy an item from your favorite celebrity's closet? Click here to view the items:
The Celebrity Sale4Hope is a special collaboration with Greenlight Women and Cancer Support Youth Board, with 10% of the proceeds benefiting Greenlight Women, 5% of the proceeds benefitting Cancer Support Youth Board, and 85% of the proceeds benefiting the lifesaving work of City of Hope.
Together, we can win the fight against cancer.
Contact Us
Auction Rules & Shipment
The Celebrity Sale4Hope Auction and Sale will begin on Tuesday, November 17, 2020 at 7:00PM (PST) and close on Thursday, November 19, 2020 at 7:00PM (PST). All are invited to bid and/or purchase "Buy It Now" items! To bid, make sure to register at http://sale4hope.givesmart.com/
Unless otherwise noted, all items will be shipped to the winner/purchaser. There are no returns and no refunds for returned items.
If you have any questions, please email sale4hope@coh.org. Good luck!   
Our Safety Measures
To help maintain a healthy environment, enhance safety and lower the risk of COVID-19 spread, all events will have special protocols in place. For more information please email your City of Hope contact.