Lions Clubs International Diabetes Innovation Fund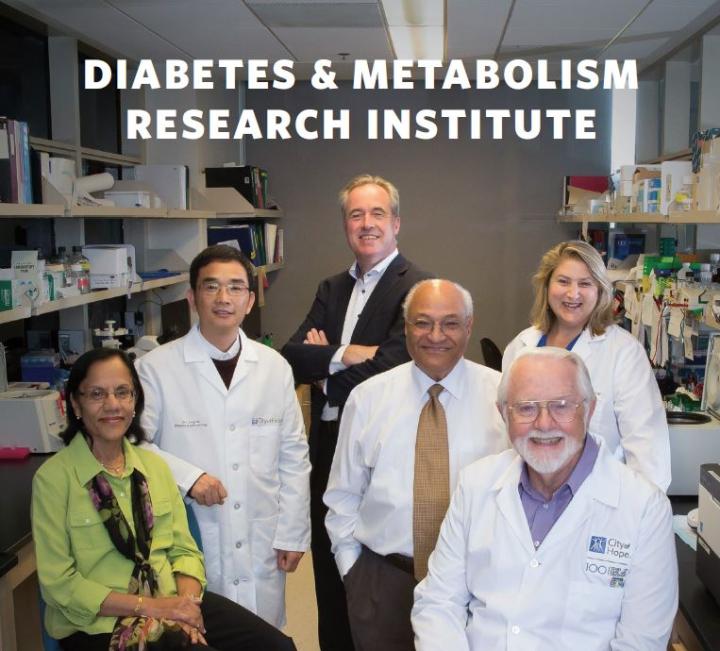 Preventing a Pandemic
Globally, diabetes is one of the most challenging public health issues of the century, with its occurrence expected to nearly double over the next decade. It is the fifth leading cause of death worldwide. Especially alarming is the increasing prevalence of type 2 diabetes. In the United States, of the 30 million people who have diabetes, 90 to 95 percent have type 2.
The increase in obesity in the United States and worldwide has set the stage for a growing wave of type 2 diabetes. Governments and independent health agencies have responded by trying to educate the public about the disease and to encourage lifestyle changes. While this is important, it will not stem the tide of this worldwide health crisis, as scientists are discovering new causes. Our investigators in the
Arthur Riggs Diabetes & Metabolism Research Institute
at City of Hope believe that obesity is one reason, but does not alone explain the explosion of the disease in diverse populations. We must create a robust pipeline of promising early phase research to understand how type 2 diabetes develops, and to prevent the disease and reverse its long-term consequences.
Philanthropic partnership is essential to understanding the origin, development and prevention of type 2 diabetes. Each effort presents an extraordinary opportunity for investment with the power to transform our understanding of this devastating disease.
Transforming Discoveries In Type 2 Diabetes
An investment in type 2 diabetes at City of Hope can have a lasting impact on the trajectory of preventive interventions and treatment for this disease. City of Hope brings a deep level of expertise to bear on diabetes research: 
Early leaders Rachmiel Levine, M.D., and Samuel Rahbar, M.D., Ph.D., transformed research and care for diabetes with seminal findings in how insulin works and discovery of glycated hemoglobin estimation, the gold-standard for measuring blood glucose. 
Director of the Arthur Riggs Diabetes & Metabolism Research Institute, Arthur Riggs, Ph.D., the Samuel Rahbar Chair in Diabetes & Drug Discovery, and his colleague Keiichi Itakura, Ph.D., formulated the science behind synthetic human insulin — a breakthrough that has improved millions of lives and still serves as a lifesaving intervention. They continue to guide the search to understand diabetes and find new treatments.
Debbie Thurmond, Ph.D., the Ruth B. & Robert K. Lanman Chair in Gene Regulation and Drug Discovery Research, as well as chair of the Department of Molecular & Cellular Endocrinology, is developing therapeutics to address molecular dysfunctions of diabetes and help patients by finding a cure for type 2 diabetes.
Rama Natarajan, Ph.D., the National Business Products Industry Professor in Diabetes Research and chair of the Department of Diabetes Complications and Metabolism, focuses on identifying epigenetic mutations that drive the complications of diabetes. Her research in understanding metabolic memory may be the key to halting and reversing harmful complications of diabetes, including cognitive decline.
Accelerating Critical Research
Government funding and corporate support is often reserved for projects that have already experienced success. This leaves a gap where scientists need support to accelerate the trajectory of discovery, helping them to advance the kind of innovative research that can significantly propel their understanding of the disease and the development of strategies to confront it more effectively. The field requires fresh strategies to stave off the tidal wave effect of the disease that lies ahead. Ultimately, research that can provide enduring strategies to halt the global progression of type 2 diabetes will likely be made possible through investment from those with bold vision to challenge scientists to look beyond current paradigms.
Some discovery-focused research only happens thanks to private philanthropy. As a result, the genesis of an idea or the beginning of a project — the moment of true inspiration — is supported only through a pool of flexible funding that nurtures agile, creative and entrepreneurial medical science.
Over the past four years, City of Hope has deepened its commitment to diabetes, hiring investigators from the not only the United States, but also Asia and Europe. We have a team with a global perspective on the disease. These new researchers are joining Riggs, Thurmond and Natarajan to bring new innovative ideas to patients worldwide.
These investigators are challenging us to shift into a higher gear to accelerate the development of better strategies to prevent type 2 diabetes, halt its complications and reverse the damage it causes. Every great discovery starts with a spark — whether it be a scientific hunch, an unexpected link made by two scientists over coffee or a student's fresh take on a decades-old conundrum. These are the creative, blue sky ideas that transform science and look to lead to lifesaving treatments and cures. Philanthropists who value innovation are crucial to generating and growing projects in their nascent stages so that they can garner the evidence needed to establish proof-of-concept, a phase that will be supported by traditional funders.
As longtime partners with City of Hope, the Lions Clubs have helped advance critical research to help alleviate suffering for those challenged by childhood cancer, and provided a healing environment for our patients and families in the Lions Clubs International Japanese Garden and in Judy & Bernard Briskin Hope Village. Your support has provided courage and comfort to those who need it most.
Recognition
Recognition of the Lions Clubs' Diabetes Innovation Fund will be featured on the Main Donor Wall, located in the Grand Lobby in City of Hope Helford Clinical Research Hospital, provides highly visible and prominent recognition. As a valued partner in innovative research and treatment, your name will be placed in this prestigious location, recognizing your steadfast commitment to advancing care for people everywhere.
The Lions Clubs International Diabetes Innovation Fund with a goal of $1 million will drive research leading to the prevention and treatment of type 2 diabetes. The investment will allow Lions Clubs International to interact with the research team, understand the research process, and hear about groundbreaking discoveries directly from members of our renowned research team.
Donations of any amount from individuals or clubs are graciously accepted and deeply appreciated.