Lions February 2021 Newsletter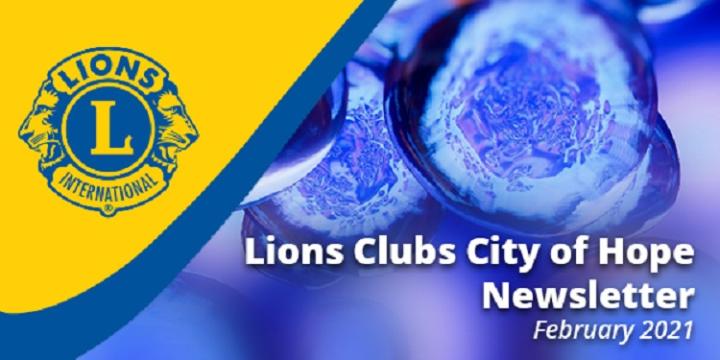 Learn More >>
The event pitted teams of 5 against each other racing from the northern border of California to the City of Hope campus.  Participants could walk, run, ride, roll, or swim to add miles to their contribution to their team's totals.  Racers entered their mileage for each day into the race site and we watched progress for a month as teams jockeyed for position.   
Here's the twist, all proceeds were donated in the name of the Lions club who participated in the event.  We had several clubs that entered more than one team as well. We broke down the prize structure so every team could make an impact.  Each team of 5 had $50 donated in their Lions club's name automatically.  Then after we covered expenses, we allocated the remaining funds based on the place that the team finished.  
We had a total of 14 teams.  These included Lions and Leos.  It also included some non-Lion teams.  We had three teams that were all non-Lion but we associated them with a local Lions club. So their accomplishments increased the funds donated in the name of that club.  We also had the local teacher's union support our event with a nice donation that covered all of our expenses and had some left over which went towards the total donation to the fund. 
I advertised this to the DGs of MD4 and had our DG and VDG's challenge their counterparts, but sadly we had no participants from other districts.  This was our first fundraiser using this format.  I think that we learned a lot and could probably do a lot better at our next one.  I plan on using this fundraiser venue to help raise the money needed to support our Leo's attending the USA/Canada Leo Leadership Forum this coming summer in fact.
-Lion Cheri Provancha

February is Lions Childhood Cancer Awareness Month
This month is Childhood Cancer Awareness Month. As we to continue our service and help to find an end to childhood cancers, we want to share our resources that can help you find ways to contribute to the fight. Head to the Lions Clubs International Foundation website to learn more. 
Learn More >>
Contact Us
We hope you find this information valuable. If you or someone you know has been making a difference in their community and deserves to be featured in next month's newsletter, please consider sharing details with Carl Woody (
cwoody@coh.org
).