City of Hope neuropsychologist Sunita Patel, Ph.D., will examine interventions to help address neurocognitive deficits that can affect kids' ability to learn after treatment for leukemia or lymphoma
The National Institutes of Health has awarded a five-year, $3.69 million grant to City of Hope neuropsychologist Sunita Patel, Ph.D., for a study designed to fill a vital need for children who have completed treatment for leukemia or lymphoblastic lymphoma.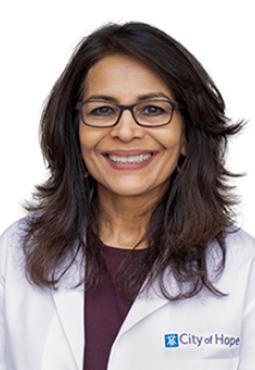 Fortunately, the cure rate for these cancers is excellent but, as a result of treatment, many young survivors are at risk for neurocognitive deficits that can affect their ability to learn. Some may even require special education. 
Often, however, the problem isn't immediately apparent.
"What happens is that the learning curve slows down. The children keep learning, but they don't accumulate knowledge to the same extent as other kids," Patel said. "These knowledge gaps eventually show up, but it may take as many as three or four years before the problem can be detected in testing."
The study, which expands on the success of Patel's previous work in survivorship and supportive care at City of Hope, is designed to correct the impact of this learning impairment, particularly in schoolwork, and help children reach their full potential. 
How Treatments Affect a Child's Brain
Brain scan research studies have shown that children who were treated for cancer had less white matter than other children, and this is likely to be a major factor underlying their learning difficulties. Those treated with neurotoxic therapies at a very young age are particularly vulnerable.
The good news, though, is that learning improvements can often be achieved in much the same way as you build muscles at the gym.
"When the brain is engaged in targeted, repetitive, progressively challenging activities, it can create new neural connections that support cognitive processing," Patel said. "In theory, you are changing the function and structure of the brain."
The current standard of care consists of two clinical visits. In the first, the child is given a clinical neuropsychological evaluation to assess their cognitive and learning skills. In the second, parents are told the results and given recommendations for how to improve problems found in the evaluation. A common recommendation is for the parent to ask the child's school to set up an individualized education plan, which can be a difficult process.
Patel's study augments the standard care by engaging both parent and child over the course of a year, and because it has been built on the successes in her earlier studies, it is expected to be much more effective and achieve lasting results. 
The Study and Its Design
The study has been designed to provide a fun and effective learning experience for children as well as their parents. 
To eliminate the difficulties involved in traveling to a study site, almost everything will take place online, including one-on-one videoconferencing with a staff coach. In-person meetings for neurocognitive testing will be held at the start and completion of the program.
One of the most exciting elements is an online learning component with activities that children can do on their own to improve academic skills. Using kid-friendly art and sound effects, this system of learning provides feedback and rewards — and most importantly teaches children to understand their mistakes and correct them. 
Parents will have access to a website specifically created for the study with materials created to help them support their children throughout the program.
 
The content, developed by Patel, is comprised of her Four Pillars of Learning©.
The first is repetition. "Practice, practice, practice, and don't give up," said Patel. "This slowly builds a child's capacity to learn and, as it becomes easier, they can layer on something that's a little bit harder."
The second is creating study strategies. It's important to instill good study habits, like choosing a daily time to study that becomes an automatic part of the child's life.
"It's just like people who get up in the morning to exercise," said Patel. "Maybe you'll get into the groove of doing your homework as soon as you get home, instead of doing things at the last minute. And you can even schedule your breaks."
The third is motivation. On the simplest level, motivation, especially for younger children, can come from immediate rewards like pleasing a parent or getting a small treat. But for all ages, the most important and enduring motivation is a meaningful goal. 
At an early session with their study coach, the children are asked where they see themselves in the future. Their answers can range from short-term goals, such as reducing their anxiety about school or raising their grades, to something as long-term as wanting to be a doctor. The children then work with the coach to create an incremental roadmap, so that step by step they can work to achieve their goals.
The fourth teaches information-processing techniques. For this component, which helps with memory skills, organization and executive functioning, children are taught such techniques as organizing their thoughts by writing them down and creating checklists for the things that need to be done.
Who Is Eligible and How to Apply
The one-year study is open to children ages 6 to 12 who have completed their cancer treatment. 
"The age range for this study is ideal because, at this age, the brain is still very plastic," Patel said. "And this is also when parents have the greatest influence on everything their kids do, including their study habits." 
Participants can speak either English or Spanish and must live in an area covered by one of these collaborating California hospitals: City of Hope and USC Children's Hospital in Los Angeles, UCSD Rady Children's Hospital in San Diego and UCSF Benioff Children's Hospital in the Bay Area. In addition, Kaiser Permanente centers in Los Angeles can also refer eligible families.
It is a controlled study, in which half the enrollees, randomly chosen, will receive the program designed by Patel and the other half the two-session consultation that is currently standard.
If you have a child who might qualify and are interested in enrolling, email SPatel@coh.org.