The radiation oncologist, a second-generation Chinese American, sees patients at City of Hope | South Pasadena
Radiation oncologist Helen Chen, M.D., grew up in the San Gabriel Valley and now serves the community she still calls home. It couldn't be a better fit for her and her patients at City of Hope | South Pasadena.
Chen, a second-generation Chinese American, grew up in Monterey Park and went to Alhambra High School. In the 1980s, her mother, Lily Lee Chen, was elected mayor of Monterey Park, making her the first Chinese American woman in the U.S. ever to hold the office of mayor.
Chen left Southern California just long enough to earn a bachelor of science with distinction in biology from Stanford University and a medical degree from University of California San Francisco — but the connection to her Southern California community remained deep.
"I always knew I wanted to come back," she said, "so I did my internship at Huntington Hospital and my residency at the University of California Irvine/City of Hope program."
It was during her internship that she met her husband, radiation oncologist William Kurohara, M.D., a Japanese American, born and bred in South Pasadena.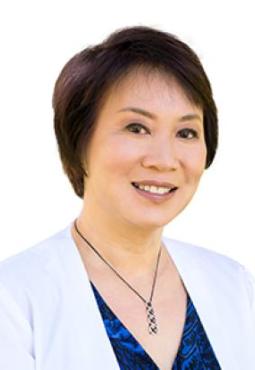 For several years, Chen practiced in the San Gabriel Valley and, thanks to her outgoing personality, got to know almost everyone in the local medical community. But when she heard that City of Hope | South Pasadena was looking for a radiation oncologist, she knew the job was meant for her. 
When she called for an interview, the South Pasadena facility hadn't even been completed yet, but that didn't stop her. She suggested an interview at her home, which was walking distance from the center, and was hired on the spot to head the first radiation oncology department at a City of Hope clinical network location. That was in 2009, and, today, it's still a perfect match.
"I know the community so well. Patients often ask me, 'What high school did you attend? What street do you live on?'" she said. "You can relate to people more when they're from your own community. You just understand them, and they understand you."
And by her community, Chen doesn't just mean patients with Chinese roots. She has a lifelong familiarity with other ethnicities predominant in the area. She is fluent in Spanish and Mandarin.
"I grew up with Latino people and have a strong connection to them. I took Spanish all through high school and medical Spanish in college," she said. "And thanks to my husband, I also have a good understanding of the Japanese American community."
All of this puts her patients at ease — especially those who are older and feel more comfortable with a doctor who speaks their language or knows their culture.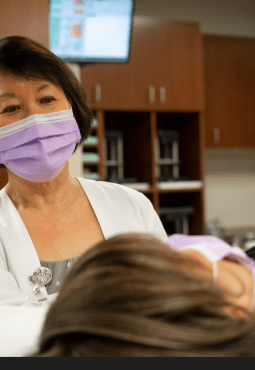 "It really helps, when they tell you where they're from, and you can say, 'Oh, yeah, I've been there. I've been to China, I've been to Taiwan, I've been to Hong Kong, Mexico, Japan, Brazil, Argentina …'"
It also helps that she knows from experience what it's like to feel different from those around you. Her family didn't always live in Monterey Park — until she was 7, they lived in Huntington Beach. 
"At that time, Huntington Beach was mostly an all-white community, so I didn't have any friends who were Asian, and I was super shy. I was voted the quietest person in my class," she recalled. "But when we moved to Monterey Park, it was one third Asian. I didn't feel like an oddball and became very comfortable with my Asian American identity." 
Chen's parents, who fled China with their families in the 1960s, met while they were in college in the San Francisco Bay Area. Chen's medical career, she says, combines the best qualities of both of her parents.
"My mother was a social worker whose passion is helping people, particularly the underprivileged. And my father was an engineer, so he's very technical," she said. "Radiation is very high-tech and involves physics, so my brain works like my father, and my personality is like my mother's. I'm outgoing, and I'm rewarded by helping people."
It's clear from her success with patients that the rewards work both ways.
Many of her patients often have views of medicine that differ from traditional Western practices.
"In the Asian community, for example, there's a belief in acupuncture and herbal medicine," Chen said. "Usually, I can tell them that those are fine, but they should do the standard treatment as well."
Often these patients are also wary of radiation treatment.
"They're very fearful, so I tell them, 'You know what, radiation is scary, and we have to respect it. But let's give it a try. You can change your mind at any moment.' That gives them a lot of relief."
How many of them do stop treatment?
"None," said Chen. "They all come back."