Hirotake Komatsu, M.D., Ph.D.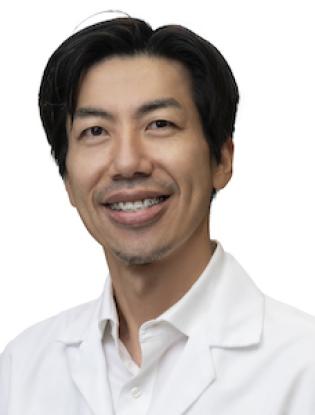 Assistant Research Professor, Department Of Translational Research & Cellular Therapeutics
Hirotake Komatsu, M.D., Ph.D. is an assistant research professor in
Arthur Riggs Diabetes & Metabolism Research Institute
at City of Hope. His expertise is derived from a broad training in medicine and basic research in the fields of pancreas surgery and pancreatic islet transplantation. His long-term goal is to cure diabetes by cell replacement therapy to improve quality of life for patients with diabetes. For the ultimate goal, his research goal is to leverage his experience as an M.D., Ph.D. to bridge biology and bioengineering and expand the application of clinical islet transplantation.
Dr. Komatsu obtained M.D. in 2002, at Juntendo University, Japan. He has a long experience as a hepato-pancreato-biliary surgeon over 10 years, and during the period, he pursued a Ph.D. for training in basic research in molecular biology.
After obtaining his Ph.D. at Tohoku University, Japan, he joined City of Hope in 2014, where clinical islet transplantation and translational research are actively performed. Working with Yoko Mullen, M.D., Ph.D., one of pioneers of pancreatic islet transplantation since the 1970s, and Fouad Kandeel, M.D., Ph.D, the Arthur D. Riggs Distinguished Chair in Diabetes & Metabolism Research and director of the Islet Cell Transplantation Program for type 1 diabetes, he expanded his researches by clarifying the oxygen-related islet physiology, which is critical for islet survival and transplantation success.
Dr. Komatsu also has expanded his research to further investigate clinical research questions that can be improved with novel ideas rooted in engineering. He is actively collaborating with extramural biomedical engineers to achieve the goal, including California Institute of Technology, University of California Irvine, National Institute for Materials Science in Japan, Kyoto University in Japan, and AGC Inc. Japan (formerly Asahi Glass Co., Ltd.).
Dr. Komatsu is a member of International pancreas and islet transplant association, and was elected as a member of Young investigator committee (2020 to present), in which he has contributed to the conference activities for the association. Dr. Komatsu authored more than 20 peer-reviewed publications after joining City of Hope, and was awarded several extramural research grants including National Institutes of Health, JDRF and Nora Eccles Treadwell Foundation as a principal investigator.
2019-present, Assistant Research Professor, Beckman Research Institute of City of Hope, City of Hope, Duarte, CA

2017-2019, Staff Scientist, Beckman Research Institute of City of Hope, City of Hope, Duarte, CA

2014-2017, Postdoctoral Fellow, Beckman Research Institute of City of Hope, City of Hope, Duarte, CA

2013-2014, Surgeon in Chief, Department of Surgery, Kamma Memorial Hospital, Nasu-Shiobara, Japan

2011-2014, Researcher (Ph.D. student), Tokyo Women's Medical University, Tokyo, Japan
2005-2009, Chief Resident, Department of Surgery, Sendai City Medical Center, Sendai, Japan

2004-2005, Senior Resident, Department of Surgery, Sendai City Medical Center, Sendai, Japan

2003-2004, Residency, Department of Surgery, Bokutoh Metropolitan Hospital, Tokyo, Japan

2002-2003, Residency, Department of Surgery, Japanese Red Cross Medical Center, Tokyo, Japan
2020-present, Young investigator committee, International pancreas and islet transplant association

2019, Invited speaker, Special session for Islet Transplant, Fukuoka University

2018, Invited speaker, Special workshop by Cell Transplant and Regenerative Medicine Society

2016, Postdoctoral Fellow Travel Grant 2016 to attend the 98th Annual Meeting of the Endocrine Society

2015, Postdoctoral Fellow Travel Grant to attend the 2015 joint congress of IPITA (International pancreas and islet transplant association)-IXA-CTS

2013, Young Researcher Award, The 113th Annual Congress of Japan Surgical Society
Member, International Pancreas and Islet Transplant Association

Member, The Transplantation Society
Komatsu H*, Gonzalez N, Ortiz J, Rawson J, Omori K, Kandeel F, Mullen Y. Early-Phase Luciferase Signals of Islet Grafts Predicts Successful Subcutaneous Site Transplantation in Rats. Mol Imaging Biol. 2021 Apr;23(2):173-179. doi: 10.1007/s11307-020-01560-2. Epub 2020 Nov 2. PMID: 33140260. (* Corresponding author)
Komatsu H*, Gonzalez N, Kandeel F, Mullen Y. Intermittent normobaric oxygen inhalation enhances subcutaneous prevascularization for cell transplantation. Microvasc Res. 2020 Sep 3;132:104070. doi: 10.1016/j.mvr.2020.104070. Online ahead of print. PMID: 32890600 (* Corresponding author)
Komatsu H*, Salgado M, Gonzalez N, Medrano L, Rawson J, Omori K, Qi M, Al-Abdullah I, Kandeel F, Mullen Y. High fractions of large islets in human islet preparations detrimentally affect post-transplant outcomes in streptozotocin-induced diabetic immunodeficient mice. Pancreas. 2020, May/Jun;49(5):650-654. doi: 10.1097/MPA.0000000000001541. PMID: 32433402 (*Corresponding author)
Salgado M, Gonzalez N, Medrano L, Rawson J, Omori K, Qi M, Al-Abdullah I, Kandeel F, Mullen Y, Komatsu H*. Semi-automated assessment of human islet viability predicts transplantation outcomes in a diabetic mouse model. Cell Transplant. 2020, Jan-Dec;29:963689720919444. doi: 10.1177/0963689720919444. PMID: 32410459 (* Corresponding author)
Komatsu H*, Gonzalez N, Salgado M, Cook CA, Li J, Rawson J, Omori K, Tai YC, Kandeel F, Mullen Y. A subcutaneous pancreatic islet transplantation platform using a clinically applicable, biodegradable Vicryl mesh scaffold - an experimental study.Transpl Int. 2020 Mar 21. doi: 10.1111/tri.13607. Online ahead of print. PMID: 32198960 (* Corresponding author)
Gonzalez N, Salgado M, Medrano L, Mullen Y, Komatsu H*. Isolated pancreatic islet yield and quality is inversely related to organ donor age in rats. Exp Gerontol. 2019 Dec;128:110739. doi: 10.1016/j.exger.2019.110739. Epub 2019 Oct 18. PMID: 31634542 (* Corresponding author)
Cook C†, Komatsu H†, Salgado M, Mullen Y, Kandeel F, Tai Y-C, editors. MEMS Silicon Cutters for Rapid Sectioning of Diffusion-Limited Pancreatic Islets to Improve Viability. Actuators and Microsystems & Eurosensors. 2019. († Co-first auhtors)
Komatsu H, Cook CA, Gonzalez N, Medrano L, Salgado M, Sui F, Li J, Kandeel F, Mullen Y, Tai YC. Oxygen transporter for the hypoxic transplantation site. Biofabrication. 2018 Dec 7;11(1):015011. PMID: 30524058
Komatsu H*, Salgado M, Medrano L, Omori K, Kandeel K, Mullen Y. Surfactants Improve Live Cell Imaging of Human Pancreatic Islets. Pancreas. 2018 Oct;47(9):1093-1100. PMID: 30142118 (* Corresponding author)
Komatsu H*, Rawson J, Medrano L, Cook AC, Barriga A, Gonzalez N, Salgado M, Omori K, Kandeel F, Tai Y, Mullen Y. Optimizing temperature and oxygen supports long-term culture of human islets. Transplantation, 2019 Feb;103(2):299-306. PMID: 29781952 (* Corresponding author)
Komatsu H*, Kandeel K, Mullen Y. Impact of oxygen on pancreatic islet survival, Review, Pancreas. 2018 May/Jun;47(5):533-543. PMID: 29621044 (* Corresponding author)
Komatsu H*, Rawson J, Barriga A, Gonzalez N, Mendez D, Li J, Omori K, Kandeel F, Mullen Y. Posttransplant oxygen inhalation improves the outcome of subcutaneous islet transplantation: A promising clinical alternative to the conventional intrahepatic site. Am J Transplant. 2017 Sep 12. PMID: 28898528 (* Corresponding author)
Komatsu H*, Cook C, Wang CH, Medrano L, Lin H, Kandeel F, Tai YC, Mullen Y. Oxygen environment and islet size are the primary limiting factors of isolated pancreatic islet survival. PLoS One. 2017 Aug 23;12(8):e0183780. doi: 10.1371/journal.pone.0183780. eCollection 2017. PMID: 28832685 (* Corresponding author)
Komatsu H*, Barriga A, Medrano L, Omori K, Kandeel F, Mullen Y. Oxygenated thawing and rewarming alleviate rewarming injury of cryopreserved pancreatic islets. Biochem Biophys Res Commun. 2017 May 6;486(3):817-823, PMID: 28351620 (* Corresponding author)
Komatsu H, Kang D, Lin H, Cook AC, Mendez D, Rawson J, Mullen Y, Kandeel F, Tai Y. MEMS oxygen transport device for islet transplantation in the subcutaneous site. Micro & Nano Letters. 2016 Oct. 11(10):632-5.
Komatsu H*, Kang D, Medrano L, Barriga A, Mendez D, Rawson J, Omori K, Ferreri K, Tai Y, Kandeel F, Mullen Y. Isolated human islets require hyperoxia to maintain islet mass, metabolism, and function. Biochem Biophys Res Commun. 2016 Feb 12;470(3):534-8. PMID: 26801563 (* Corresponding author)
Omori K, Kobayashi E, Komatsu H, Rawson J, Agrawal G, Parimi M, Oancea AR, Valiente L, Ferreri K, Al-Abdullah IH, Kandeel F, Takahashi M, Mullen Y. Involvement of a pro-apoptotic gene BBC3 in islet injury mediated by cold preservation and re-warming. Am J Physiol Endocrinol Metab. 2016 Apr 26 PMID:27117005
Komatsu H*, Omori K, Parimi M, Rawson J, Kandeel F, Mullen Y. Determination of islet viability using a zinc-specific fluorescent dye and a semi-automated assessment method. Cell Transplant. 2015 Oct 22. PMID: 26497578 (* Corresponding author)
Taki K, Ohmuraya M, Tanji E, Komatsu H, Hashimoto D, Semba K, Araki K, Kawaguchi Y, Baba H, Furukawa T. GNASR201H and KrasG12D cooperate to promote murine pancreatic tumorigenesis recapitulating human intraductal papillary mucinous neoplasm. Oncogene. 2015 Aug 10. PMID: 26257060
Omori K, Komatsu H, Rawson J, Mullen Y. Pharmacological Strategies for Protection of Extrahepatic Islet Transplantation. Minerva Endocrinol. 2015 Jun;40(2):85-103. PMID: 25651758
Komatsu H, Egawa S, Motoi F, Morikawa T, Sakata N, Naitoh T, Katayose Y, Ishida K, Unno M. Clinicopathological features and surgical outcomes of adenosquamous carcinoma of the pancreas: a retrospective analysis of patients with resectable stage tumors. Surg Today. 2015 Mar;45(3):297-304. PMID: 24973941
Komatsu H, Tanji E, Sakata N, Aoki T, Motoi F, Naitoh T, Katayose Y, Egawa S, Unno M Furukawa T. A GNAS mutation found in pancreatic intraductal papillary mucinous neoplasms induces drastic alterations of gene expression profiles with upregulation of mucin genes. PLoS One. 2014 Feb 3;9(2):e87875. PMID: 2449838