After Christina Sherrill was diagnosed with cancer in her lungs and brain at just 26, she and her mother underwent genetic testing
Christina Sherrill was your typical active Southern California teen, growing up in Simi Valley.
"Cheerleading, dance, volleyball," she recalled. "I was always doing something."
When she reached her 26th birthday, the coughing began. Not one to run to doctors, Sherrill initially ignored this new annoyance. But the cough kept getting worse, making it hard to talk and even breathe at times. 
Her local doctors prescribed cough syrups, inhalers, over-the-counter medications — all without much improvement. When exhaustion, nausea and dizziness began to accompany her cough, Sherrill went for an X-ray. She was immediately dispatched to an emergency room to deal with fluid buildup ("a total whiteout," she said) around her right lung.
"They told me if I'd waited another 24 hours, I might've drowned" in her own lung fluid, she said.
Her doctors suspected pneumonia. But after eight days in the hospital, multiple tests and a biopsy, Sherrill got a much more serious diagnosis. She had diffuse metastatic cancer in her lungs, spine and lymph nodes, a large tumor pressing on her vena cava (which routes blood to the heart) and 20 tumors in her brain. She needed chemotherapy and more. Immediately.
"I coped by turning off my emotions," said Sherrill. "I shut down to keep my sanity."
"We were shocked," recalled Elisabeth Metzidis, Christina's mother. She wondered about a possible family connection: Sherrill's father had died of lung cancer.
As it turned out, genetics did play a role. But not the way Mom suspected.
The oncologist who initiated Sherrill's treatment (chemo and head/chest radiation) happened to know City of Hope lung cancer expert Ravi Salgia, M.D., Ph.D., the Arthur & Rosalie Kaplan Chair in Medical Oncology. They discussed her case, and in very short order Sherrill found herself at the Los Angeles campus, where her shock and fear began to dissipate.
"I loved that place from the very first day," Sherrill said. "I felt less scared. I knew they'd take care of me."
Lung cancer at 26 is very rare. But Salgia had seen it before.
"It's not rare to me. My youngest patient was 16," he said.
Though her treatment was working, Salgia knew Sherrill could do better. He took advantage of infrastructure and new tools, some pioneered at City of Hope that were unavailable just a few short years ago. In the process, he very well may have saved two lives, not just one.
Taking a Genetic Approach
The key is precision medicine.
Precision medicine looks at how a gene mutation might affect a person's risk of getting cancer or — if they already have cancer — how their genes or the genes in their tumors might affect treatment options. This approach uses information from genetic tests, which could provide a more accurate or earlier diagnosis and improve treatment outcomes.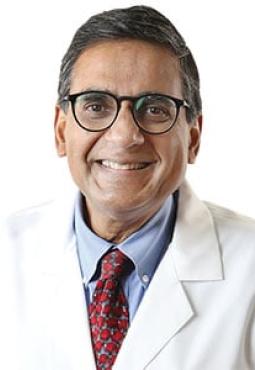 Salgia sent Sherrill for genetic testing, hoping to uncover a mutation, such as EGFR, in her tumors, enabling treatment with the latest generation of targeted therapy drugs. This is a sea change in the diagnosis and treatment of cancer. Long championed by City of Hope, analyzing tumors at the molecular, DNA level is rapidly becoming the standard of care, for good reason. Researchers have identified more than 150 genetic anomalies linked to cancer, and nearly 20% of all City of Hope patients who had their genome screened had "actionable findings" that impacted their treatment plan.
"The future of cancer care is here now, and it is precision medicine." says Stephen Gruber, M.D, Ph.D., M.P.H., vice president of City of Hope National Medical Center and director of its Center for Precision Medicine. "It has blossomed in the last five years. It is an indispensable tool for optimizing treatment." 
Gruber says City of Hope now extends genomic analysis to patients seen at the organization's comprehensive cancer center, and eventually it will be offered at the newly acquired Cancer Treatment Centers of America, which has centers in Arizona, Illinois and Georgia. This offering is considerably ahead of other institutions and not yet universally recognized as necessary by insurance companies. 
That means that City of Hope patients who receive treatment at City of Hope Los Angeles can opt in to receive leading-edge, personalized cancer treatment that uses big data, including the tumor's molecular profile and a person's inherited genetics, to improve their treatment options. All patients are offered the opportunity to have a precision diagnostic and management evaluation, which includes follow-up with genetic counselors.
In Sherrill's case, however, her tumor sequencing came up empty.
No Targetable Mutations
"She didn't have a targeted mutation, nothing actionable that we could give a pill for," explained Salgia.
But that's only half the story because City of Hope goes beyond analyzing tumors. Tests also examine the patient's own "germline" DNA: the core genetic makeup inherited from parents. This can frequently yield critical information. "We're at the forefront of this thinking," Salgia said.
Sherrill's germline DNA results were significant: She had the BRCA2 mutation.
Normally associated with an elevated risk of breast and ovarian cancer, BRCA2 may also indicate susceptibility to other cancers as well. Men who test positive, for example, may be at higher risk for prostate cancer.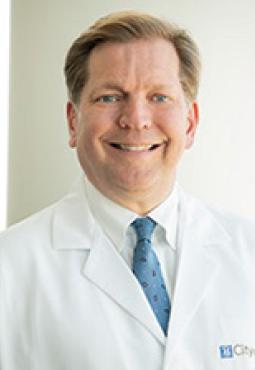 This knowledge made all the difference in Sherrill's treatment. Salgia replaced her chemotherapy with the relatively new immunotherapy drug Keytruda (approved in 2019), and also administered Lynparza, a so-called "PARP inhibitor" known to achieve favorable outcomes in BRCA2 patients. "I wasn't certain Keytruda alone would work as well," he explained.
For Sherrill, the switch had a profound effect. Gone were chemo's toxic side effects.
"Oh, my goodness gracious!" she gushed. "It was night and day. Chemo was poison. I'd lost 20 pounds, couldn't eat or drink. Way less nausea with immunotherapy. I was alive again!"
If results confirm an increased inheritable genetic risk, City of Hope will offer to test every person in the patient's nuclear family and bring family members with increased risk in for screening and care. And because BRCA2 is inherited, Metzidis got tested, too.  
Stacy W. Gray, M.D., deputy director of City of Hope's Center for Precision Medicine and associate professor and chief of the Division of Clinical Cancer Genomics, oversaw her testing and delivered the results. Sherrill's mom turned out to have the same mutation. It was sobering to realize she'd passed it on to her daughter.
'A Whole Different Ballgame'
"That made it a whole different ballgame," she said, adding, "With the gravity of the information, they really went above and beyond to make us feel informed and supported." 
She worried about developing cancer while her daughter battled the disease at the same time. Metzidis took action right away, having prophylactic surgery — a radical mastectomy and a hysterectomy — to improve her own odds. 
Thus, directly or indirectly, knowledge generated by precision medicine quite possibly helped save the lives of two people at once. Mom is resting easier knowing she's reduced her chances of developing cancer. And Sherrill has responded beautifully to her treatment. Barely able to walk or breathe a year earlier, she's now resumed working out, taking cycling classes, and studying for a new career as a cosmetologist. And remember how she "shut down" upon receiving her diagnosis? Quite the opposite happened recently, when Salgia informed her she's in remission.
"I walked out of the room, started telling people, told Mom, and right then and there, I started to cry. I could barely get the words out," she remembered, smiling.
There are, however, a few words she does want to convey to every patient facing equally grim conditions:
"Don't give up!"