Preclinical study of immunotherapy shows effectiveness, safety, persistence, plus feasibility of large-scale manufacturing
Over the last couple of decades, HIV/AIDS has turned from a grim diagnosis to a manageable disease thanks to highly active antiretroviral therapy (HAART). However, the virus remains in patients' systems, and daily medication is necessary for life.
City of Hope, which has long been a national leader and pioneer in the treatment of patients with HIV-related malignancies, is forging a new path, in search of a functional cure for HIV/AIDS. 
City of Hope was one of the first centers in the United States to perform effective, curative autologous transplants, which use a person's own stem cells, for patients with HIV-related lymphoma. When many centers still treated patients with low-intensity, non-curative treatment approaches, City of Hope challenged that paradigm by demonstrating that autologous transplantation could be used to cure patients with HIV-related lymphomas who would otherwise die.
City of Hope further pioneered the use of gene-modified blood stem cell transplants to evaluate the use of stem cells engineered to be resistant to HIV infection. 
City of Hope was a primary national co-leader in two National Cancer Institute-sponsored clinical trials for autologous and allogeneic stem cell transplantation for patients with HIV infection and blood cancers. These trials led to a change in the national standards of care for how best to manage this vulnerable patient population.
Cellular therapy for HIV
This latest research adds to that history by building upon the institution's longtime leadership in the development of CAR T cell therapy, a groundbreaking treatment currently used to rally the body's natural defenses against  cancer. By combining this cellular therapy approach with another homegrown City of Hope advance — a vaccine for cytomegalovirus (CMV) — the scientists may be able to apply CAR T cell therapy not only to HIV/AIDS, but a broader range of serious illnesses. And a recent study, published in Molecular Therapy – Methods & Clinical Development  — featured on the cover, in fact — may help clear the way to move from the lab bench to the patient's bedside with first-in-human clinical trials.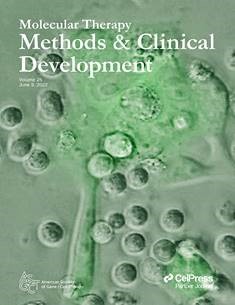 "I'm very excited by these promising results," said corresponding author Xiuli Wang, Ph.D., professor  in the Department of Hematology & Hematopoietic Cell Transplantation. "We're using the same platform in different conditions — lymphoma and infectious disease. If studies in humans show it's protective and safe, we can potentially expand to address other diseases ."
The proof-of-concept study, funded by the California Institute for Regenerative Medicine (CIRM), used lab models to demonstrate that the combination therapy could recognize and eliminate HIV without serious toxicity to cells in the virus' host. There was also evidence that therapeutic immune cells took hold in bone marrow, indicating potential for treatment to keep working over the long term. The researchers also showed the feasibility of large-scale manufacturing of the treatment.
"We needed to show that we can translate this platform to clinical manufacturing, so that was a main focus of the study," Wang said.
Enhancing a powerful immunotherapy
As currently deployed, CAR T cell therapy involves drawing T cells of the immune system from a patient and adding engineered proteins. These are the chimeric antigen receptors that put the "CAR" in "CAR T," and they enable the T cells to recognize cancer. The therapeutic cells are then reinfused back into the patient, where they can go to work battling cancer. This treatment has gained Food and Drug Administration (FDA) approval for certain leukemias and lymphomas, with multiple myeloma added to the list in early 2022.
However, adapting CAR T cell therapy to fight HIV/AIDS is not as simple as substituting virus-recognizing receptors in place of those that latch onto cancer cells. 
The complication is, in part, a consequence of HAART's success. Viral levels can fall low enough that CAR T cells aren't activated and, as a result, their numbers dwindle. Since 2015, Wang and her colleagues have been working on an ingenious way to overcome this limitation. 
For their HIV-detecting CARs, the researchers select a subset of T cells specialized to find and kill CMV. The idea is that later, doctors would administer a vaccine for CMV, called Triplex, that was developed at City of Hope by Don Diamond, Ph.D., professor in the Department of Hematology & Hematopoietic Cell Transplantation and exclusively licensed to Helocyte, Inc., a subsidiary of Fortress Biotech. CMV itself is relatively harmless to most people, but can be very dangerous to the immunocompromised, including patients recovering from blood stem cell transplants. 
From there, the vaccine is expected to stimulate the CAR T cells to proliferate within patients' bodies — a unique advantage not yet achieved otherwise. Clinical trials testing that strategy for leukemia and lymphoma are about to open. 
For the HIV-fighting component, the researchers keyed on a specific antibody, N6, that fits a particular protein, called gp120, found in a range of viral variants.
"You have to have a broad spectrum, because HIV mutates rapidly," Wang said. "If you don't cover enough, the virus can escape the CAR."
Hope against HIV/AIDS — and beyond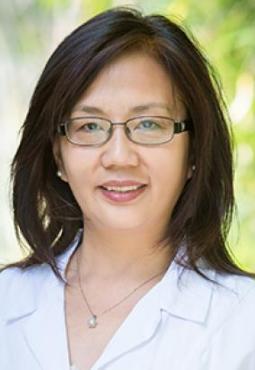 The study backed the effectiveness of the combination treatment. In cultured human cells, the CAR T cells killed cells tagged with the gp120 protein, and kept killing them, without significant signs of risking damage to healthy cells. In a mouse model for HIV/AIDS, high doses of the dual-action CAR T cells followed by the CMV vaccine were successful in controlling HIV, and even nestled into the bone marrow. 
For manufacturing, the team had the benefit of the Cellular Therapies Production Center, one of four on-site facilities where City of Hope makes treatments for preclinical and clinical research. Wang also expressed gratitude for the support of co-author John Zaia, M.D., holder of City of Hope's Aaron D. Miller and Edith Miller Chair for Gene Therapy and director of the Center for Gene Therapy. In addition to major funding from CIRM, the research was supported by a donation from philanthropist and LGBTQ+ advocate Elliott Sernel. 
Data from the study will pave the way for the researchers to submit an investigational new drug disclosure to the FDA, an important step before clinical trials can commence. 
If City of Hope's vaccine-aided CAR T cells deliver positive results in such studies, biomedical science will not only add a durable therapy to its arsenal against HIV/AIDS, it will also inaugurate an innovative therapeutic platform with the potential to be applied to a host of diseases.