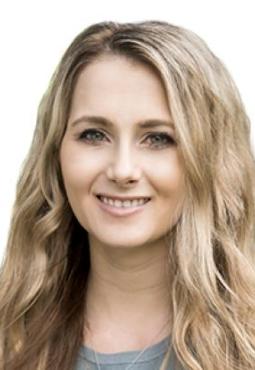 Lots of little kids like to "play doctor." For Katharine Schulz-Costello, D.O., it was clearly much more than a game.
"At a very young age, I wanted to become a surgeon," she recalled, adding that she was "inspired by my father."
"Inspired" would be an understatement.
Growing up in Palm Springs, California, young Katharine had a pair of formidable role models. Her father, Karl Schulz, M.D., is a general surgeon and, since 1985, a fixture at Eisenhower Medical Center, along with his brother and fellow surgeon Peter. 
Schulz-Costello remembers roaming the halls of Eisenhower with her dad, accompanying him into patients' rooms, working in his office during high school and, later, watching him perform surgery.
She also experienced her father's skills firsthand.
"Dad stitched me up twice!" she remembers, laughing. "He operated on my sister when she had appendicitis. He operated on my grandmother. I've wanted to be a surgeon my entire life because almost everyone I knew was saved by surgery. In fact, there are very few people I know who didn't have surgery."
When her mother and grandmother both developed breast cancer, Schulz-Costello's path crystallized. "These events together created a lifelong passion and drive to pursue a career in helping women affected by breast cancer," she said. 
From the start, her father saw her potential.
A Young Perfectionist
"She was driven, compulsive, always wanting to excel, a perfectionist and a leader, whether it was the Girl Scouts or the school choir," he remembered. "Plus, she has excellent memory skills, instant recall."
He imparted key lessons to his super-achieving daughter/protege: Get as much experience with as many patients as you possibly can, pay careful attention to detail and work hard on your bedside manner, especially with cancer patients — they're afraid, they're worried. Always be supportive.
The lessons took. The "driven" Schulz-Costello made sure she was always the best-prepared person in the room. While still a resident at Arrowhead Medical Center, she did a breast surgery elective at City of Hope, where she impressed immediately.
"On her first day," recalled Laura Kruper, M.D., M.S., chief of the Division of Breast Surgery, "she presented images at a preoperative conference reviewing all the images like a radiologist. The way she set up the operating room, the way she handled herself, [she was] skilled beyond her level of training." Kruper was delighted when Schulz-Costello returned a year later for a surgical fellowship and ultimately became a member of the breast surgery staff.
Schulz-Costello was beyond delighted.
"There's something about City of Hope that spoke to me," she said. "I was so excited [to get hired there]. When the word came, I was in the middle of a vascular surgery, and I literally cried!"
She's heeded the rest of Dad's advice, too, demonstrating a level of connection and compassion her patients appreciate. She's "a giving being," lauded one; "very attentive ... very caring," said another; "my doctor for life," added a third.
When Clara*, a family therapist from Eagle Rock, California, was diagnosed with Stage 2 breast cancer in September 2020, she was worried about being treated "like just another patient." Meeting Schulz-Costello for the first time, she felt a bit intimidated when the surgeon seemed to focus extensively, and exclusively, on the details of the disease.
Clara confessed to feeling helpless and overwhelmed, despite all of her mental health training. "I would be" the same way, replied Schulz-Costello, adding "It's hard to apply what you've learned and what you teach."
That was all Clara needed to hear. "It was very validating," she recalled.
The relationship grew, deepened and continues today. They ask about each other's families (Schulz-Costello and husband Max have two children). They talk about their favorite things, like travel. When Clara mentioned Yosemite, Schulz-Costello exclaimed, "Oh, I want to go! I have a picture of Yosemite in my bathroom!" 
And always, Schulz-Costello wants to know about her patient's mental as well as physical health.
'Very Nurturing'
"She very nurturing," said Clara. "She makes you feel like you're her only patient that day."
Schulz-Costello wants every one of her patients to know as much as possible about the disease they are battling together. She works hard to educate patients as well as loved ones. "Cancer affects everyone in the family," she said. Education is the shortest route, she explained, to eliminating fear and making it easier to share in decision-making.
"Patients tend to fear the worst," she explained. "They don't know that many forms of breast cancer can have favorable outcomes. There are so many options for treatment, for reconstruction. 
"With this knowledge, patients can feel informed, empowered and less afraid."
She's excited about promising developments coming down the pipeline with her plastic surgery colleagues, including new surgical techniques to decrease lymphedema — a swelling condition created when lymph nodes are removed. Another hopeful advance, still in the early stages: a possible method of restoring nerve function to the nipple area, so that the patient isn't left feeling numb after a nipple-sparing mastectomy (removal of the breast with preservation of the nipple).
Schulz-Costello sees patients at City of Hope's Arcadia and South Pasadena facilities, a key part of the institution's plan to expand its footprint beyond the Duarte campus. The setting is ideal, she says, because "it's a great way to bring cancer care closer to home" for many patients, and to do so in a smaller, more personal setting.
Wherever she is, Schulz-Costello is getting noticed and earning praise. Now her father refers some of his more complicated breast cancer cases to his daughter. "And when they meet her, they feel so blessed. They love her" because, he adds proudly, "She doesn't give up on a patient."
The boss concurs.
"I would send any family member to Dr. Schulz-Costello," declared Kruper. "I myself would go to her."
Schulz-Costello smiles, and tosses a compliment right back:
"I am blessed to be a part of City of Hope, and it is my great honor and privilege to care for breast cancer patients here," she said.

*Name altered at patient's request.