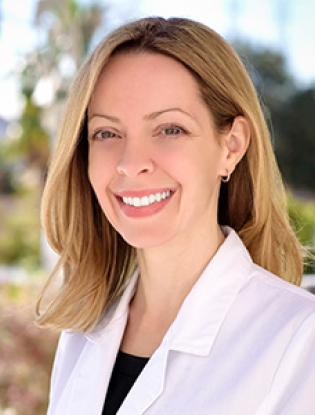 Radiation Oncologist
Clinical Expertise
brain tumors
Primary and Metastatic Central Nervous System
Hepatobiliary, Gastrointestinal, Lung, Gynecologic and Breast Cancers
Appointments
Assistant Clinical Professor, Department of Radiation Oncology
Lauren A. Lukas, M.D., is a board-certified radiation oncologist who's spent the past decade treating patients in Mission Hills and throughout the San Fernando Valley of Los Angeles.

Dr. Lukas is an honors graduate of the University of Western Ontario and the University of Toronto, where she received her medical degree.

Dr. Lukas is well-versed in all forms of radiation therapy, including stereotactic radiosurgery, stereotactic body radiotherapy, brachytherapy, Y-90, and Xofigo.
2004, M.D. with honors, Faculty of Medicine, University of Toronto, Toronto, Ontario, Canada

2000, B.S. Scholar's Electives - Biophysics with distinction, The University of Western Ontario, London, Ontario, Canada
2004 - 2009, Resident, Department of Radiation Oncology, Faculty of Medicine and Dentistry, The University of Western Ontario, Ontario, Canada
2018 - present, Assistant Professor, Department of Radiation Oncology, Radiation Oncologist, City of Hope, Duarte, CA

2009 - 2018, Radiation Oncologist and Medical Director, Valley Radiotherapy Associates, Mission Hills, CA
American Society for Therapeutic Radiology and Oncology

American College of Radiology

American Medical Association

California Medical Association

Fellow of the Royal College of Physicians and Surgeons of Canada
T.P. Yeung, S. Yartsev, T.Y. Lee, E. Wong, W. He, B. Fisher, L. VanderSpek, D. Macdonald, G. Bauman. Relationship of computed tomography perfusion and positron emission tomography to tumor progression in malignant glioma. J Med Radiat Sci. 2014 Feb; 61(1):4-13

A.Hallock, K. Surry, D. Batchelar, L. VanderSpek, J. Yuen, A. Hammond, J. Radwan, B. Yaremko, G. Rodrigues, D. D'Souza. An early report on outcomes after CT based HDR brachytherapy for locally advanced cervix cancer: a single institution experience. Practical Radiation Oncology. 2011 Jul-Sep; 1(3):173-81.

S.K. Nath, J.D. Lawson, D.R. Simpson, L. VanderSpek, J.Z. Wang, J.F. Alksne, J, Ciacci, A.J. Mundt, K.T. Murphy, Single-isocenter frameless intensity-modulated stereotactic radiosurgery for simultaneous treatment of multiple brain metastases: clinical experience. Int J of Radiat Oncol Biol Phys. 2010 Sep 1;78(1):91-7.

L. VanderSpek, G. Bauman, J.Z, Wang, S. Yartsev, C. Menard, Y.B. Cho, A.J. Mundt, J.D. Lawson, K.T. Murphy. Dosimetric comparison of Intensity-Modulated Radiosurgery and Helical Tomotherapy for the treatment of multiple intracranial metastases. Technology in Cancer Research and Treatment. 2009;8:361-368.

L. VanderSpek, B. Fisher, G. Bauman, D. Macdonald. 3D Conformal Radiotherapy and Cisplatin for Recurrent Malignant Glioma. Can. J. Neurol. Sci. 2008; 35: 57-64

LA Lukas VanderSpek, GR Pond, W Wells, RW Tsang. Radiation therapy for Bowen's disease of the skin. Int J of Radiat Oncol Biol Phys. 2005 Oct 1:63 (2): 505-10.

LA Lukas, KJM Surry, TM Peters. Temperature dosimetry using MR relaxation characteristics of poly(vinyl alcohol) cryogel (PVA-C). Magnetic Resonance in Medicine. 46:1006-1013, Nov. 2001.

Ratings and reviews below are gathered from the Press Ganey Clinician and Group Consumer Assessment of Healthcare Providers and Systems (CG CAHPS) survey. CG CAHPS is a standardized survey that is used to measure a patient's experience in the physician office setting. Ratings are an average of all responses to questions about a provider's care, with 5 stars being the highest.
Ratings
5.0
Show respect for what you say
5.0
Spend enough time with you
5.0
Provider listen carefully to you
4.9
Provider explain in way you understand
4.8
Know important info medical history
4.8
Recommend this provider office
---
Reviews
Doctor was very helpful, showed interest in my health care.
- Verified patient
The doctor was very clear she explain everything to me and she ask me if I have questions and if I understand all the options
- Verified patient
All the explanations that I had from them was very well understood.
- Verified patient