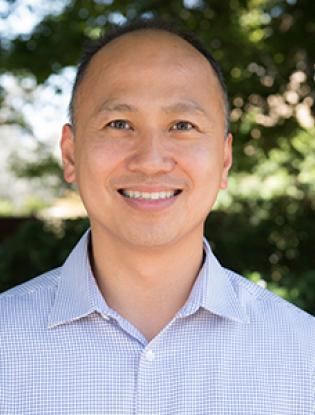 Hematologist
Clinical Expertise
Bone Marrow Transplantation
Research Area
Hematology and Hematopoietic Cell Transplantation
Appointments
Associate Professor, Department of Hematology & Hematopoietic Cell Transplantation
Leonardo Farol, M.D., is a board-certified hematologist who specializes in bone marrow transplants. He is also a member of the City of Hope/Kaiser Bone Marrow Transplantation Team.
Dr. Farol attended medical school at the University of Irvine before completing his internship and residency in Evanston, Illinois. He completed a fellowship in hematology and oncology at New York University, and another one in bone marrow transplantation at City of Hope.
Dr. Farol grew up in Southern California and is glad to be back and closer to friends and family following his sojourns to the Midwest and East Coast. He says practicing medicine as a career is a special opportunity to connect and help people in a meaningful way, listening and responding to patients with specialized skills and knowledge. Communication is an important part of his practice, he says, and he's honored that patients have entrusted him with their care. He strives to treat them as he would his own family.
When not in the office, Dr. Farol keeps himself fit with daily CrossFit classes. He believes that physical and mental health are important to a physician, and CrossFit allows him to relieve stress and get his blood pumping at the same time.
American Board of Internal Medicine

Medical Oncology

Hematology
1998, M.D., University of California, Irvine, CA

1994, B.A., Biochemistry, Occidental College, Los Angeles, CA Cum Laude
2005-2006, Bone Marrow Transplant Fellowship, City of Hope, Duarte, CA

2002-2005, Hematology/Oncology, New York University, New York, NY
1998-2001, Internal Medicine, Northwestern University (Evanston Northwestern Healthcare), Evanston, IL
2008-present, Staff Physician, Kaiser Permanente/Associate Professor, Department of Hematology & Hematopoietic Cell Transplantation, City of Hope, Duarte, CA

2006-2008, Kaiser Permanente Fontana, Department of Hematology/Oncology
Aldoss I, La Rosa C, Baden LR, Longmate J, Ariza-Heredia EJ, Rida WN, Lingaraju CR, Zhou Q, Martinez J, Kaltcheva T, Dagis A, Hardwick N, Issa NC, Farol L, et al. Poxvirus Vectored Cytomegalovirus Vaccine to Prevent Cytomegalovirus Viremia in Transplant Recipients: A Phase 2, Randomized Clinical Trial Ann Intern Med 2020 Mar 3;172(5):306-316. doi: 10.7326/M19-2511. Epub 2020 Feb 11. PMID: 32040960
Pourmoussa AM, Spielberger R, Cai J, Khoshbin O, Farol L, Cao T, Sahebi F. Predictive Factors for Early Relapse in Multiple Myeloma after Autologous Hematopoietic Stem Cell Transplant The Permanente Journal 2019 October 11 DOI: 10.7812/TPP/19.012 PMID: 31926575
Mei MG, Cao TM, Chen L, Song JY, Siddiqi T, Cai JL, Farol LT, Al Malki MM, Salhotra A, Aldoss I, Palmer J, Herrera AF, Zain J, Popplewell LL, Chen RW, Rosen ST, Forman SJ, Kwak L, Nademanee AP, Budde LE. Post-Allogeneic Hematopoietic Stem Cell Transplantation Eculizumab as Prophylaxis Against Hemolysis and Thrombosis for Patients with Hematologic Disorders Associated with Paroxysmal Nocturnal Hemoglobinuria Clones. Biol Blood Marrow Transplant. 2019 May;25(5):e183-e185. doi: 10.1016/j.bbmt.2019.01.025. Epub 2019 Jan 29. PMID: 30708188
Mei MG, Cao TM, Chen L, Song J, Siddiqi T, Cai JL, Farol LT, Al Malki MM, Salhotra A, Aldoss I, Palmer J, Herrera AF, Zain J, Popplewell LL, Chen RW, Rosen ST, Forman SJ, Kwak L, Nademanee AP, Budde LE. Long-Term Results of High-Dose Therapy and Autologous Stem Cell Transplantation for Mantle Cell Lymphoma: Effectiveness of Maintenance Rituximab. Biol Blood Marrow Transplant. 2017 Jul 18. pii: S1083-8791(17)30575-X. doi: 10.1016/j.bbmt.2017.07.006. [Epub ahead of print] PMID:28733266
Stein A, Palmer J, Tsai NC, Al Malki MM, Aldoss I, Ali H, Aribi A, Farol L, Karanes C, Khaled S, Liu A, O'Donnell M, Parker P, Pawlowska A, Pullarkat V, Radany E, Rosenthal J, Sahebi F, Salhotra A, Sanchez JF, Schultheiss T, Spielberger R, Thomas SH, Snyder D, Nakamura R, Marcucci G, Forman SJ, Wong J.Stein A, et al. HYPERLINK "https://pubmed.ncbi.nlm.nih.gov/28087456/" Phase I Trial of Total Marrow and Lymphoid Irradiation Transplantation Conditioning in Patients with Relapsed/Refractory Acute Leukemia. Biol Blood Marrow Transplant. 2017 Apr;23(4):618-624. doi: 10.1016/j.bbmt.2017.01.067. Epub 2017 Jan 10.Biol Blood Marrow Transplant. 2017. PMID: 28087456
Ratings and reviews below are gathered from the Press Ganey Clinician and Group Consumer Assessment of Healthcare Providers and Systems (CG CAHPS) survey. CG CAHPS is a standardized survey that is used to measure a patient's experience in the physician office setting. Ratings are an average of all responses to questions about a provider's care, with 5 stars being the highest.
Ratings
5.0
Know important info medical history
5.0
Show respect for what you say
5.0
Recommend this provider office
5.0
Provider listen carefully to you
4.9
Provider explain in way you understand
4.8
Spend enough time with you
---
Reviews
Excellent
- Verified patient
I would highly recommend Dr. Farol to anyone.
- Verified patient
Iam very satisfied how they take care of me.
- Verified patient