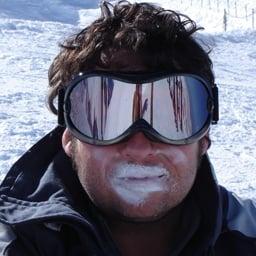 You know sunscreen is a must when you hit the beach. But during the cooler days of winter, it's easy to let your skin-protection habits slip.

"People tend to think that in the wintertime, you can ease up on sun protection," said Badri Modi, M.D., a dermatologist at City of Hope who specializes in high-risk skin cancers such as melanoma. "Think again."

Skin cancer remains the most prevalent of all cancers in the United States, more common than all other cancer diagnoses combined. And while melanoma is just a small portion of those cases (about 1 percent), it is the most deadly.

Even on a cold, cloudy day, the sun's ultraviolet rays can damage skin, increasing the risk of skin cancer. While your skin care routine might change a bit with the seasons, protecting your skin is a year-round affair, Modi said.

Here are six things to remember to keep your skin healthy and happy this winter.

1. Grab the sunblock. Sunscreen is a must for any skin not covered by clothes, said Modi. He recommends using a sunscreen with an SPF of at least 30, which blocks 90 to 95 percent of the sun's ultraviolet (UV) rays. And choose a broad-spectrum sunscreen, which blocks both UVA and UVB rays. Find a formula you like enough to apply every day, and make it a habit year-round.

2. And take it with you. Don't assume one application of sunscreen will last all day. If you're out and about, reapply every two hours, Modi said. Remember, too, that snow (like sand and water) can reflect the sun's rays, boosting the UV radiation your skin receives — something to keep in mind if you're spending time on the slopes.
3. Cover your bases. "Lips and ears are common places to develop skin cancer," Modi said — and skin cancers in those areas are more likely to be higher-risk cancer types that can spread quickly to other areas. Plus, treatment for skin cancer on the lips or ears tends to be more cosmetically damaging. So, don't forget to dab sunscreen on your ears and apply a lip balm with SPF, even in winter. Skin cancer can also develop on the eye, so wear sunglasses in all seasons.
4. Tan no more. Tanning beds might seem inviting on a cold, gray day. Resist the temptation. "I think of tanning beds as the skin's equivalent to smoking," Modi said. They significantly increase your risk of developing skin cancer, with no medical benefit. If you're feeling pale, opt for a self-tanning lotion or spray instead.
5. Fight dry skin. The sun isn't the only factor to consider when planning your winter skin-care routine. "Cold, dry air and wind can cause problems with eczema and dry skin," Modi said. Try to keep baths and showers short and moisturize frequently. "The thicker and greasier the moisturizer, the more effective it will be," he said. But if greasy ointments give you pause, no worries — the most important thing is to find a moisturizer you like and apply it regularly. For the maximum effect, rub it in just after your shower, while your skin is still damp.
6. Look for changes. In wintertime and all the time, it's important to keep tabs on your skin, Modi said. He recommends having a doctor give you an annual skin check, especially if you're fair or have a lot of moles. He also advises checking your own skin once a month to scan for any changes. If you notice anything new or changing, talk to your doctor.
After all, your skin is your biggest, most visible organ. It's worth the effort to keep it healthy, every season of the year. 
****