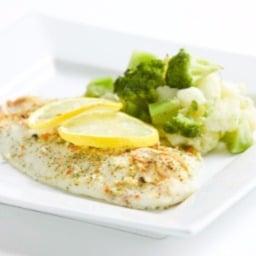 This is an easy recipe that is high in protein and low in carbohydrates, making it appropriate for people with diabetes. It only takes a few minutes to prepare, uses few ingredients and is flavorful.  (NOTE: This recipe was reviewed by City of Hope dieticians.)
Prep time: 5 minutes
Cook time: 30 minutes
INGREDIENTS
4 (4 ounce) tilapia fillets
1 tbsp olive oil
1/4 tsp Old Bay Seasoning, or to taste
Cooking spray
1/2 tsp garlic salt, or to taste
1 lemon, sliced
1 (16 ounce) package frozen cauliflower with broccoli and red pepper
DIRECTIONS
Preheat the oven to 375 degrees F (190 degrees C). Use the cooking spray to spray  a 9x13 inch baking dish.

Place the tilapia fillets in the bottom of the baking dish and dot with olive oil. Season with Old Bay seasoning and garlic salt. Top each one with a slice or two of lemon. Arrange the frozen mixed vegetables around the fish, and season lightly with salt and pepper.

Cover the dish and bake in the oven for 25 to 30 minutes, until vegetables are tender and fish flakes easily with a fork.
ALL RIGHTS RESERVED © 2017 Allrecipes.com (Recipe By: F_Gory)
****