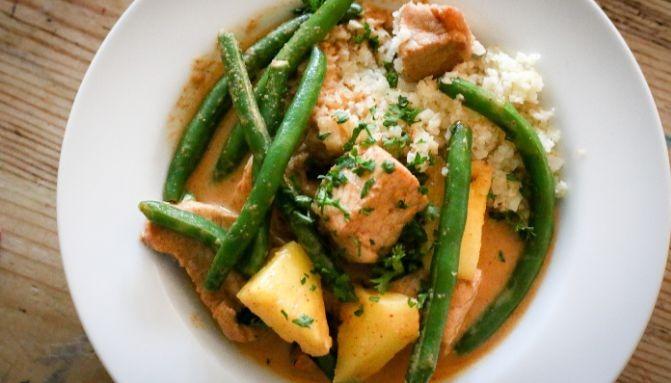 Many of us are examining our diets as a means of controlling our weight and reducing our cancer risk. While research supporting a link between weight loss and a reduced risk of cancer is limited, evidence from the
American Cancer Society
seems to suggest that losing weight may reduce the chance of postmenopausal breast cancer, aggressive prostate cancer and possibly other cancers.
For many, the limitations imposed in a diet plan can provide a challenge. It can be easy to make some simple substitutions in your existing diet, however, to promote weight loss and a reduced risk of certain kinds of cancer, without making dieting feel quite so restrictive.
The "loss" of some of your favorite foods from the neighborhood takeout restaurant is one of the more difficult aspects of sticking to a weight loss plan. In our recipe for "Pork Massaman Curry," we've recreated many of the most craving-inducing flavors from your local Thai takeout place, making a few healthy, smart substitutions that are easy and quick.
Store-bought massaman curry paste is widely available in your supermarket's imports aisle, creating a quick, flavorful shortcut to buying tons of exotic spices that you may not use again. But the big star of this dish is the cauliflower "rice." Cauliflower is one of the chameleons of the food world, and creative cooks can use it to create healthy alternatives for everything from "cheese" sauce to pizza crust. Here, we pulse cauliflower florets in a food processor, before sautéing in oil, which creates a healthy, flavorful base for all of that delicious coconut curry sauce.
INGREDIENTS
For the Pork:
4-5 boneless country-style pork ribs, cut into ½ inch cubes
¼ cup coconut milk beverage
2 teaspoons massaman curry paste
2 tablespoons coconut or safflower oil
2 yellow potatoes, peeled and cut into ½ inch cubes
1 14.5 ounce can of unsweetened coconut milk
1 cup green beans, trimmed
1 cup fresh pineapple, cubed
Salt and pepper, to taste
For the Cauliflower "Rice":
1 whole head of cauliflower
3 tablespoons extra light olive oil
DIRECTIONS
For the pork:
In a medium bowl, combine pork, coconut milk and curry paste. Stir well to coat meat, ensuring curry paste is dissolved. Set aside 30 minutes, up to a few hours.
In a high-sided pan over medium-high heat, brown pork (including curry marinade) in oil or clarified butter.
Add potatoes and canned coconut milk, and simmer until potatoes just begin to soften.
Add green beans, and simmer a few minutes longer until cooked through.
Add pineapple, allow to heat though, and adjust salt and pepper, to taste.
For the cauliflower rice:
Cut cauliflower into large florets, removing tough inner core from the head.
Pulse in a food processor until desired consistency (larger to simulate rice, smaller for a convincing couscous).
Sauté in extra light olive oil, covered, for a few minutes, until cauliflower just barely begins to soften and turn golden brown.
Serve with pork.
****