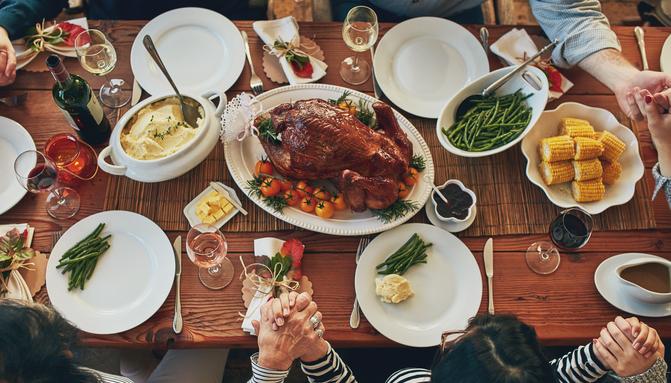 That "stuffed" feeling you get after a heavy holiday meal? It's usually a sign that unhealthy overeating has occurred. According to the Calorie Control Council, the average American eats more than 4,500 calories on Thanksgiving alone – well above the average daily recommendation of 2,000 calories.

To help reduce your calorie intake this holiday season, here, City of Hope dieticians offer a healthier version of a classic side dish.
First, a few healthy-start quick tips:
Avoid skipping meals and shopping for food when hungry. People often make bad choices when they're hungry.

Control intake of liquid calories.

Stay away from the food table before the big meal; snack on healthy foods instead.

Watch your portion sizes, and lower the proportion of sugar, saturated fat and calories.

Cut back on high-fat meats and creamy casseroles.

Increase the use of vegetables, fruits and other fiber-rich foods.

Try recipe makeovers.

Take a post-dinner walk.
Apple Cranberry Dressing
Yield: 16 servings (1/2 cup per serving)  
Ingredients
1 cup chopped celery

1 cup chopped onion

2 tablespoons margarine

1 cup apple juice

1/2 cup water

1/4 cup firmly packed light brown sugar

1 cup chopped apple

1/4 teaspoon coarse ground black pepper

10 ounce box poultry flavored stuffing mix

1 egg

1 cup cranberries, chopped

1/4 cup chopped walnuts

2 tablespoons freshly chopped parsley
Instructions
In a large skillet, sauté celery and onion in margarine until tender. Stir in apple juice, water, brown sugar, apple and black pepper. Heat to a boil; reduce heat. Simmer 2 minutes; remove from heat.

In a large bowl, combine stuffing mix and apple juice mixture. Stir in egg; lightly fold in cranberries and parsley. Spoon mixture into greased, 2 quart or 13 x 9 inch baking dish. Cover; bake at 350° for 25 minutes. Uncover; bake 10 more minutes. Serve hot.

Nutrient analysis per serving:

Other helpful resources:
    
****