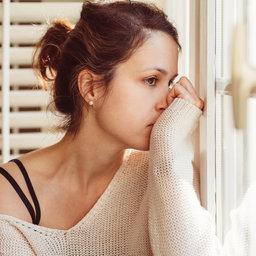 There's a painful side effect of cancer that's rarely spoken about. Loneliness. 
You may find that friends treat you differently, even stop calling or visiting. Or maybe you feel cut off because you're not well enough to take part in the activities you've always enjoyed. And even if you're surrounded by people who love you, you may feel isolated because they can't really understand what you're going through. 
Loneliness can be particularly acute if you're single or widowed. In fact, dealing with cancer when you live alone can seem so overwhelming, it sometimes interferes with getting proper treatment.
Whatever the cause of your loneliness, know that you are not alone. There are so many people who can help — you just need to take the first step.
Ask for Practical Help
If you don't have access to the help you need while undergoing treatment — transportation to and from therapy, financial support, child care  — it's important to tell your doctor, nurse or other staff. They'll know where you can find support. At City of Hope, for example, the patient resources coordinator can assist you with these important concerns.
Reach Out to Friends and Loved Ones
Some friends may feel awkward with you at first, so take the lead and break the ice by reaching out to them. You don't have to put on a false front. It's OK to be honest about your feelings, but stay interested in their lives too, and in the things you've always enjoyed talking about. When they want to help, let them know what you need, but be understanding of their own schedules and limitations.
Find a Support Group
No matter how caring your friends and family are, if they haven't been through what you have, they may not fully understand what fighting cancer is like. But a
support group
will, and you can find one near you in almost any area of the country. Whether you take part online or in person, it's a great place to share your experiences, learn from others who have been there too, and find access to resources you might not otherwise have known about.
Talk to a Therapist
One of the best ways to break through your sense isolation is to open up about your feelings in a safe space with a professional who specializes in the emotional effects of cancer. On staff at City of Hope are
psychiatrists
and
social workers
who have the knowledge and techniques to ease the loneliness you're experiencing.
Join a Religious or Spiritual Group
Seeking
religious or spiritual guidance
can provide you with a sense of life's deeper meaning, and this higher perspective can go a long way toward relieving the loneliness of your cancer journey. Religious groups are also one of the best antidotes to isolation, offering a welcoming community that can be far more accepting than other types social groups.
Look Better to Feel Better
Surgery or the ordeal of cancer treatment can play havoc with your looks — and this can make you reluctant to see people. Take advantage of services like City of Hope's
Positive Image Center
SM
to help you look better and feel better about yourself.
Find Activities You Can Enjoy
Stay as busy as your energy allows. Cultivate your creative side with a painting or crafts workshop, or do things just for fun, like going to the movies with a good friend. If you don't feel well enough to go out, phone someone you enjoy talking with, connect with others through social media, take an online class in something you've always wanted to learn or just pick up a good book. As William Styron said, reading is "the best state yet to keep absolute loneliness at bay."