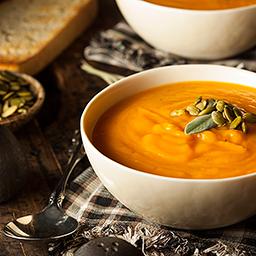 While bounty is certainly a reason for gratitude this Thanksgiving, so is good health – and maintaining a healthy weight and exercising have been linked to a lower risk of cancer and diabetes.
According to the
Calorie Control Council
, the average American more than doubles their daily calorie intake on Thanksgiving, eating 3,000 calories during the holiday dinner – and on top of that, chewing through 1,500 calories of appetizers, dips, chips, drinks and other nibbles before and after the main course.
If you're looking for places to reduce the day's calorie budget, those 1,500-appetizer calories seem like a good place to start. Consider a delicious alternative from
Nathan Lyon
, celebrity chef and author of "
Great Food Starts Fresh
." His butternut squash soup is an excellent starter; it's packed with vegetables, as well as a pair of superfoods: cinnamon and pomegranate.
City of Hope
superfoods research
has found that pomegranates appear to contain six potential breast-cancer fighting compounds, in addition to being packed with antioxidants. Scientists here are also studying the potential for cinnamon extracts to be used to block tumors from creating blood vessels to feed themselves. These flavorful, healthy additions have also shown promise in the laboratory to combat tumors – another reason to be grateful.
In addition to choosing a healthier start to your Thanksgiving festivities, consider capping off your meal with a walk.
Here is Chef Lyon's soup recipe from his acclaimed cookbook.
Butternut Squash Soup with Sweet Curry and Pomegranate Seeds
Yield: 4 to 6 servings
Ingredients
1 (3 1/2-4 pound) butternut squash, peeled, seeded, then cut into 1-inch cubes
1/2 teaspoon kosher salt, plus more to taste
Freshly ground black pepper, to taste
5 tablespoons extra-virgin olive oil, divided, plus more for drizzling.
2 large yellow onions, peeled and diced small (3 cups)
1/8 teaspoon crushed red chili pepper (chili flakes), or to taste
1 teaspoon yellow curry powder
1 teaspoon finely chopped fresh thyme
3 large garlic cloves, peeled and chopped roughly (1 tablespoon)
1/8 teaspoon ground cinnamon
4 cups chicken stock or vegetable stock
1/2 cup freshly squeezed orange juice
Fresh flat-leaf Italian parsley, chopped roughly, for serving
Crème fraîche, for serving
Pomegranate seeds, for serving

Instructions
Adjust an oven rack to the middle position, then preheat the oven to 475ºF.

Add the squash, salt, a few good cranks of pepper and a healthy drizzle of olive oil (enough to fully coat all the squash) to a large bowl and mix well.

Spread the seasoned squash in a single layer on a parchment paper-lined sheet pan and roast, uncovered, for approximately 30 minutes, stirring after 15 minutes, until nicely caramelized and cooked through. Remove from the oven and season to taste with salt and pepper.

Add 3 tablespoons of olive oil, the onions, chili flakes, curry powder and thyme to a small pot and cook, stirring occasionally, for 8 to 10 minutes, until the onions are soft and translucent.

Add the garlic and cook until fragrant, 1 minute.

Add the cinnamon, roasted squash and stock to the caramelized onions. Cover, increase the heat to high and bring to a boil, then reduce the heat to low and simmer for 5 minutes.

Add the remaining 2 tablespoons olive oil and orange juice and purée with an immersion blender until smooth. Season to taste with salt and pepper.

Spoon the soup into bowls and garnish with chopped parsley, a dollop of crème fraîche and some pomegranate seeds.
 
Other helpful resources
    
****