City of Hope's advanced techniques helped detect Devonne Swift's lung cancer at an early stage, when it was curable
It was August 2021, and Devonne Swift's cough had persisted for two weeks. She was 53, a mom and a never-smoker. For over 30 years, she'd worked at the American Airlines cargo warehouse in Southern California, and it was getting hard to walk without losing her breath.
A friend intervened. "She said, 'Get ready. I'm going to pick you up after work and take you to the emergency room.' I said, 'No, I'm fine,'" Swift recalled. But her friend insisted. A few years earlier, Swift had lost her Aunt Beverly to lung cancer.
At the ER, doctors diagnosed pneumonia. But they also saw a spot on Swift's lower right lung, and sent her for primary care follow-up.
Later, an X-ray showed that medication prescribed for the pneumonia had had no impact on the lung spot. Her doctor was worried. "I told him, 'You've never been this serious with me. What's going on?' but he wouldn't say," Swift recalled. "He referred me to City of Hope."
It was there that Swift met Jae Kim, M.D., associate professor and chief of the Division of Thoracic Surgery. 
Although she was nervous, she found him calming. "He was so laid-back," she said. "He made me feel comfortable, and he answered my questions."
Kim reviewed Swift's CT scan. "Her tumor looked very suspicious for cancer," he said. 
Daunting Statistics
Lung cancer is the No. 1 cancer killer in the U.S., claiming more than 127,000 lives each year. Nearly 240,000 new cases of lung cancer will be diagnosed in the United States this year alone, mostly among people with a history of smoking. More and more cases are being found among people who never smoked, however, which suggests that factors like the environment or genetics may also be involved in the development of lung cancer. But if it's caught early, survival rates can top 90%. Wait too long, and that number drops dramatically.
"About 20% of lung cancers in women occur in those who have never smoked," Kim said.
Kim shared several biopsy options, and Swift chose robotic bronchoscopy. In this procedure, the surgeon uses controls and a computed tomography scan-based 3D map of the lung, precisely maneuvering a thin tube with a camera inserted via the mouth or nose through twists and turns to collect a tissue sample.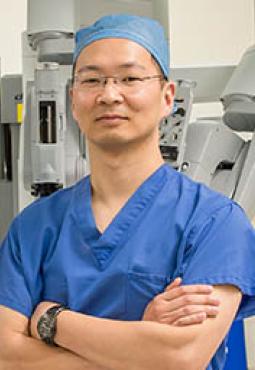 "With a regular bronchoscope, it's like trying to navigate a new city without any direction. With a robotic bronchoscopy, you have a real-time Google map as you're doing it. It's easier to make those turns," Kim said. With a much thinner catheter, rather than a traditional bronchoscope, "it's much more flexible" and can approach within 1 to 2 millimeters of a tumor, he added. 
City of Hope is one of the first health care organizations in Southern California to offer robotic-assisted endoscopy technology for early-stage lung cancer diagnosis. The surgical team has performed over 400 robotic bronchoscopies, and 90% of lung biopsies here are now done using this technology. During Swift's biopsy, Kim was also able to check her lymph nodes for cancer using another bronchoscope technique, endobronchial ultrasound.
Two days later, Kim called Swift to confirm the diagnosis of lung cancer. 
"Immediately, I blurted out, 'What do you need me to do next?'" she said. "From there, it was just OK, boom. We're going to do this."
Kim recommended robotic lung surgery. City of Hope is one of the most world's most experienced robotic cancer surgery centers. Of the 16,000 robotic surgeries performed here, more than 1,000 have been robotic lung cancer surgeries. 
To prepare, Swift took a work leave, and her mom and her Aunt Gloria traveled to be with her.
At surgery time, Kim used console controls to insert a camera and robotic tools through small incisions in the lower lobe of Swift's right lung, removing the walnut-sized tumor.
Results — and a Tough Decision
Pathology confirmed a Stage 1B nonsmall cell lung tumor of slightly over 3 centimeters, an adenocarcinoma. Nonsmall cell lung cancer (NSCLC) is the most common kind of lung cancer, accounting for around 80-85% of all cases, and adenocarcinoma is the tumor type most common in Americans who've never smoked. NSCLC can form in different parts of the lungs and may spread to other parts of the body as it develops. 
There was some good news: Her lymph nodes showed no sign of cancer. "They caught it way early," Swift said. "With the type I had, people don't normally find out until it's Stage 4." 
Still, due to the high-grade nature of her cancer cells and lymphovascular invasion in the lung, the risk of recurrence was about 20-30%. So, Kim and Reza Mostofi, M.D., assistant clinical professor and Swift's medical oncologist, recommended chemotherapy.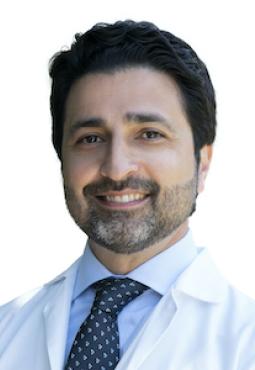 Swift balked. "I was like, 'Let me think about it,'" she said. "I spoke with my family, and they were strongly against it, like I was. I didn't want poison going through my body."
But friends urged her to reconsider. And she thought of her Aunt Beverly. "She found out it was Stage 4. It was too late. She said she didn't want to do chemo. She chose not to," Swift said. "I was there when she was about to pass, and I was able to say my goodbyes."
"My cousin said, 'You need to at least try. At least yours was caught early.' That was another awakening experience," she said.
She decided to sleep on it. "The next morning, I sat down with my family and said, 'Listen, I decided to go ahead and get the chemotherapy.'"
At City of Hope's South Bay clinical network site, closer to Swift's home at the time, she completed four cycles of cisplatin and pemetrexed chemotherapy. 
"Cancer is an emotional roller coaster," said Mostofi. "She did remarkably well. As doctors, we build a special kind of relationship with patients and their families. We have a good team here at City of Hope to help them get through their treatment."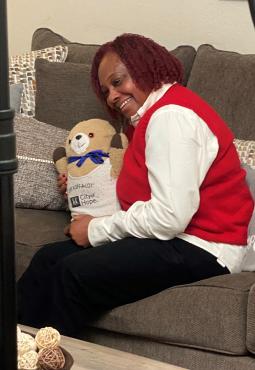 As she healed, Swift began to breathe better and be more physically active. "I love getting up early when it's crisp out and taking a walk. Just having my me time," she said. 
She sees Kim and Mostofi a few times a year for follow-up and imaging tests. 
"I did it. I'm a successful story of what can happen," she said. "Now, I'm more aware of if my body's telling me something. I go ahead and make that appointment." 
As for life in the present moment, she said, "My friends and family are still praying every day because, a lot of times, it does come back. My family and I are even closer because of it. We speak every day, and we have a conference prayer. It's not going to stop." 
"And it's not just for me — it's for everyone who is going through something."