It took innovative thinking to tackle a tough cancer that threatened the life of a young dad
Mutua Munavu is a can-do guy in a can-do job. He's an engineer at Boeing, working in customer support. "We're the ones who keep the planes flying," he says.
He has big plans, including climbing Mount Kilimanjaro. The great peak is no doubt familiar to him, visible from his native Kenya. Though he was born in Detroit, at age 3 months the family (Mom's a librarian, Dad's a professor) moved to Nairobi.
He remembers an idyllic childhood with sharp contrasts: Growing up in a sophisticated African city, attending the best private schools, English spoken everywhere (his is perfect), while frequently visiting grandparents in a village with no electricity, no running water and no indoor plumbing. "It humbles you, makes you appreciate what you have," he says.
But some truly humbling experiences were yet to come.
Returning to the U.S. for college, he needed a physical exam in his twenties to get life insurance. His bloodwork uncovered an autoimmune condition called sclerosing cholangitis — an inflammation of the bile ducts. You can have it for years with no symptoms, which was true in Munavu's case. "Never saw a doctor about it," he said.
But around 2009, his "invisible" disorder progressed — as it often does — into ulcerative colitis, causing him significant gastrointestinal distress for many years. He started getting annual colonoscopies and tried to go on with his life.
By 2020, though, things were much worse. Now the married father of two young daughters was losing weight and seeing blood in his stool. His doctor suspected colon cancer.
His doctor was right. Partly.
An Unexpected Discovery
There was cancer in his colon. But it wasn't classic colon cancer (another frequent result of having ulcerative colitis). It was diffuse large B cell lymphoma, the most common form of non-Hodgkin's lymphoma, striking 30,000 people each year in the United States.
In fact, his lymphoma had spread far beyond his colon to his pelvic area, his neck and most likely circulating throughout his system. "Lymph nodes were lighting up everywhere," he said.
He didn't like one doctor's plan of attack: A year of debilitating chemotherapy. Munavu wasn't even sure he'd last that long. "Everything I'd read made me think I would die in three months."
Many patients in similar situations start frantically reaching out to one doctor after another, searching for someone, anyone, who can at least offer hope.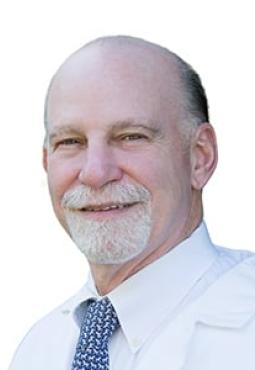 For Munavu, though, it was an easier call. His brother's father-in-law and uncle-in law had both been treated at City of Hope for other forms of lymphoma. They had good things to say about their doctor, Steven T. Rosen, M.D.
"I emailed Dr. Rosen on a Thursday night at about 8 p.m.," recalled Munavu. "He responded in 10 minutes!" And not simply because Rosen knew the family. "I've talked to other patients about this," continued Munavu. "He responds to every patient that way. That's just how he is."
Rosen, City of Hope's provost and chief scientific officer, doesn't know another way to practice medicine.
"This is a calling," he explained. "I pride myself on being devoted to my patients."
At their first meeting a few days later, each was impressed with the other.
"I knew he [Munavu] was special," continued Rosen, the Irell & Manella Cancer Center Director's Distinguished Chair. "He's bright, personable. We bonded immediately."
Munavu knew immediately he was in good hands.
"He [Rosen] has a way of calming you down with his demeanor and approach," said Munavu. "You're looking for hope, praying for a chance to fight, and Dr. Rosen comes in with a plan, and says, 'Here's what we're going to do ...'
"I love the guy!"
But would he love the plan?
Treatment Twists and Turns
Rosen determined Munavu's colon was so badly compromised that harsh chemo might perforate it. In consultation with surgeon Andreas M. Kaiser, M.D., chief of the Division of Colorectal Surgery, it was decided to remove the colon and create a temporary opening, or "stoma," in the abdomen. If all went well with chemo treatment, Kaiser would reconnect Munavu's digestive tract and close the stoma later on.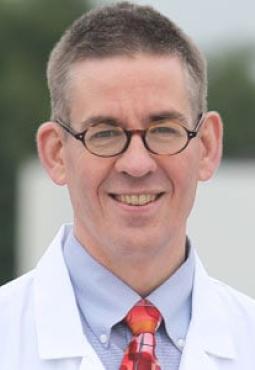 The surgery took place in February 2021. A few weeks later, Munavu began the first of six rounds of a chemo and immunotherapy drug cocktail known as R-CHOP, the standard and usually highly effective weapon for battling lymphoma, with a better than 50% success rate.
Not this time.
R-CHOP failed to achieve a full remission, so Rosen next tried a different combination, with the acronym "POLAR ICE," currently in clinical trials. This, too, was less than successful.
That's when the team turned to CAR T cell therapy.
Over the last decade, CAR T has emerged as one of the brightest lights in cancer treatment. It involves harvesting a patient's own immune cells, reengineering them to target and attack cancer cells, then reinfusing these newly minted cancer killers back into the patient's system. 
City of Hope scientists led by Stephen J. Forman, M.D., have pioneered the development of CAR T treatments. "If there's a Mount Rushmore in our field," said Rosen, "Steve Forman belongs on it."
Setting up the treatment takes time. The harvested immune cells must be sent to a commercial laboratory, where they are converted. This can take as long as four weeks. There is no "off the shelf" CAR T product. (Not yet, anyway. They're working on it.) 
The actual reinfusion takes only a few minutes and, if the treatment works, results come quickly.
Munavu got his CAR T cells in January 2022, "and they really packed a punch!" he recalled. He battled fever and fatigue in the hospital for 10 days — a mild case of cytokine release syndrome, a common reaction to CAR T, according to Rosen, when the immune system overreacts to the treatment. 
But then he began to turn the corner, and his cancer cells began to disappear.
Shared Tears … of Joy
A few weeks later, a computed tomography scan showed Munavu in full remission. When Rosen shared the news with his patient, both men were in tears.
"We've developed a deep emotional connection," said Munavu.
In the weeks that followed, Munavu kept getting stronger. Follow-up surgery by Kaiser put Munavu's digestive tract back together again.
"I feel great, and grateful," he said. "The whole team at City of Hope is so geared toward helping you fight. They're all so optimistic and empathetic. They help you believe."
Is he cured?
"I always think cure," said Rosen, "but only time can guarantee it."
There's been an unexpected bonus.
In addition to conquering Munavu's lymphoma, the CAR T treatment has apparently also reversed his sclerosing cholangitis. It's a remarkable development that could open a whole new area for CAR T in treating other autoimmune disorders.
Munavu and Rosen still talk frequently, only now it's about future plans. They want to do a safari together in Kenya. They're talking about a joint project to bring better medical care to Africa.
And what about Mount Kilimanjaro?
"If he's up to it," said Rosen, "I want to go with him!"